Yum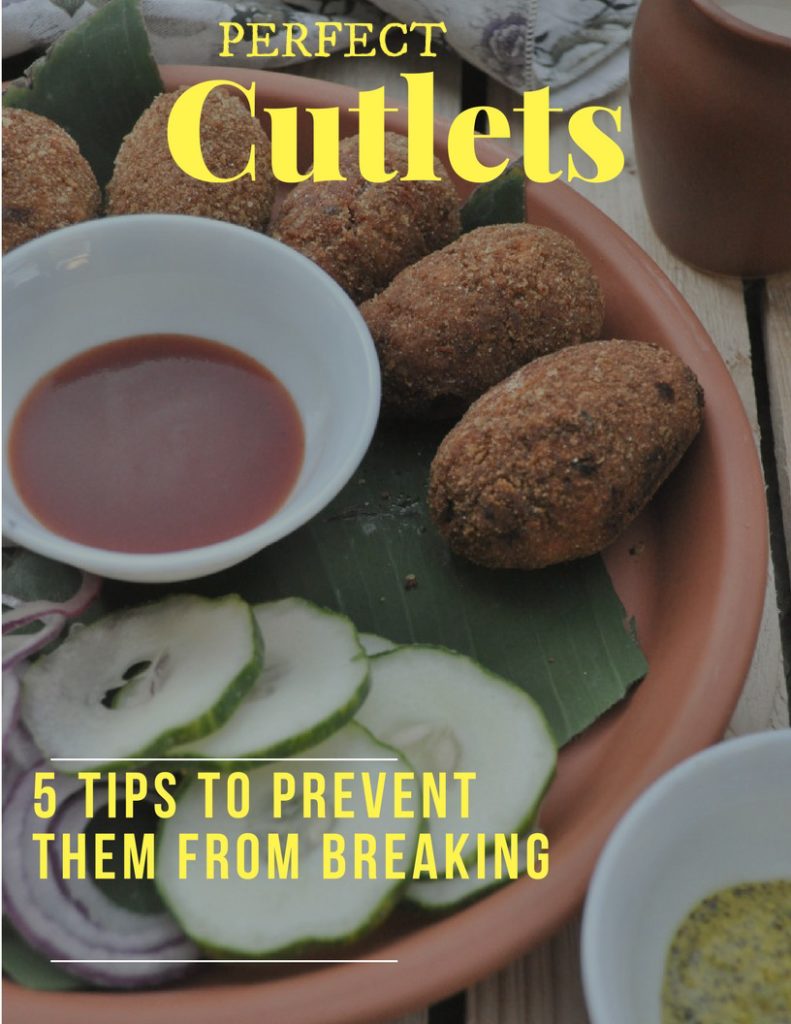 How do you make Perfect Cutlets? How do you prevent your cutlets/croquettes from breaking? I have been asked these questions innumerable times. Being a Bengali, we grew up eating tons of chops. Well, this ain't a pork chop. It is a croquette where come curried filling containing veggies, meat or fish would be breaded and deep-fried. And these chops are comfort food for us. Any party worth its salt would be started with these chops.
And when I moved to the US, I started making them at home. The first few times everything would disintegrate in the oil. Slowly, I asked, learned and incorporated such techniques that today I would often make a big batch of these if I am entertaining especially my Bong friends.
If you want to get detailed recipes to two kinds of croquettes, vegetable, and fish, here are the links below:
Veggie Croquettes ( aka Vegetable Chop)
However, this post is about the tips to get them right and be successful with them every time.
5 Easy Tips for the Perfect Cutlets
When you are making the curried filling for the croquettes/chops, make sure you cook it on a low flame for a considerable time to dry out all the moisture. How much time you would need to do this would definitely depend upon the amount of the filling. But cooking it on a low flame when it is almost done is key to good croquettes/chops/cutlets. And let it cool down completely before starting to work on it.
Add 1 tbsp of cornflour if required just to bind your curried mixture well.
Use seasoned breadcrumbs for more flavor. Now when you are ready to assemble and have made individual shapes out of the curried mixture, you will dip it in a beaten egg or slurry of flour and water and coat it with bread crumbs. However, here comes the tip. You have to do this process twice or double coat. This makes the breading stick and coat properly.
Once the breaded cutlets are ready, freeze them. You can prepare way ahead and just keep them frozen. While freezing makes sure they don't stick to each other as we will not be thawing these frozen cutlets so if they are stuck separating them would be hard.
Finally the tip regarding frying them. If you have frozen them you DO NOT need to thaw. Heat the oil on medium flame for a good 6-8 minutes before getting started. Never fry these cutlets/croquettes on high flame. Add enough oil in the pan to fully submerge the cutlet/croquette. Slowly add two at a time and fry them till they are golden brown on both sides.