Yum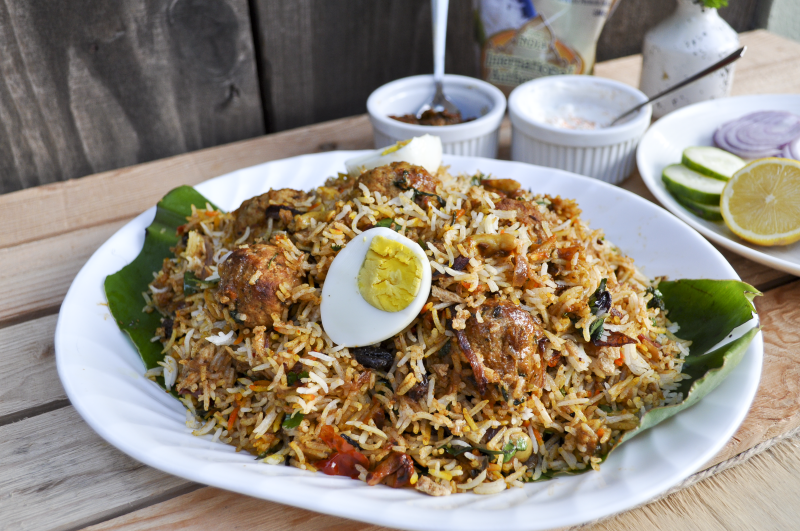 Summer holidays have started and most definitely I am trying to keep up the new routine. Somehow the pace of life has slowed down a lot and that kind of throws me off. I definitely thrive in the fast-paced groove of life that is on for 10 months a year. And this year, summer is definitely not something we are looking forward to. The reason being that we have a big move coming up. Our current house goes in for an extreme overhaul and remodeling. We have to live in an apartment for almost 6 months starting July. Moves make me nervous and scared. 5 years back we had moved to India for 18 months. Well, in retrospect, that was one of the best things that happened to me but at that time, my nerves did not really make me proud.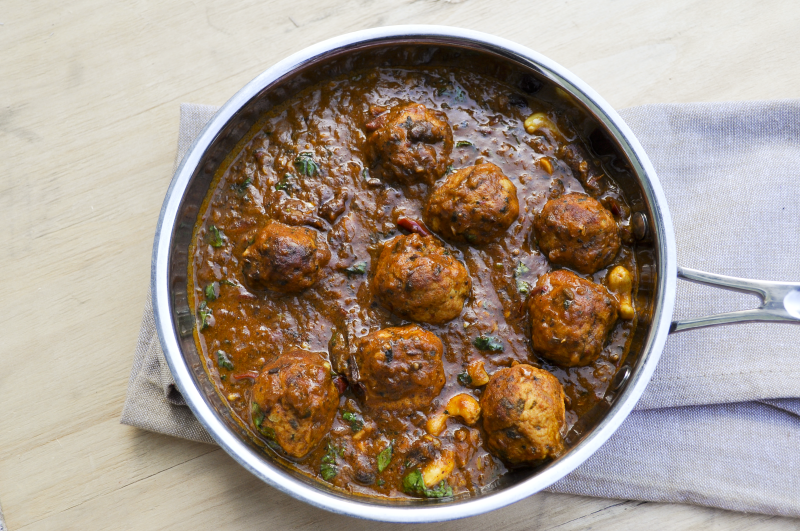 With G being home and the dad getting into the road-warrior mode less often than usual (and I thank God for that) I am tempted to cook more exotic dinners and lunches. G is very Amercian in her choice of foods and would happily fix herself a Caesar Salad for lunch. When it comes to Indian food, one thing she loves is rice. So curries are always consumed with a side of rice in my house. Indian curries especially the ones with rich gravies made with cream and cashew paste taste divine with a side of long-grained, fragrant and aromatic Basmati rice.
And having said so, this post is very special to me. I have been a customer of Royal Basmati rice for a long time now. My Costco hauls would always include one big 20-pound bag of the same. When Royal Basmati reached out to me and wanted to know my opinion about the product, I was overjoyed because this was one product we loved as a family. We Indians, love exotic rice dishes like pulavs (rice pilafs) and Biryanis and this is one brand of rice which has delivered again and again. Each grain is fragrant and when cooked right, blooms like a dream. And the best part about Royal is that the rice cooks very fast.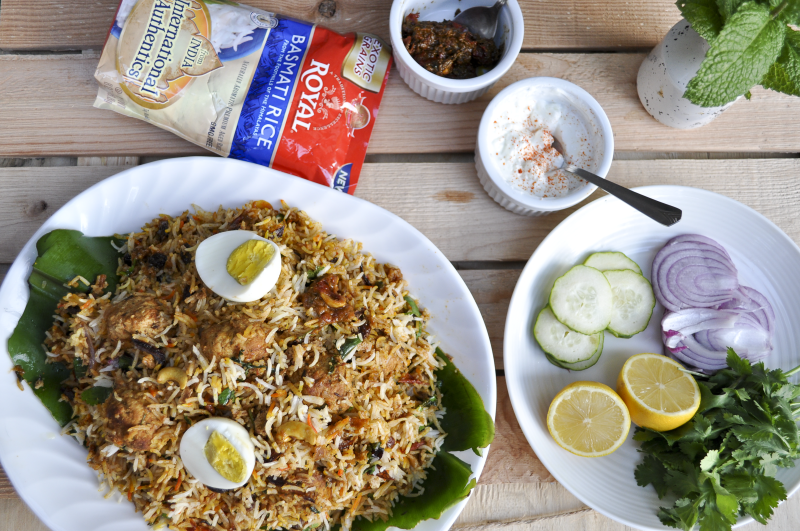 For me, the first memory of eating Basmati rice was from when I was probably 4-5 years old. We were traveling and had taken an off-beat route to Nepal. We traveled by train to Biratnagar which is about 400 Kms east of Nepal's capital city, Kathmandu. And then we traveled by car to Kathmandu. I don't remember the reason as to why we did not fly to Kathmandu straight but I vividly remember every little detail of the trip. And once such memory was eating Dal Bhat (Rice &Lentils) in Nepal. Rice and lentils is a staple in Nepal where the simplicity of the meal is accentuated by the use of locally grown ingredients. Basmati rice is grown in the foothills of the Himalayas. The ecosystem, the fresh air, water, and soil there is what makes the Basmati so fragrant and lends it the world-renowned aroma. It has been three decades since that trip but the flavor and taste of the rice with the rustic and simple lentil soup is still fresh on my taste buds.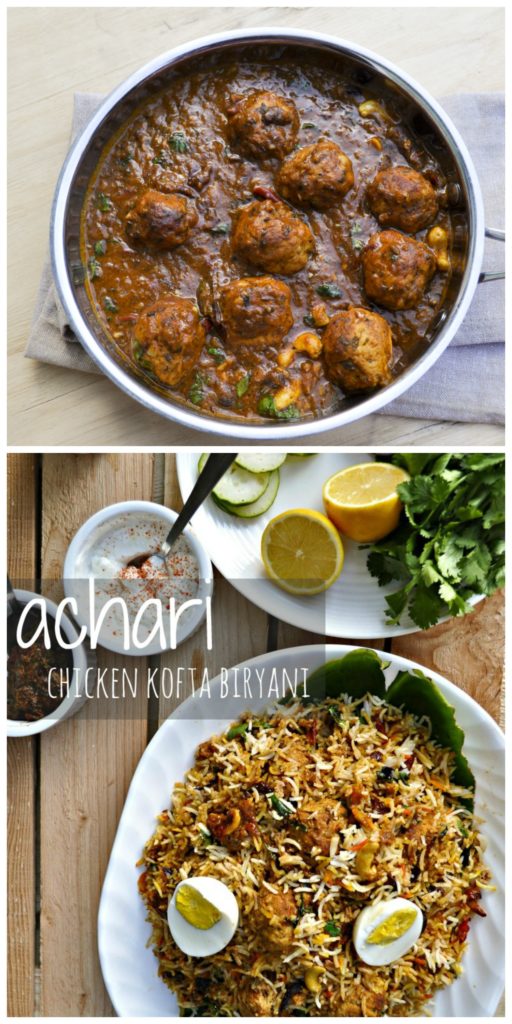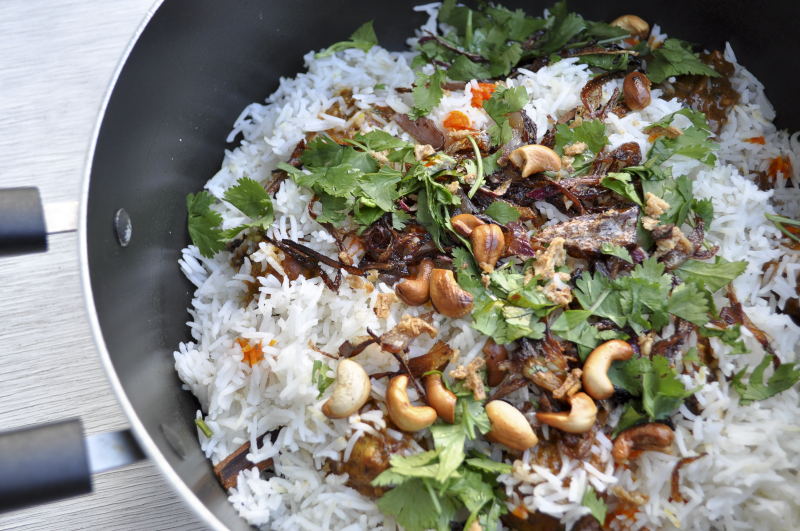 Unlike many other Basmati brands, Royal is one brand that is directly sourced from the Himalayan foothills. The authenticity is guaranteed and the price is extremely affordable. The nutty flavor coupled with the exotic aroma of Royal Basmati takes me back home and fills me up with food nostalgia. Royal Basmati has been part of many memorable meals that we have enjoyed with friends and family here. So this Achari Chicken Biryani or the Pickled Chicken Meatball Rice Pilaf ( I am telling you I did not do a good job with the translation here even though I am sure I am pretty close) was no exception. Koftas are nothing but meatballs. In this case, I marinated the minced meat with Indian Chilies pickled in mustard oil and spices and stewed them in a curry made with exotic spices. Later the same curry was cooked with the rice along with some very essential aromatics. May sound complicated but a little bit of arm grease and the right intent goes a long way. This was the highlight of a cozy summer lunch eaten with some good friends.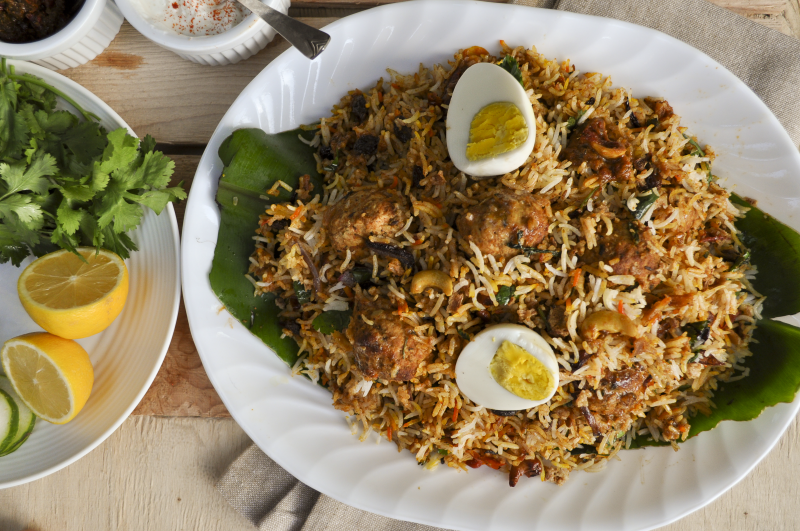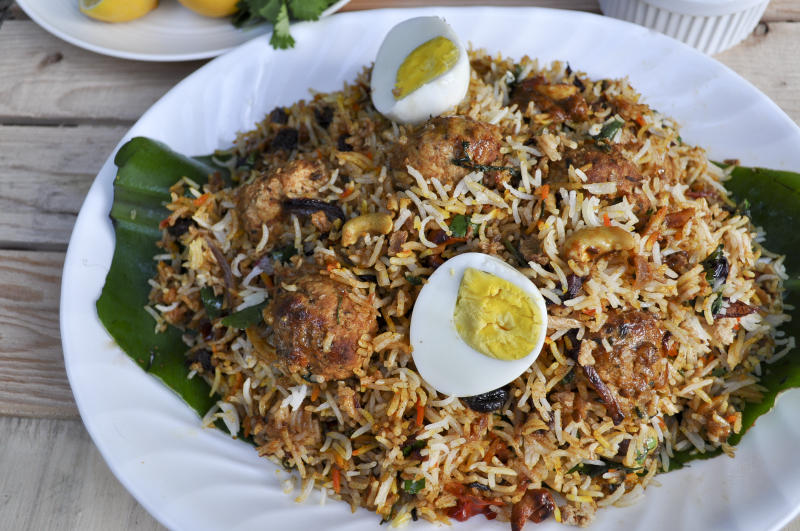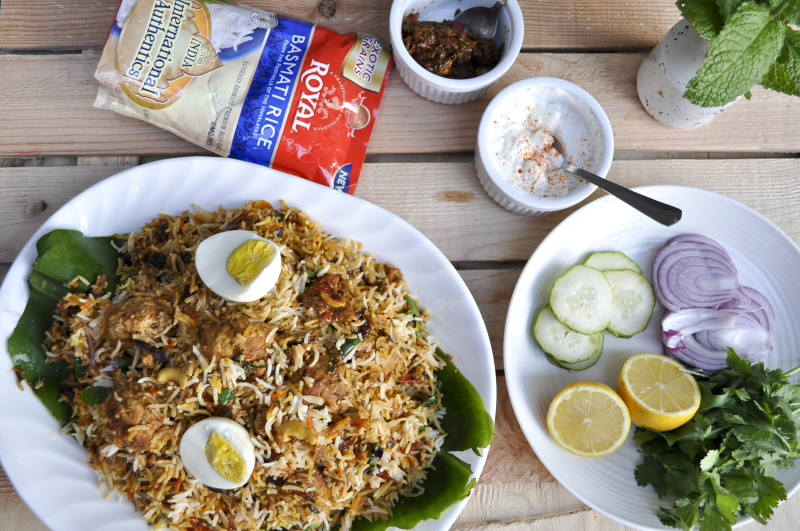 Achari Chicken Kofta Biryani
2016-06-16 00:56:50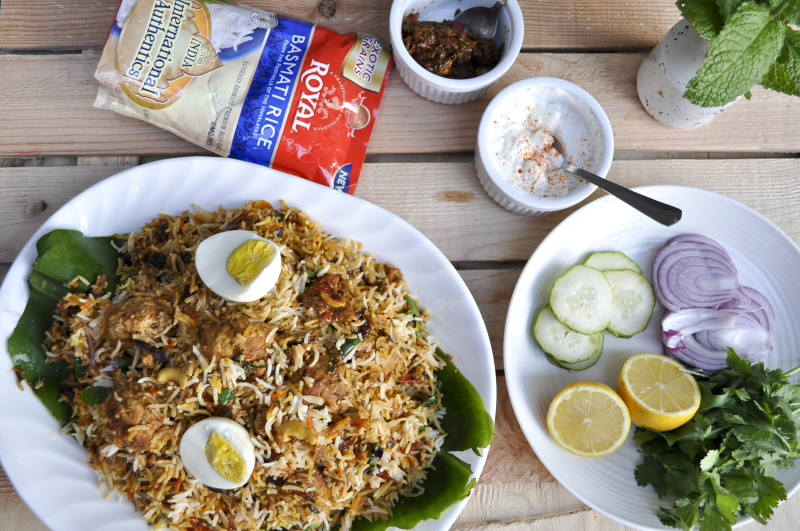 Serves 8
An exotic Achari ( Pickled) Chicken Biryani which was served family style and enjoyed with friends and family.
Nutrition Facts
Amount Per Serving
* Percent Daily Values are based on a 2,000 calorie diet. Your Daily Values may be higher or lower depending on your calorie needs.
For the Koftas (Meatballs)
Chicken – 1 ½ pounds
Chili Pickle – 1/3 cup
Coriander Powder – 1 tbsp
Cumin powder – 1 tbsp
Red chili powder – 2 tsp
Garam Masala – 2 tsp
Ghee (Clarified Butter) – 1 tbsp
Cilantro stalks – ¼ cup, finely chopped
Ginger-Garlic paste - 1 ½ tbsp.
Plain Yogurt – 2 tbsp
Salt – To taste
Roasted Besan (Roasted Gramflour)– 1 tbsp ( add a little more if need to bind)
For the Kofta Sauce
Onion – 1 cup, finely chopped
Ginger- Garlic paste – 3 tbsp
Tomato paste – 3 tbsp
Chili Pickle Oil - 2 tbsp
Yogurt – 1/3 cup
Ghee – ¼ cup
Bay Leaf – 2
Salt – To Taste
Sugar- To Taste
For the Biryani Masala
Cinnamon stick – 1inch
Mace – 1 flower
Green Cardamom – 5
Black Cardamom – 2
Star Anise – 2
Cloves – 1 tsp
Kalonji (Onion Seeds)- 11/2 tsp
Saunf (Fennel Seeds) – 2tsp
Whole Red chilies - 2, deseeded
Coriander Seeds – 3 tbsp
Cumin Seeds – 2 tbsp
Nutmeg Powder – 1 tsp
For the Rice
Royal Basmati- 3 1/2 cups
Salt – 2tsp
Water – 7 cups
Cinnamon Stick - 2 inches, broken
Green Cardamom – 4-5, crushed
Black Cardamom- 2, crushed
Bay Leaf- 2
Yellow Food Color – Few Drops
Cilantro- 1 cup, finely chopped
Mint leaves - 1/2 cup, finely chopped
Crispy Fried Onions – 1 cup
Cashews – 1/3 cup, fried golden
Hard-Boiled Egg - 1, for garnish
Ghee- 3 tbsp
Saffron – ½ tsp
Milk – ¼ cup
For the Biryani Masala
Dry roast all the spices. Be very careful not to burn.
Let it cool. Using a coffee grinder, grind all the spices into a fine powder.
For the Koftas
Mix all the ingredients of the meatballs and let it stand for couple of hours.
Make small golf sized balls and place them on a parchment paper lined baking sheet.
In a 400 degrees F oven, bake the meatballs for 25-30 mins until they look golden brown.
For the curry, in a pan, melt the ghee.
Add the Bay Leaf.
Add the Onions and fry for 2-3 of minutes.
Now throw in the ginger-garlic paste and mix that in.
Add the tomato paste and curd and stir. Cook for 6-8 mins.
Throw in the powdered biryani masala and cook for another 4-5 mins. This time add ½ cup of water to the sauce and let it simmer for 3-4 mins.
Add salt, sugar to taste and oil from the chili pickle.
Add the koftas to the sauce and mix it all in. Keep aside.
For the Rice
Wash the rice. Take 7 cups of water, 2 tsp of salt, the whole spices in a big pan along with the rice and let it come to a boil.
Once it comes to a boil, let it cook for exactly 4 mins.
Drain the rice in a big mesh wired strainer. Keep aside. The rice should be partially cooked.
Warm the milk in the microwave along with the saffron for a minute and keep it aside.
For assembling the biryani
In a thick heavy bottomed pan, add a tbsp. of melted ghee.
Add a layer of rice, some fried onions and cashews, cilantro, mint and a few drops of yellow color.
Add a layer of the koftas and the sauce.
Alternate with a layer of rice, ghee, onions, cashews, cilantro, mint and yellow food color.
Keep on building the layers. Remember the top layer is always rice.
Pour in the saffron on the top.
Top with a heavy lid and put the utensil on top of a flat frying pan so that we get indirect heat.
Make sure the stove is at medium.
Cook for 12-15 mins and remove aside.
Open after about 10 mins, top with the hard-boiled egg and the biryani is ready to serve. Serve alongside more pickle, raita and salad.
Notes
Use less of the biryani masala if you want to tone down the spice.
My Friday Food Swings http://www.myfridayfoodswings.com/
You may also like: