Yum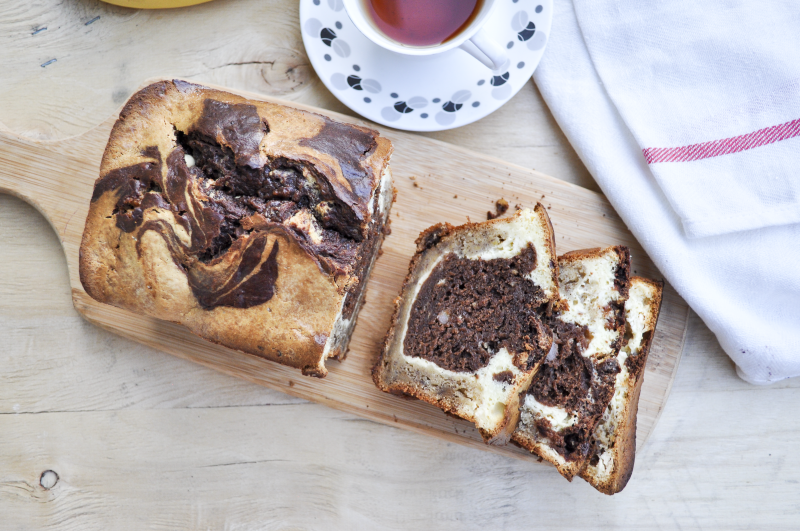 I love this time of the year! It is actually the lull before the impending storm. Summer holidays start in about 3 weeks. So Ms. G is relatively free now with homework becoming less and less every passing day which means mom needs to up her game so that the pre-teen ends up spending time meaningfully and not just waste time watching TV.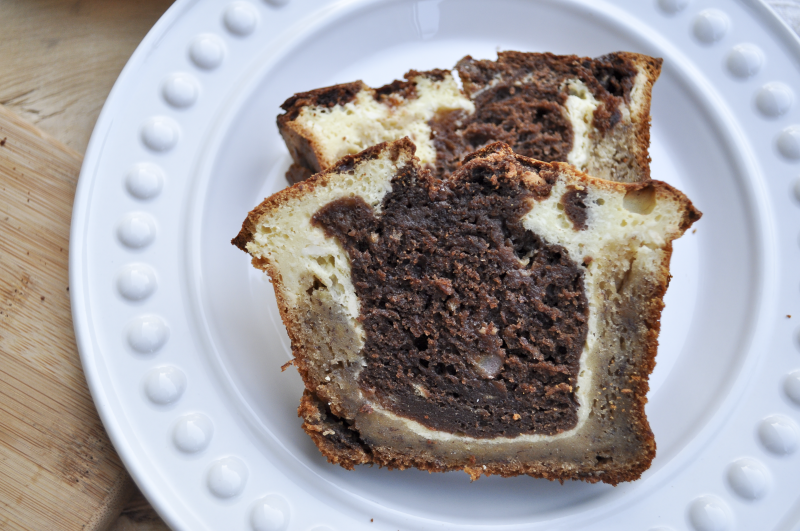 Summers are also the time of the year when everyone looks for ways to stay away from the oven but in my case, it's the opposite. Baking is one activity that we mother-daughter love to do together even though with G, 8 out of 10 times, you would find her making boxed brownies. She loves brownies and chocolate cakes and takes immense pride in her "tweaked" boxed brownies. In fact, she has me bake her cakes and cookies periodically and takes them to school to share with friends.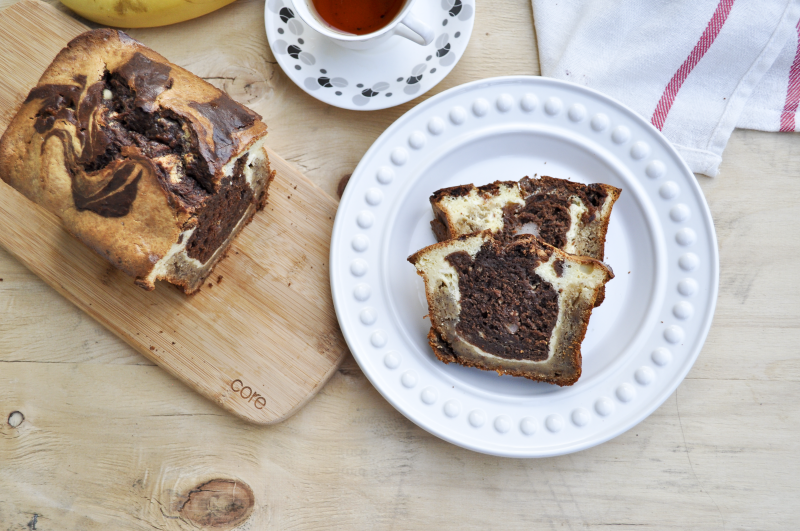 My love for baking is immense. It is absolutely therapeutic to me to plan and execute a cake. But honestly, when you have a very opinionated and creative pre-teen in tow throwing in suggestions, things cease to remain therapeutic. However, I know that one day I would be very happy to have had these baking sessions with Ms. G. My whole world revolves around her and somewhere as she is growing older, I can't help but think that the day is probably not that far when she will leave home for college. There I go again!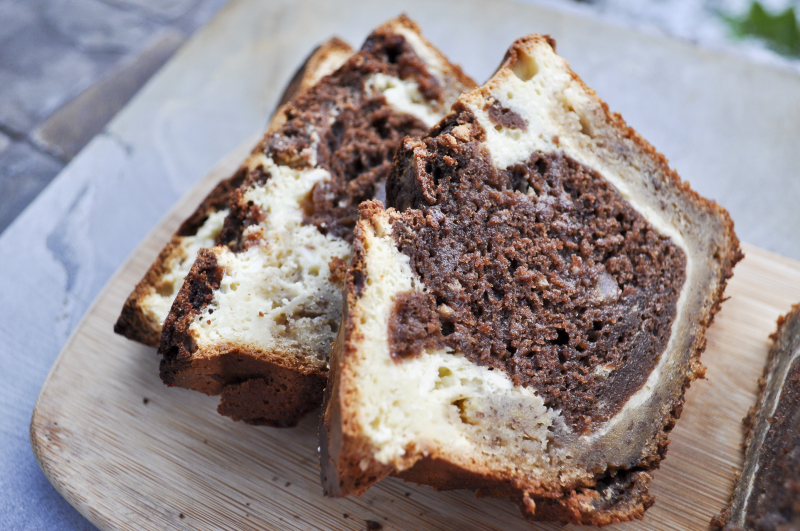 Nevertheless, if you have been following my blog, you know that I have been on a mission to get my health back on track this year. So for almost last 3 months now, I have been working out 5-6 days a week and eating healthy. However, I would not lie to you, I have a very unforgiving sweet tooth and every dessert post on social media makes me wanna get back to my oven with a vengeance. I am tempted to give up my job and maybe turn to baking full time. Well! I know I am not there yet. I would do that probably one day but not yet. Till then let me do what I do best and that is baking banana bread for friends and family.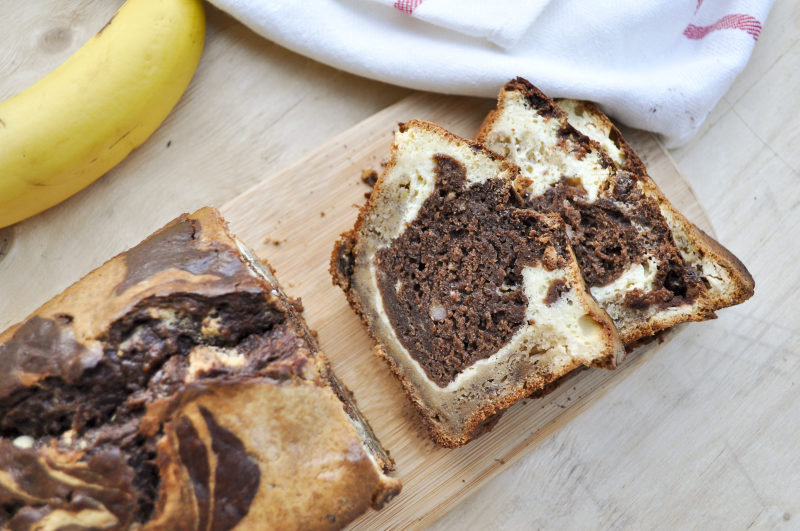 This idea for this cake/bread started with some over-ripened bananas and turned into the most delectable Banana, Chocolate and Cream Cheese Loaf. And I have been wanting to make a marble cake for quite some time. And this one knowingly or unknowingly came up with beautiful marbling. So it was definitely a good-looking loaf. However, the bonus was that it turned out super delicious and the slice paired with my trusted cup of joe, and enjoyed in a solitary corner of the house was sheer bliss. This is definitely on my radar now for a repeat show.
This recipe is adapted to a certain extent from this banana cream-cheese bread recipe.
You may also like these recipes:
Low-Fat Whole Wheat Mini Banana Bread Loaves
Honeyed Pumpkin Oat-Bran Bread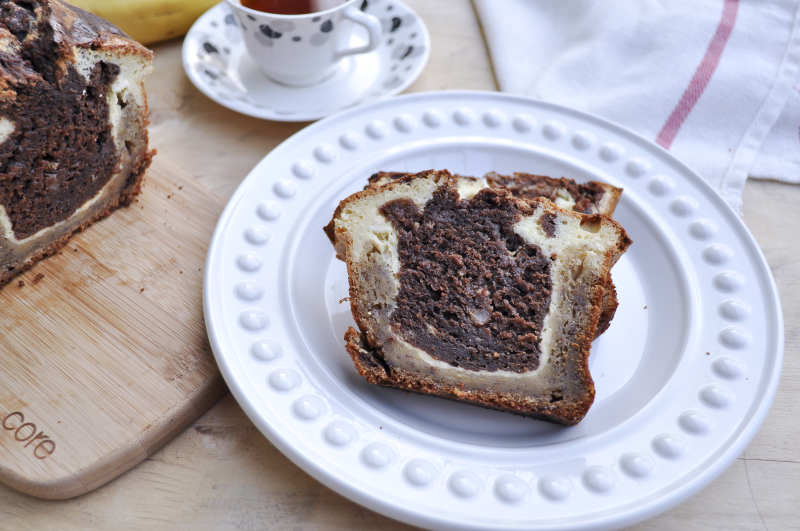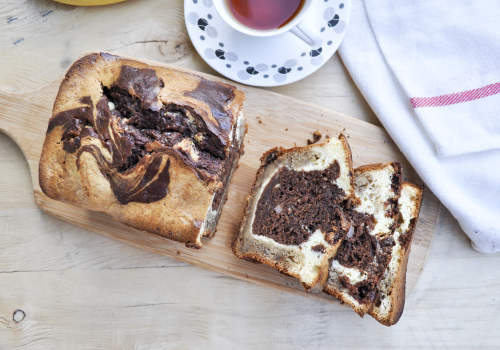 Banana, Chocolate & Cream Cheese Marble Loaf
2016-05-25 13:41:31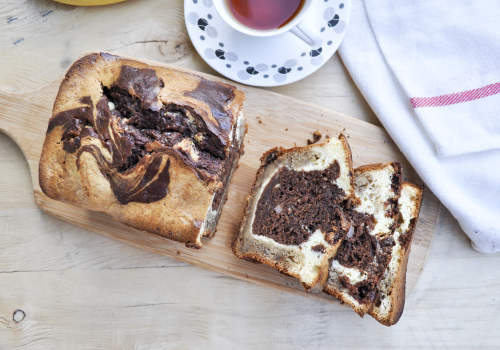 Serves 8
Nutrition Facts
Amount Per Serving
* Percent Daily Values are based on a 2,000 calorie diet. Your Daily Values may be higher or lower depending on your calorie needs.
Ingredients
Large Ripe Bananas – 2
Baking Soda- 1 tsp
Baking Powder – 1 tsp
Salt – ¼ tsp
Ground Cinnamon – 1/2 tsp
Ground Nutmeg- ½ tsp
Grownd All-Spice – ½ tsp
Low Fat Plain Yogurt – ½ cup
All Purpose Flour – 11/2 cup
Vegetable Oil – ¼ cup
Light Brown Sugar – ¾ cup
Pure Vanilla Extract – 1 tsp
Eggs – 2
For Chocolate Banana Bread
Nutella – 2 tbsp
Cocoa Powder – 11/2 tbsp
For Cream Cheese Filling
Egg -1
Cream Cheese – 4 ounces (room temperature)
Granulated Sugar – ¼ cup
All Purpose Flour – 3 tbsp
Instructions
Pre-heat the oven to 350 degrees F.
Mash Bananas with fork.
Add the yogurt to the mashed bananas and keep aside.
In a mixing bowl, sift the flour and add all the dry ingredients (spices, baking soda, baking powder & salt).
In another bowl, cream the eggs, brown sugar, vanilla extract and vegetable oil together.
Add the mashed banana-yogurt mix and raisins to the bowl above. Fold everything in.
In another bowl, mix together the cream cheese, granulated sugar, egg and all-purpose flour. Keep aside.
Remove 1 cup of this batter in a separate bowl. Add cocoa powder and Nutella and mix it well.
Now grease a loaf pan. Pour in the plain banana bread batter.
Pour the chocolate batter on top.
Lastly, pour in the cream cheese mixture.
Bake for 45 mins and insert a skewer in the middle and check if it comes out clean.
Take it out and let it cool on a rack.
Cut into slices and enjoy.
Notes
Oven strengths and temperatures vary, so it may take a few minutes less or more to be baked.
My Friday Food Swings http://www.myfridayfoodswings.com/