Yum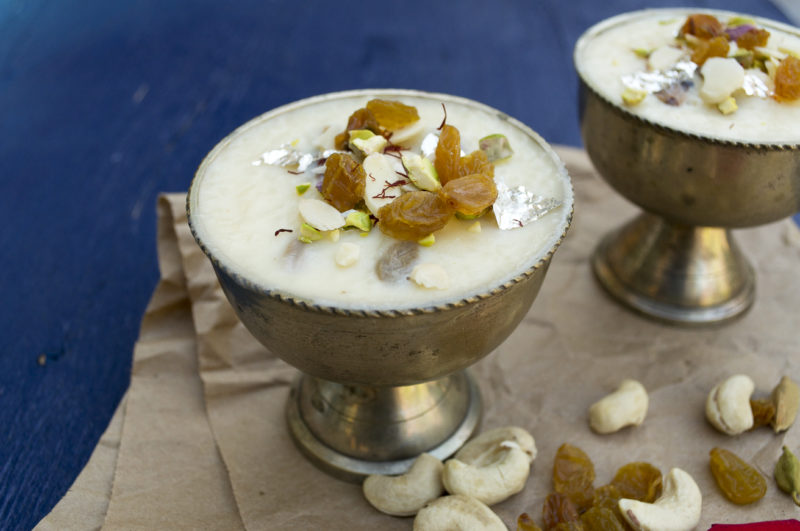 It's Rakshabandhan and here comes my most favorite dessert, the Bengali Chaler Payesh or the quintessential kheer. I don't have a biological brother and so growing up Rakshabandhan was never big for us. However, I have many cousins and brother figures in my life and I am really blessed to have them. But then I have always felt that being a Bengali, Rakhi is a lesser affair. Rather Bhai Fota (the other brother sister celebration right after Diwali) is more prominently celebrated in my family.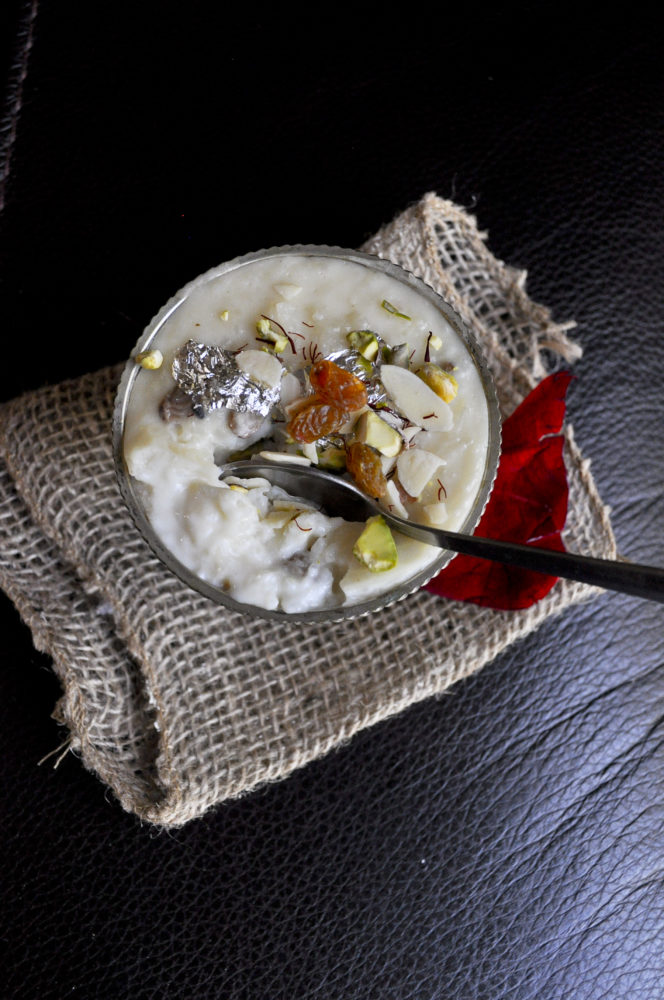 I grew up with another older sister and all my cousins from my dad's side of the family are boys. Rakhi, we never celebrated but we did celebrate Bhai Fota. Our family and all of dad's siblings along with their families would visit our ancestral home and we would be spending the day together chit chatting, catching up and obviously eating good food. My grandma personally made sure that everything was cooked to perfection. And in the evenings we would have a small ceremony where each one of my brothers would sit on the floor in a line and my sister and I would be doing the rituals. There would be a huge plate of sweets in front of each of them, mostly store bought. Some years my grandma would make a kheer or a payesh and no one made the kheer better than her.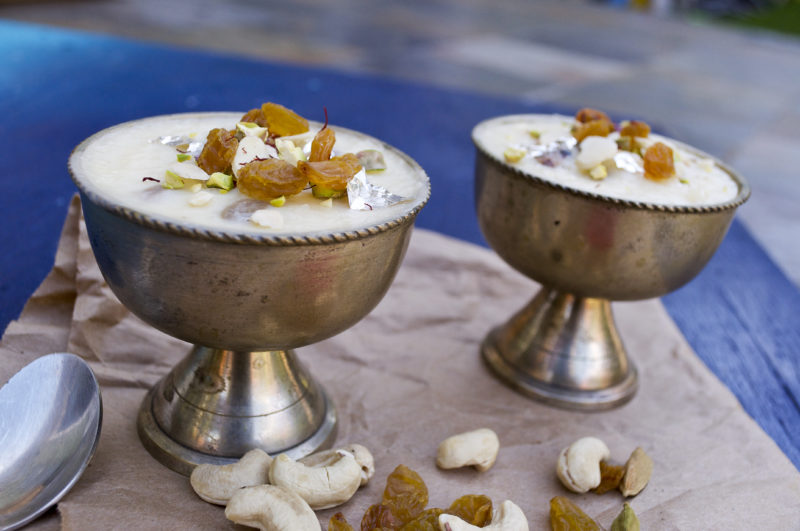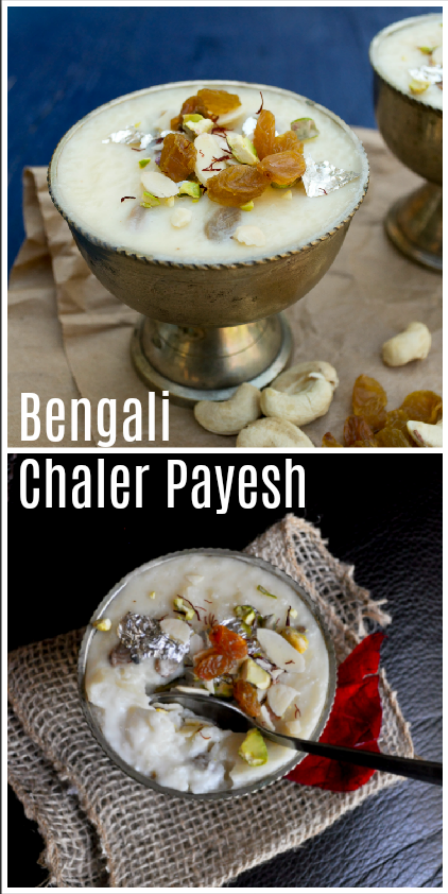 These pics for this post were clicked some two years back when Maa ( my mom) came in 2015. She had made the payesh. And I am writing this post today. We just got back after a very hectic trip from Kolkata, India and I have been catching up on work since then. I really have not got any time to make anything or click anything. But today is a special day, I had to write a post. Chaler Payesh is customary to all things auspicious and happy in the Bengali culture. Be it a birthday or baby shower, the chaler payesh has to be there on the menu. So it makes perfect sense to share this recipe today.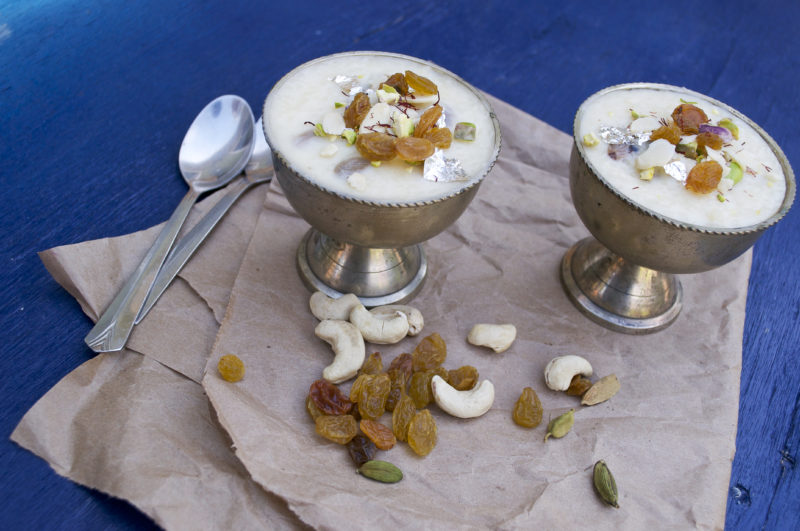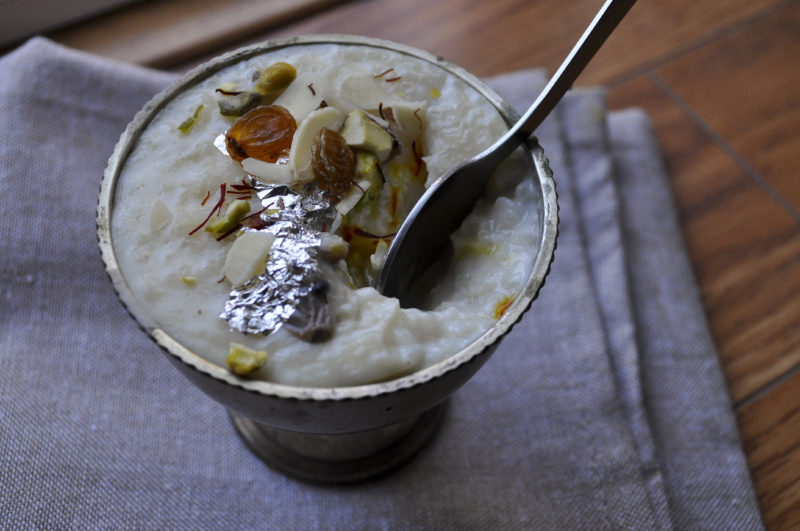 You may like the following recipes: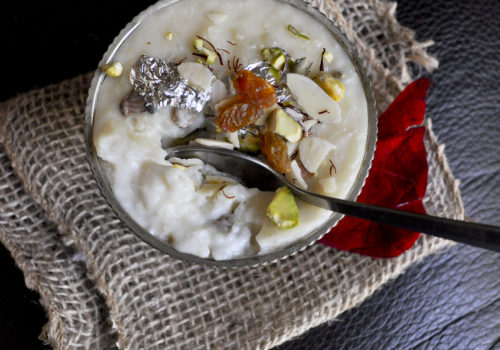 Bengali Chaler Payesh
2017-08-07 19:38:23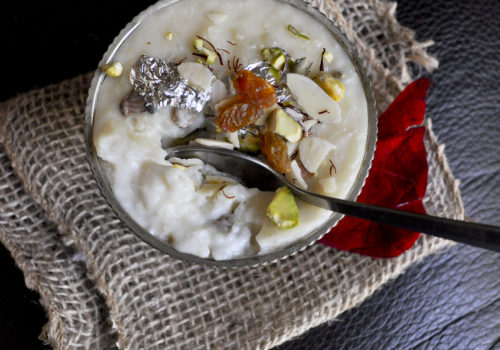 Serves 6
A Bengali dessert customary to all auspicious celebrations in the Bengali culture.
Nutrition Facts
Amount Per Serving
* Percent Daily Values are based on a 2,000 calorie diet. Your Daily Values may be higher or lower depending on your calorie needs.
Ingredients
Milk – 1/2 gallon (about 1. 89 liters)
Rice – ½ cup (I used Gobindobhog, but you can use Basmati too)
Sugar – ¾ cup
Green Cardamom – 4-5, crushed
Bay Leaf – 2
Raisins – 2 tbsp
Nuts – To garnish
Saffron – To garnish
Instructions
Bring the milk to a boil in a wide heavy bottomed pan along with the bay leaf and cardamom.
Wash the rice and slowly add to the boiling milk.
The rice should be allowed to cook in the boiling milk. You can reduce the flame to medium and let the rice cook. This step takes about 15 mins and you need a lot of patience in this step. And keep stirring lightly as the milk has a tendency to get burnt during this time.
Take a grain of rice out and press between the tips of your fingers. If it seems soft and mushy, it is cooked and you are ready to add the sugar. If not, then make sure the rice is cooked first.
Add the sugar, stir and mix it in. You will have to be super careful and keep on stirring at this stage till the milk reduces to 1/3 of its original volume and is thickened to the right consistency.
Remove from flame and add the nuts and raisins.
Garnish with edible silver foil and saffron. This step is optional.
My Friday Food Swings http://www.myfridayfoodswings.com/