Yum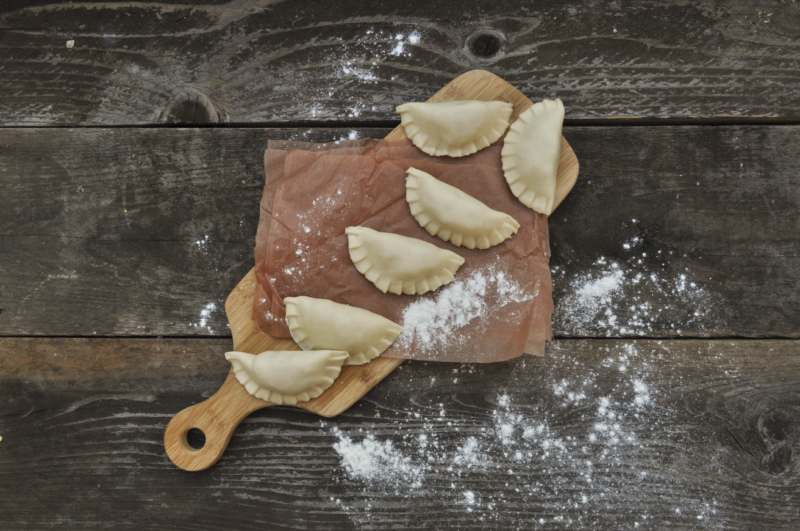 Last week my friend Nicki made karanjis/gujiyas. She is a very health conscious and beautiful dame, so I was a little surprised to see her make karanjis or gujiyas, as she called them. And when she saw my bewildered face, she said something, which kind of stuck with me. She said that maybe in a few years we would have health issues, which would stop us from eating such treats; so till then let's enjoy them albeit in moderation.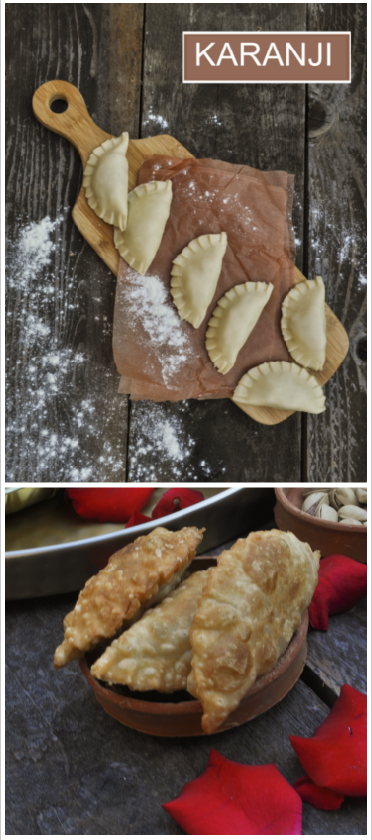 And thinking of it isn't it so true? Who knows what is in-store for tomorrow? It is important to live every moment and every dessert. My new mantra for eating desserts is that I will take the same in a proper bowl/plate and will sit down and enjoy, relishing every morsel, every grain, and every bite. I think it took me some years to realize this, but how we eat something has a lot to do with satiety. My style had always been eating on the fly, grabbing something here, taking a bite there kinds and I clearly feel when this is what you do, you end up overeating. Food is more than mere sustenance for the body. It needs to be given its due respect, and it is important to relish its texture and taste with every bite.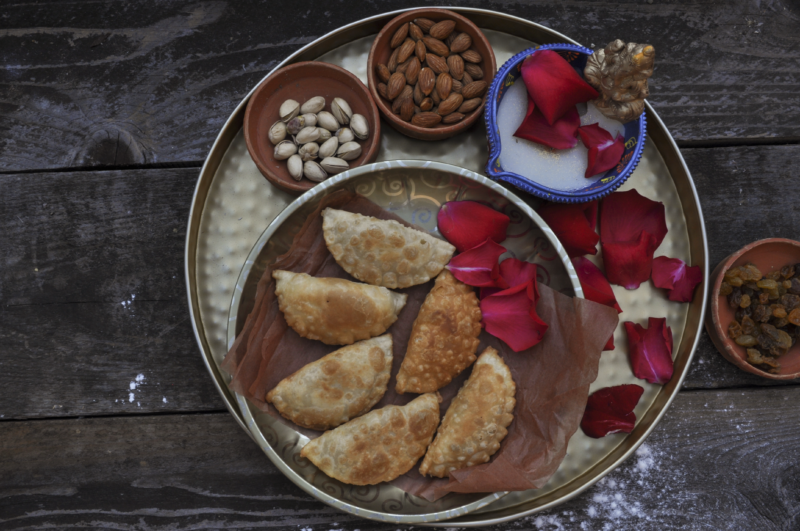 And I did enjoy one of these karanjis all by myself today after I dropped off G at school. I was working from home today, so could take that time out and eat it mindfully and trust me it was worth it. With Ganesh Utsav round the corner, and social media buzzing with Gujiyas, Karanjis, ladoos and modaks, how much longer can you resist? So finally yesterday, after a rough day at work, I set out to make them. Quite easy, fast and really delicious! These are perfect if you're planning to offer as a Prasad.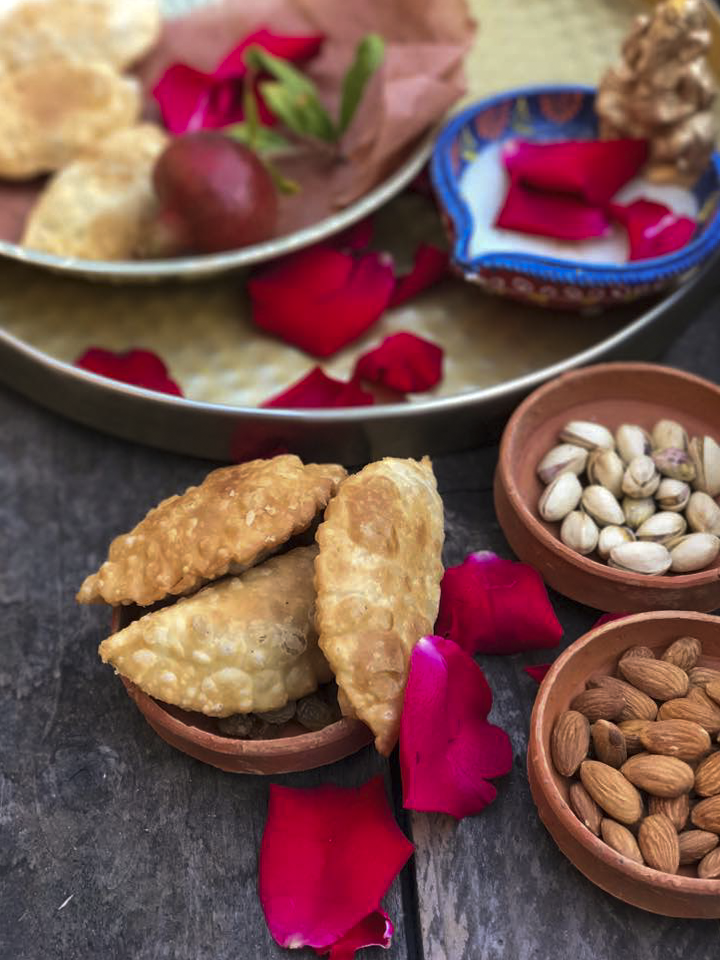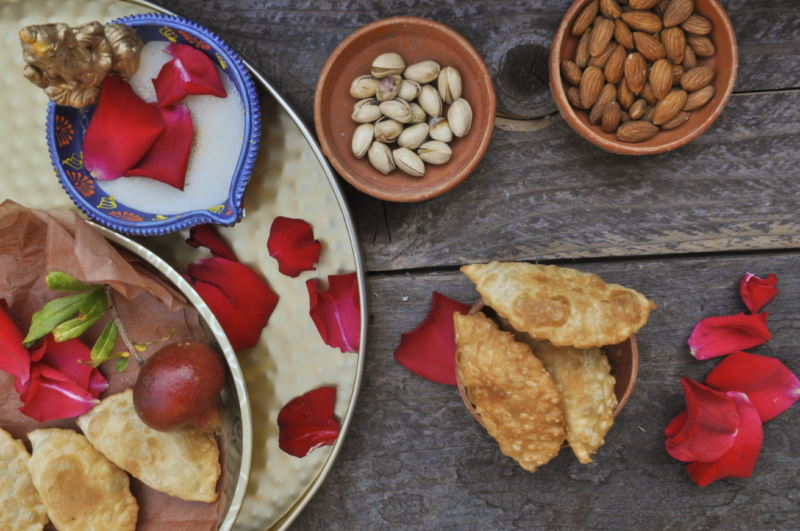 You may also like these recipes :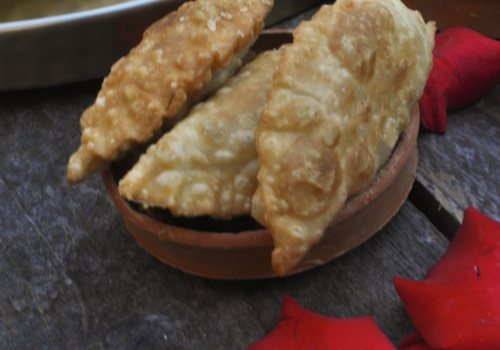 Karanjis/Gujiyas
2017-08-23 20:42:14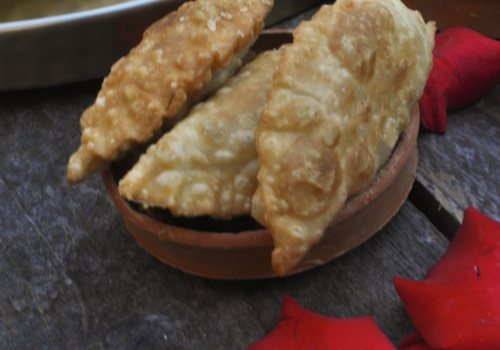 Serves 8
A delectable Indian dessert that is a flaky pastry with the goodness of a rich and delicious filling.
Nutrition Facts
Amount Per Serving
* Percent Daily Values are based on a 2,000 calorie diet. Your Daily Values may be higher or lower depending on your calorie needs.
Dough for the Casing
All Purpose Flour – 1 cup
Ghee – 1 tbsp
Salt- a pinch
Water – 1/3 cup
For the Filling
Desiccated Coconut – ½ cup
Mawa – 1/2 cup
Sugar – ¼ cup
Cardamom Powder – ½ tsp
Condensed Milk – 3 tbsp
Golden Raisins – 10-12
Slivered Almonds – 1 tbsp
Slivered Pistachios – 1 tbsp
Poppy Seeds – ½ tbsp.
Sesame seeds – ½ tbsp.
Ghee – ½ tbsp
Milk –1 tbsp
For Frying
Vegetable Oil – 1 cup
Instructions
In a pan, melt the ghee and add the coconut, sesame seeds and poppy seeds. Over a low flame, roast them until they look a toasty brown.
Pour in the condensed milk, milk, mawa and the sugar.
Next goes in the nuts and the cardamom powder. The mixture will start coming together.
Continue cooking till the liquid is reduced and the filling is dry enough to come together. There should be some amount of moisture and it should not be completely dry.
Remove from flame and let it cool.
Prepare the dough by mixing all the ingredients and kneading it for at least 5-7 minutes to let the gluten do its magic.
Let it rest for 15 mins after it is kneaded.
Now make small balls with the dough. I could get 8 balls.
Roll out one ball at a time into a small circle with about 3 inches diameter.
I had the empanada dough press, so I used that. Just put the rolled dough circle in it, put a teaspoon of filling in the middle and then press it. Make sure to press well at the edges.
Heat the oil and then fry the karanjis over medium heat making sure to let them take time to become golden brown.
Notes
If you don't have a dough press, you can do the same manually by pressing the seams between the tips of your fingers.
My Friday Food Swings http://www.myfridayfoodswings.com/