Yum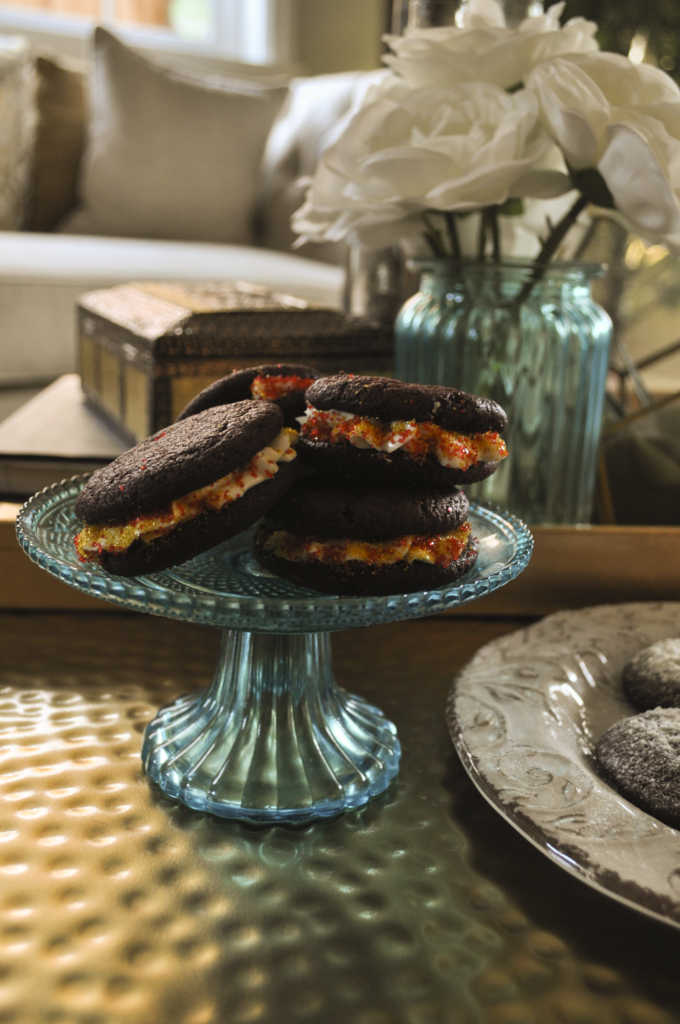 Dark Chocolate Cream Cheese Sandwich Cookies. These cookies and three more days to Christmas. I am trying to soak in the joy and festivity as much as possible. And I am making tons of cookies but very few recipes are making to the blog. Of course, I am flooding my Instagram with pics. Follow me there if you want to check what's cooking in my kitchen.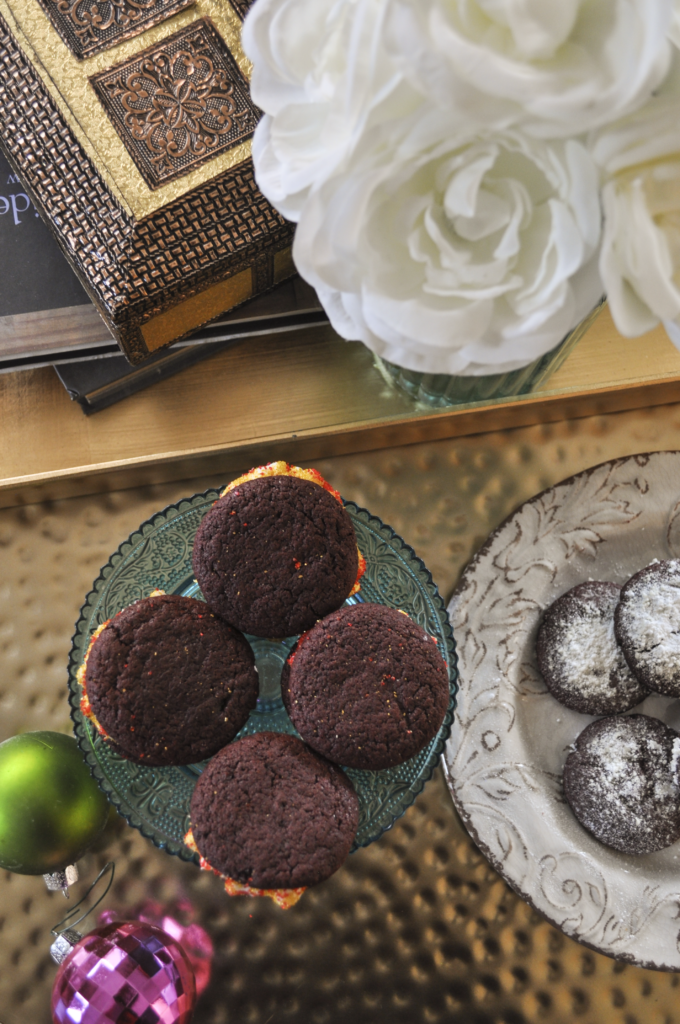 Having said that, this is also that time of the year when your fat jeans become your skinny jeans (heard it on the radio) and it's so true. And as I say, I am in the "Eat" stage of the Eat, Pray, and Love trilogy of my life. But then it's fine. It's all about balance. Eat now and come January, get into detox. And you will not believe this between G, my daughter and I; we ate 4 of these substantial Dark Chocolate Cream Cheese Sandwich Cookies within a span of 2 hours. So addictive and so good! You will not be able to stop yourself from eating them and then curse yourself for making these and me for the recipe. I think this is the by far the best chocolate cookies I ever ate and made.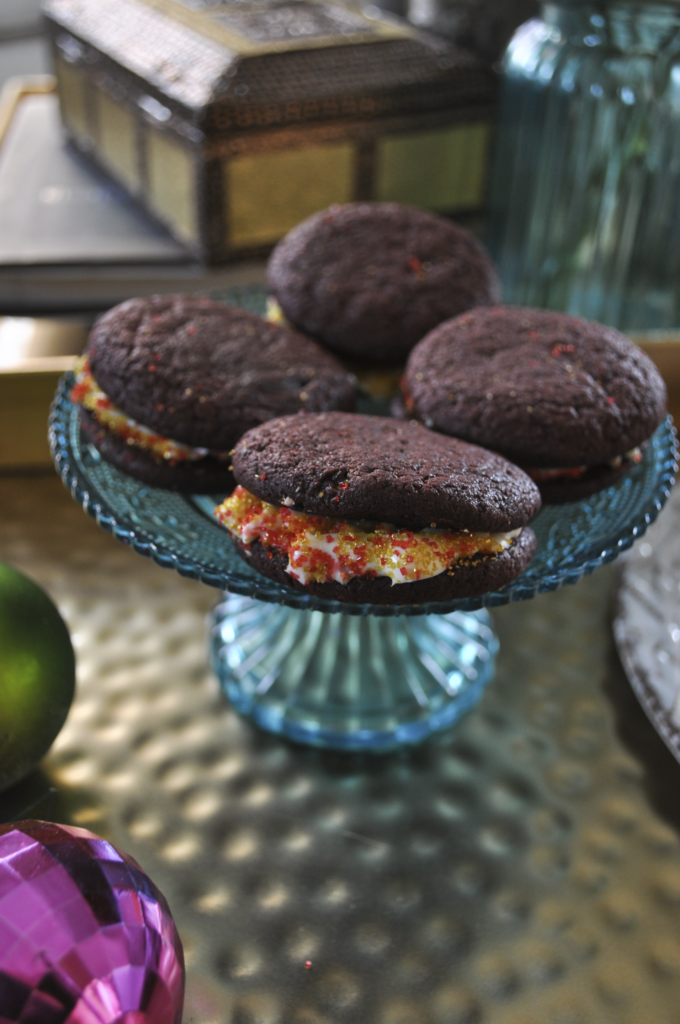 And these were actually made by my teen. I got the ingredients together and asked her to do the rest. She put in the first batch of cookies and was unhappy with the texture. So we put in the second batch and readjusted the time and got the chewiest, decadent and sinful cookies ever made in my kitchen. I have a few hall of fame recipes, the ones that are absolutely tried and tested and completely fail-proof. And, of course, divinely delicious. This one is one such find of 2017.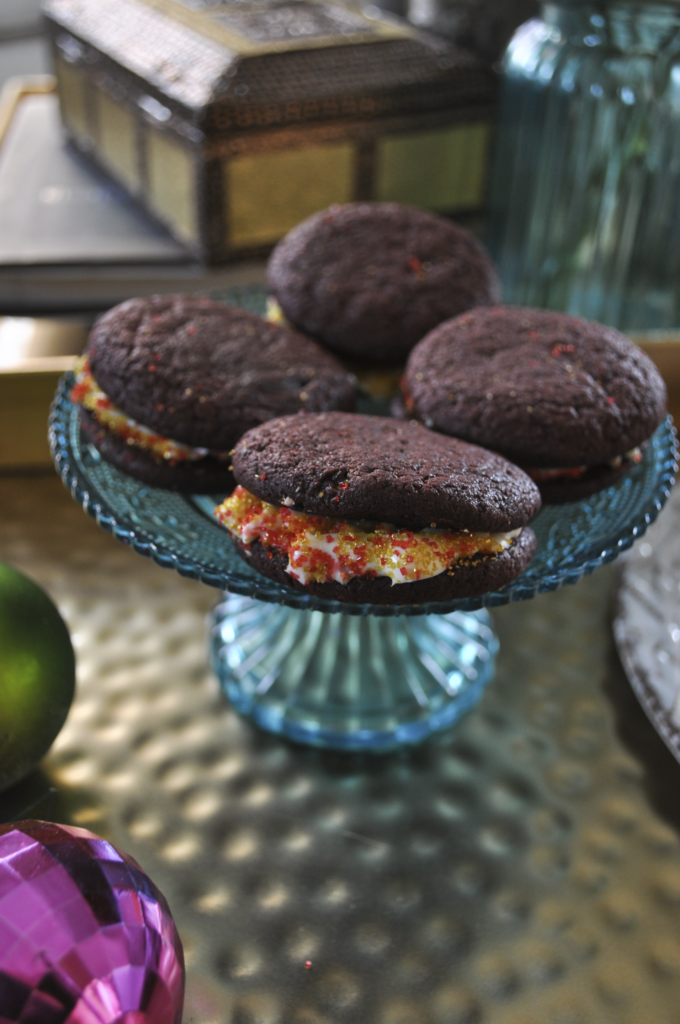 You may also like the recipes below:
Dark Chocolate Nutella Fudge with Nuts & Fruits
Eggless Mini Dark Chocolate Bundt Cakes
Chocolate Macarons with Dark Chocolate Ganache Filling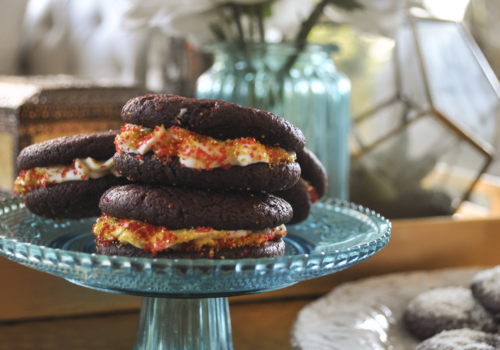 Dark Chocolate Cream Cheese Sandwich Cookies
2017-12-23 15:42:14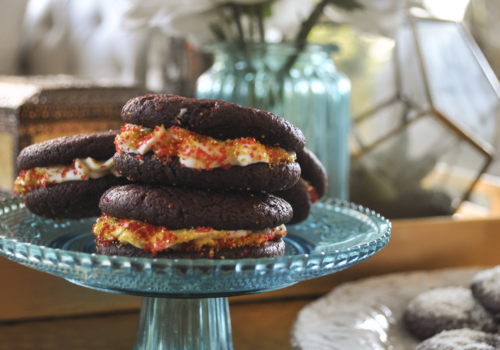 Serves 18
Nutrition Facts
Amount Per Serving
* Percent Daily Values are based on a 2,000 calorie diet. Your Daily Values may be higher or lower depending on your calorie needs.
For the Cookies
Dark Chocolate – 4 ounces ( ½ cup)
All Purpose Flour – 11/2
Baking Powder – 2 tsp
Dutch-Process Cocoa Powder – ¼ cup
Kosher Salt – ½ tsp
Unsalted Butter – ½ cup, at room temperature
Brown Sugar – 11/4 cups, firmly packed
Vanilla Extract – 1 tsp
Eggs -2
Powdered Sugar – ½ cup for dusting (optional)
For the Cream Cheese Filling
Cream Cheese – 8 oz ( 1 pack)
Butter – ½ cup
Vanilla – 1 tsp
Powdered Sugar – 3 cups
For Garnish
Red Decorating Sugar
Gold Decorating Sugar
Instructions
In a glass or heatproof bowl, place chocolate. Microwave for 30 secs at a time for 1.5 mins stirring in between after every 30 secs. The chocolate should be completely melted.
Pre heat oven to 350 degrees F.
Sift flour, baking powder, cocoa powder and salt in a bowl.
In another bowl, combine butter and sugar. Now using the stand mixer or electric mixer, cream the two together till light and creamy.
In-between the mixing, add the vanilla and crack and pour the eggs one at a time.
Add the melted chocolate at this stage and mix it in.
Finally add the AP flour and beat until it is just incorporated. Cover and refrigerate for 1 hr.
Line two baking sheets with parchment paper.
Scoop a tablespoon of the dough on the baking sheets about 2 inches apart.
Bake for 7 mins.
Take out of the oven and let it rest on a cooking rack for 30 mins.
For the Cream Cheese Filling
Using an electric hand mixer or your stand mixer, cream cheese and butter together in a bowl.
Add vanilla and mix it in.
Add one cup of sugar at a time and beat it together with the butter and cream cheese.
Assembling the cookies
Take ¾ tbsp of the cream cheese filling and sandwich a couple of cookies. You should be able to get about 18-20 sandwiches.
Pour the decorating sugars on a plate. Roll the cookies sidewise so the sugars stick to the cream cheese.
Notes
Be observant, as every oven is different. Mine were still soft when I took them out of the oven but as they rested outside the oven they got to the right texture, soft and chewy.
Use a little powdered sugar while handling the dough if you feel it's sticking.
My Friday Food Swings http://www.myfridayfoodswings.com/