Yum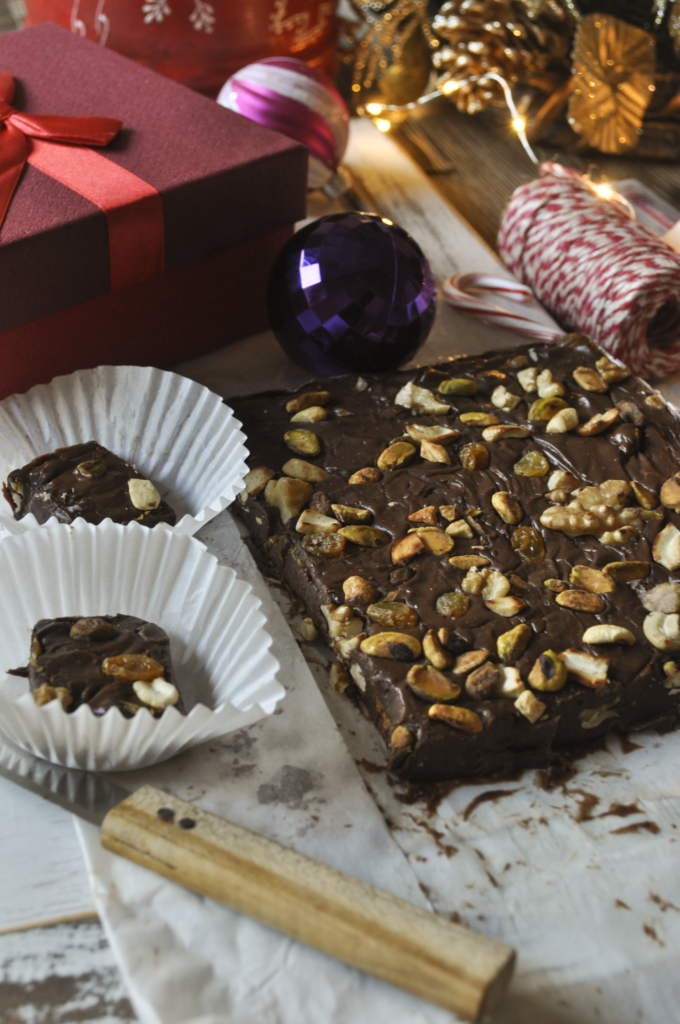 Dark Chocolate Nutella Fudge with Fruit and Nuts. Now, why did I make a fudge to give out for Christmas instead of cookies? Well, the reason is a candy that I grew up eating back in India. It was called Dairy Milk Fruit and Nut. When I was about 7-8 years old there were just a handful of milk chocolate bars available. One was from a company named Amul and the other was from Cadbury. Cadbury became the generic name for chocolate bars during the time I was a little girl. There were many variations but the fruit and nut was the exotic one.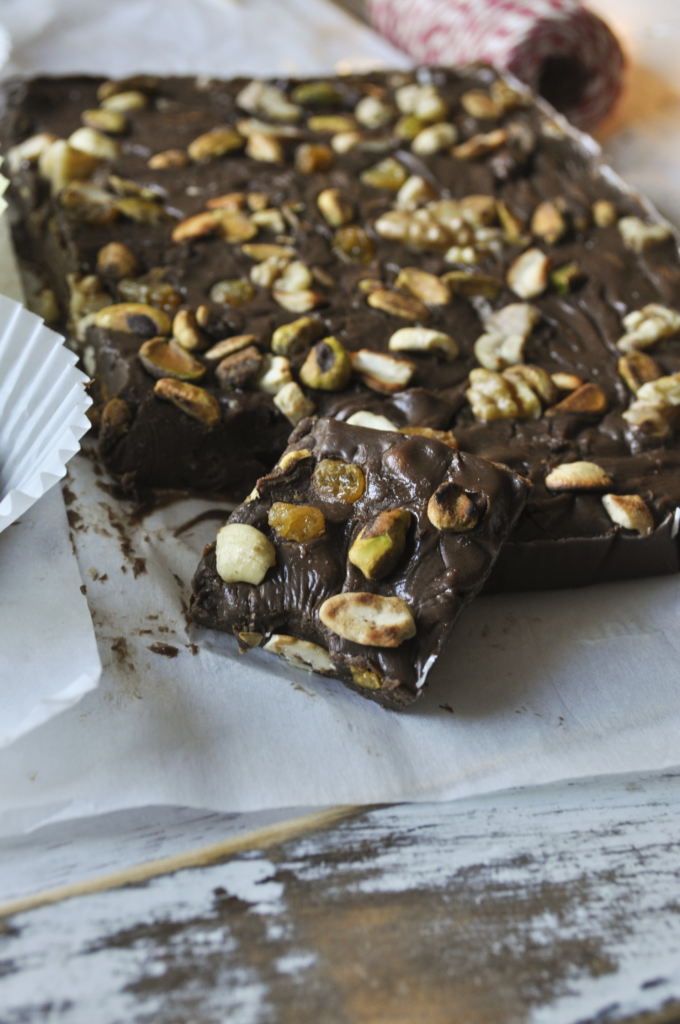 Any friend or family or for that matter any adult visiting would mean the kids would all get a bar of chocolate most times. But there were only a few occasions that someone will get the Fruit and Nut. It was exotic, luscious and absolutely sinful. Dried Fruits were expensive and not an everyday ingredient. And hence the combination of chocolate and dried fruits was downright precious. So when I was debating what to send out for Christmas, this little childhood memory paid me a visit. And hence the Dark Chocolate Fruit and Nut Fudge. May not be the actual taste of the bar being discussed but it's close, I can assure you that. The luscious and velvety mouthfeel of this confection is what makes it a winner. I am sending these to my neighbors and close friends this year for the Holidays.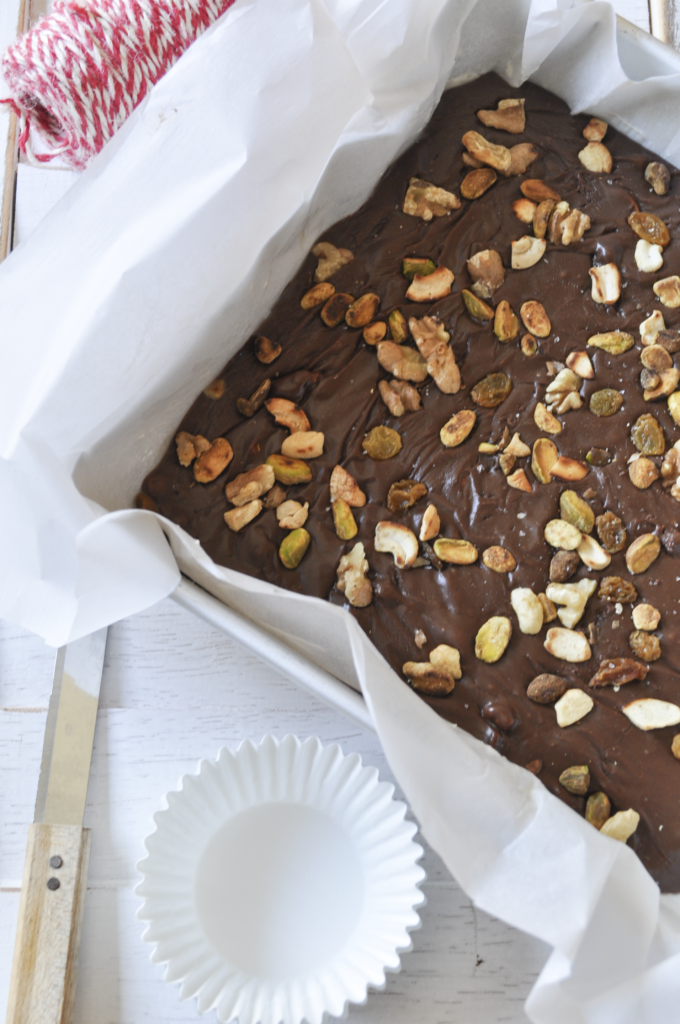 And if it helps, it's a no-cook, no-bake recipe if you do not take into account the usage of the microwave for a min or so to melt the chocolate.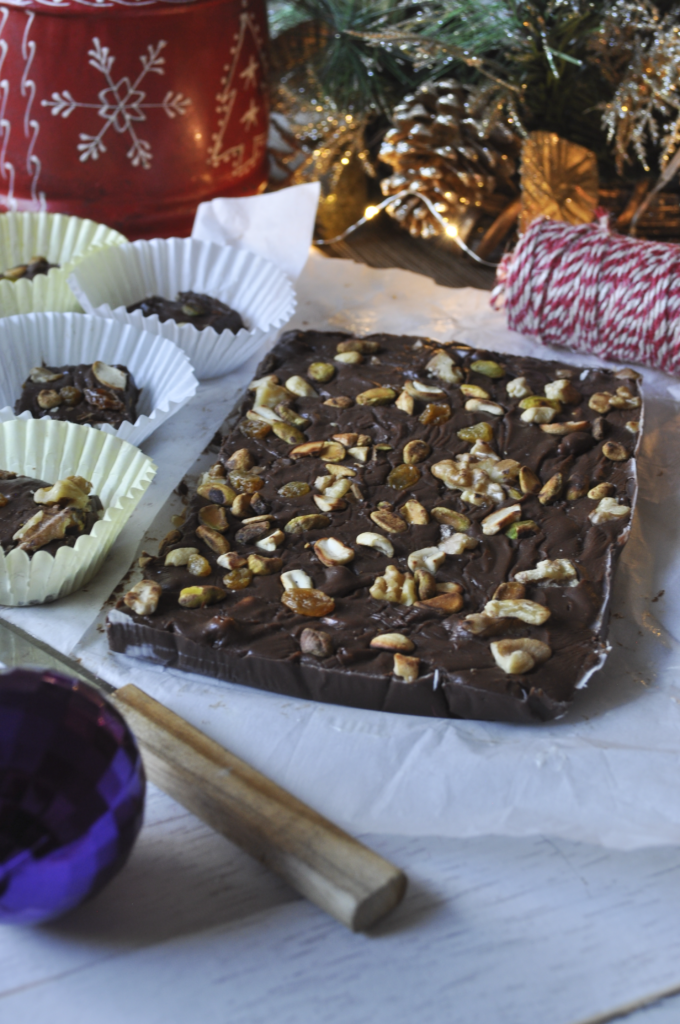 Also, as we are discussing everything festive, here is a pic of the gingerbread house my teen decorated. This was her first time and despite many a time when her patience left her side, she completed it. So cheers to that! And now it's sitting by the Christmas tree. And I probably did not mention this, that this is the first year we got a real Christmas tree. And it now stands lighted and decorated. This was such a bucket list item for me and how eagerly was I waiting to move into the new house for this moment.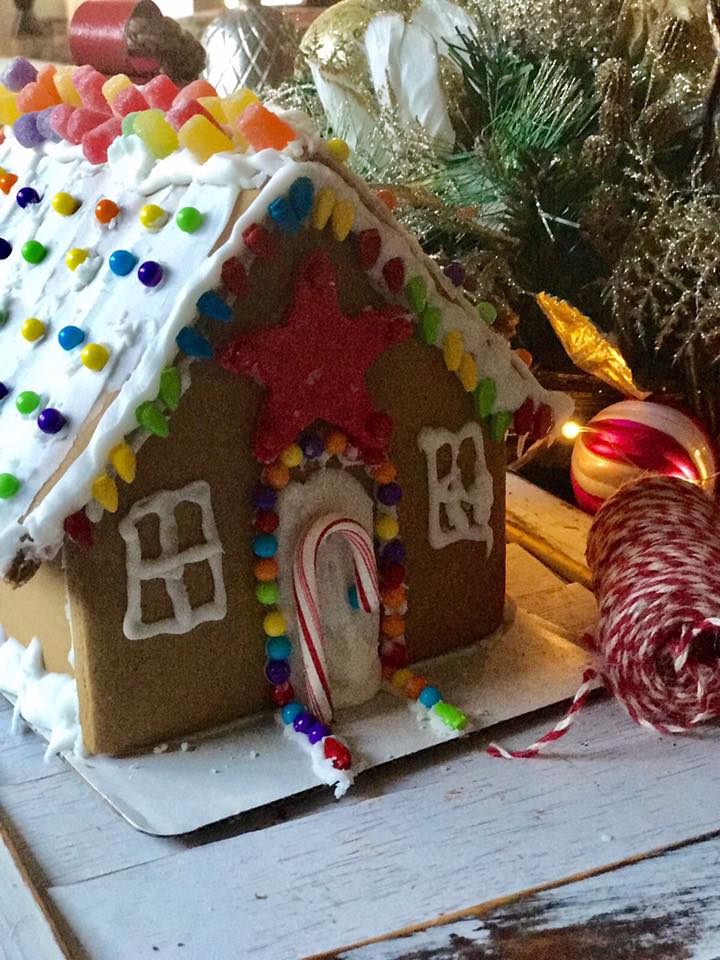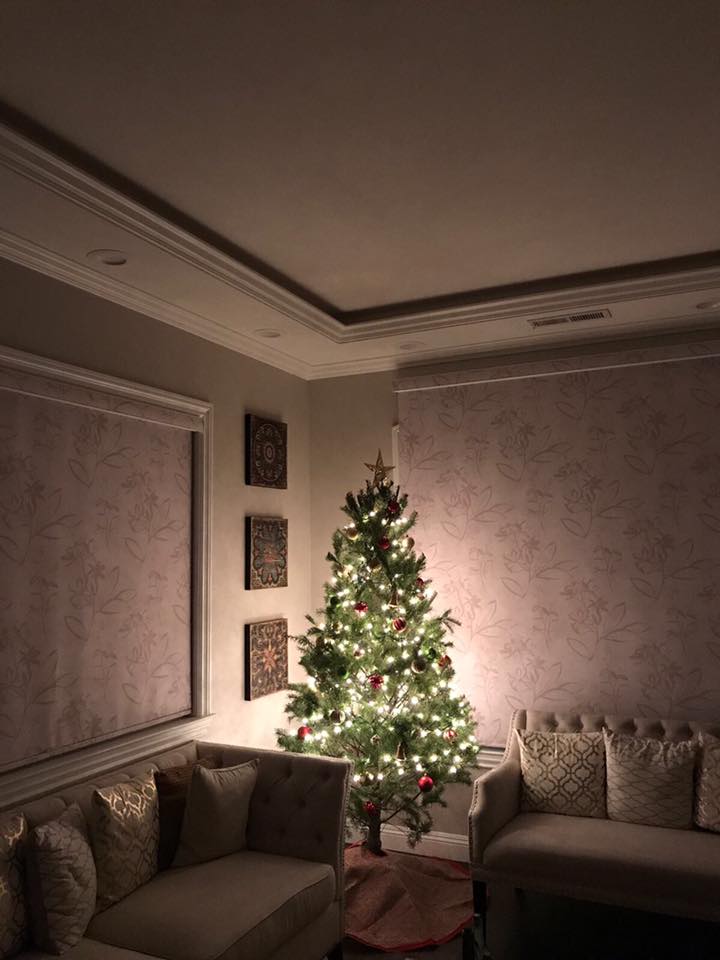 You may also like these recipes:
And I want to introduce you to some of my friends who have put up some fabulous cookies recipes too. Check them out!
Maumita Paul Ghosh's
Karen Ahmed's
Moumita Ghosh's
Tutti Fruity Shortbread Cookies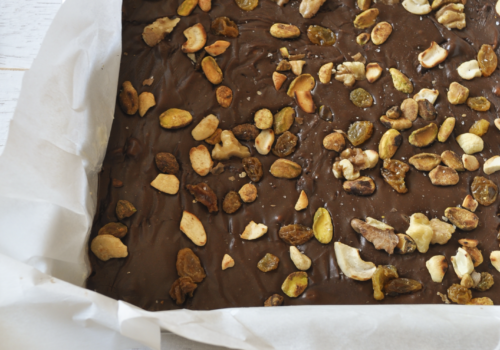 Dark Chocolate Fudge with Fruit & Nuts
2017-12-20 20:15:16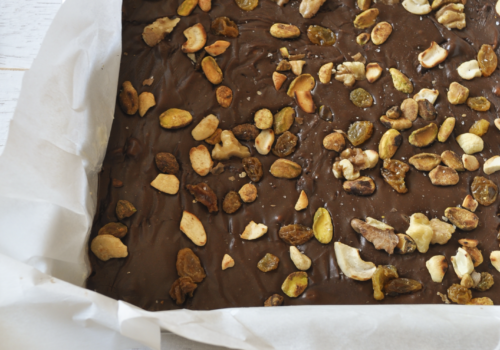 Serves 30
An easy no-bake, no-cook Holiday gift option which is divinely luscious and smooth.
Nutrition Facts
Amount Per Serving
* Percent Daily Values are based on a 2,000 calorie diet. Your Daily Values may be higher or lower depending on your calorie needs.
Ingredients
Unsalted Butter – 4 tbsp +2 tsp for greasing the parchment paper
Sweetened Condensed Milk – 1 can (14 oz)
Dark Chocolate – 250 grams
Nutella – ¾ cup
Kosher Salt – ½ tsp
Dried Fruits and Nuts – ¾ cup, roasted ( mine included raisins, pistachios, walnuts , cashews and almonds)
Instant Coffee – 1 tsp
Sea Salt – For Sprinkling
Instructions
Line an 8 inch pan with parchment paper and grease it with butter. With the parchment paper leave an overhang of 2 inch on all sides.
In a glass bowl, place the 4 tbsp of butter, chocolate, condensed milk, nutella and salt. Microwave at medium for 30 seconds at a time and stir until the chocolate melts and everything becomes smooth.
Using a rubber spatula, fold in the nuts leaving a handful aside for topping the fudge later. Also add the instant coffee at this stage.
Pour the mix into the buttered pan and using a spatula flatten the top. Sprinkle Sea salt and the handful of nuts saved earlier.
Refrigerate for 2 hours until it is firm. Using the overhang lift the fudge out of the pan, and cut into squares using a sharp knife. I could get about 30 (11/4 inch) squares.
Please each piece of fudge on a paper cup and refrigerate until you are ready to eat.
Let it sit at room temperature for 15 mins before serving.
My Friday Food Swings http://www.myfridayfoodswings.com/