Yum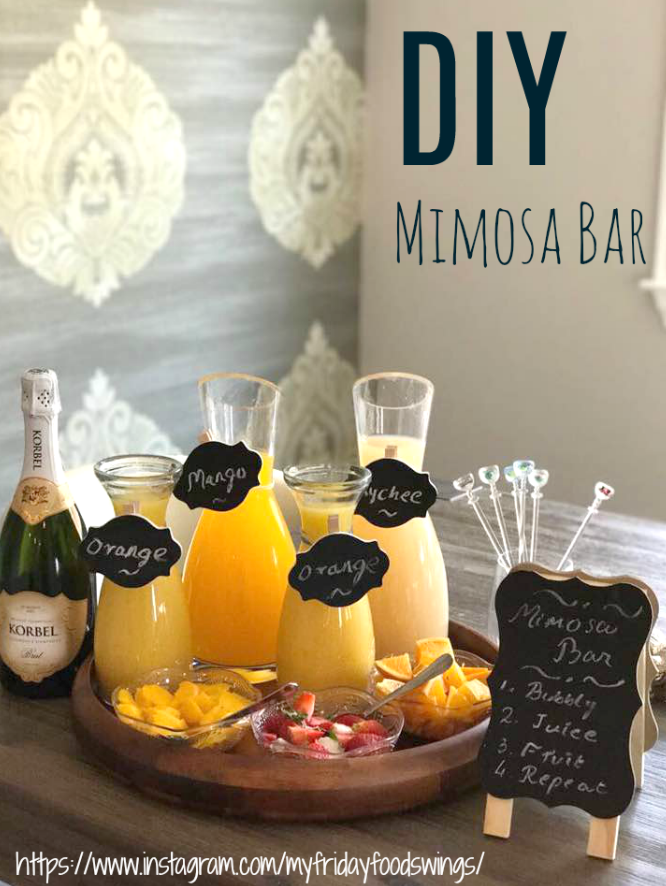 DIY Mimosa Bar! Wikipedia says, "A Mimosa cocktail is composed of equal parts champagne (or other sparkling wine) and chilled citrus juice, usually orange juice unless otherwise specified". And, 9 out of the 10 girls that I know love mimosas. Well, some of the men I know love it too. And for those of you, who have known me for some time at least, know that I love entertaining. And over the time I have realized that when you are entertaining friends it is imperative that you start the party right. So I always focus on the drinks and apps. Drinks and apps get the conversation going, and if you can throw in a few choices to your guests, then there's nothing like it.
A Mimosa Bar is a small set up which is interactive and attracts everyone's attention. You can put it together with things in your closet and helps to give a choice even to someone who prefers to take the non-alcoholic route. A few good fruit juices, champagne or any other bubbly effervescent alcoholic drink and a few fruits are all that you need.
Of course, it does not hurt to get fancy bottles and other ornate accessories. I had got plain glass bottles from Amazon and a few chalkboard tags. A small chalkboard menu board to write down the instructions and a few clear bowls for the cut fruits. And I did have some plastic disposable glasses and stirrers too.
Guests would have to pour the champagne, top with the fruit juice of their choice and then drop a few pieces of the cut fruits and stir it. We had orange juice, mango juice, and lychee juice. I had two bottles of the orange juice, as it is a classic choice. And for the cut fruits, I had strawberries, mango, and orange. It is just a fun activity to look through the directions, put the components together and make a drink. Also, the different color of the juices along with the different accouterments helps to add to the attractiveness of the setup.
Try this for your next party and you will be surprised how something as little as this can grab the attention of your guests and have them applaud you for days.
I ordered the glass bottles here from Amazon just in case you need them. Also here is the link from where I had got the chalkboard labels.
Again here is a list of materials you need:
Glass Bottles
Glasses (If you want to go fancy, get champagne flutes)
Champagne
Fruit Juice
Fruits
Stirrers
Labels/Tags
Instructions