Yum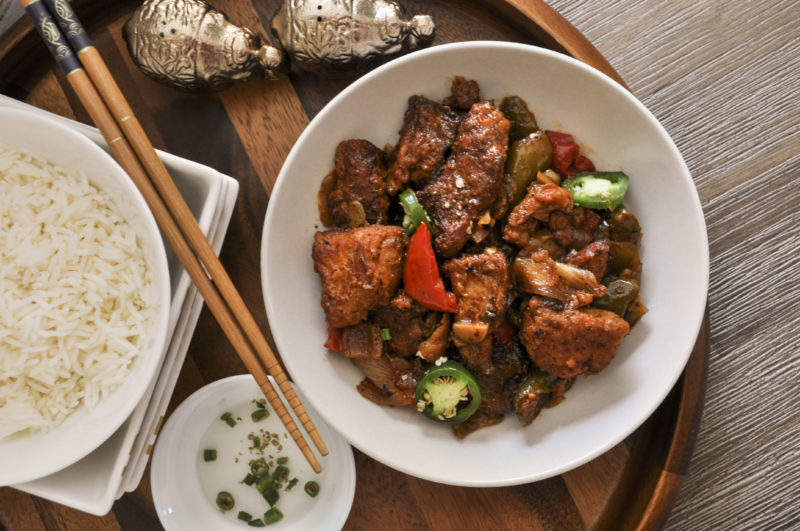 The Dry Schezwan Fish is going to be my Father's Day post. And honestly, Baba was never a big fan of any Indo-Chinese stuff. If he ever ate Chinese, it was the real deal that would be available at Chung Wah, his favorite restaurant at Chandni Chowk in Kolkata. His office was bang opposite the restaurant. He would sometimes bring us dinner too on his way back home from here.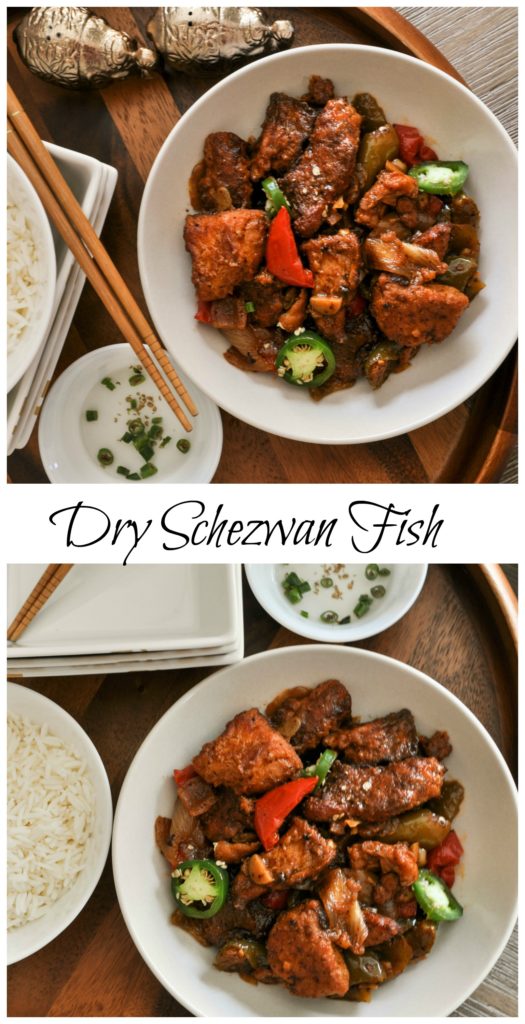 Baba passed away in 2001. His vacuum is something I carry 24X7 in my heart. I had met Sam in 2000 and Baba liked him and approved of him. So that is one thing, which gives me a lot of peace. It's strange I say this, but Sam kind of took over the responsibility of pampering me in a style very similar to my dad. For example, if I were ever undecided between two things to buy (which girl is not?), no matter how expensive, he would insist I take both. And this is something Sam does all the time. Well, it's a different story that the frugal homemaker in me ends up buying just one.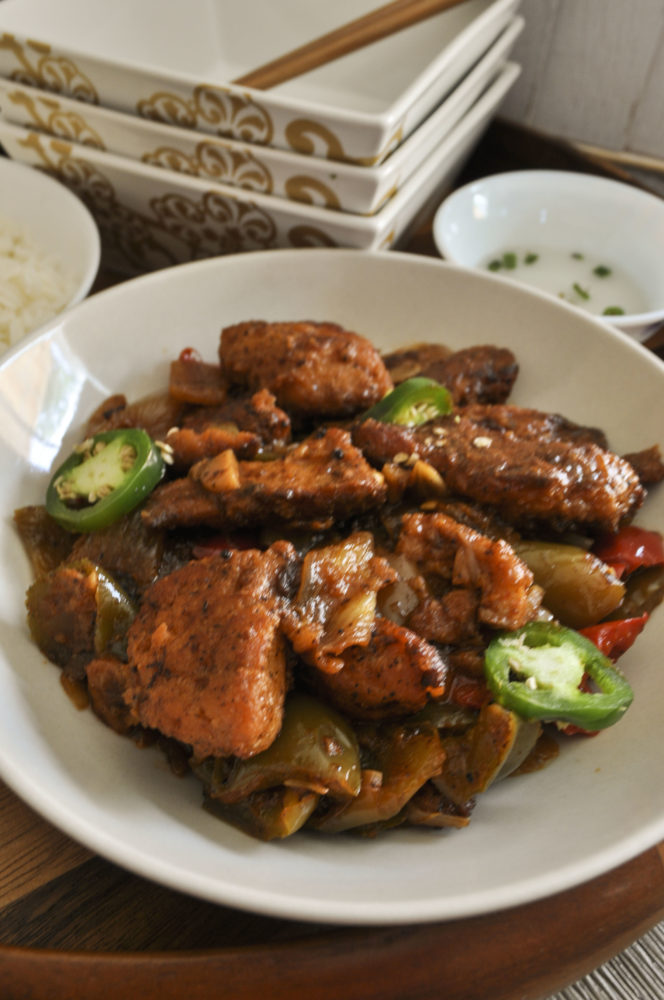 However, this post is not about Sam. This post is about the father that came with being married to him, my dad-in-law. A man of very few words, today my eyes moisten thinking that I have decided to write about him and not Baba this father's day. Baba is someone I have within me but I think writing about Papa, my father-in-law is long due. For one, I can proudly say that he does not consider me anything but a daughter and he has given me enough reasons to know that.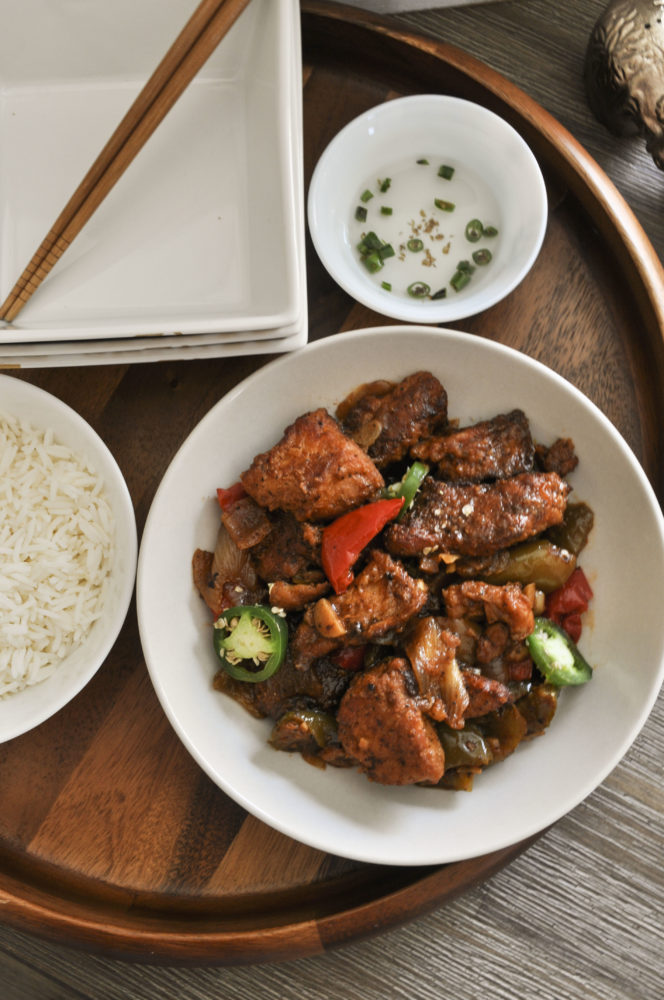 The first reason, I find it funny too, is that I take him for granted. He knows it and is ok with it. For every 100 messages of his, I reply probably once. It's a different thing that his messages like many other retired parents are all religious, political and innocuous memes doing the rounds on Whatsapp. It's his moral responsibility that his kids do not miss out on anything. He makes sure to forward everything that comes his way. Then there is overall health advice. He thinks I am a workaholic and constantly gives me the advice to slow it down and take care of myself. And last but not the least, there are recipes from every source known and unknown that he forwards me. But I never respond except when I need him to do something.
He takes care of all my responsibilities behind me, be it attending weddings on my side of the family or being by my mom's side when she needs it. My mom lives alone and both my in-laws are always there for her. And again I never take the time to say thank you! Probably I would have done that for Baba too because I know that's normal and with Papa also I know it's the norm, knowing he is there and does stuff for me not expecting anything in return.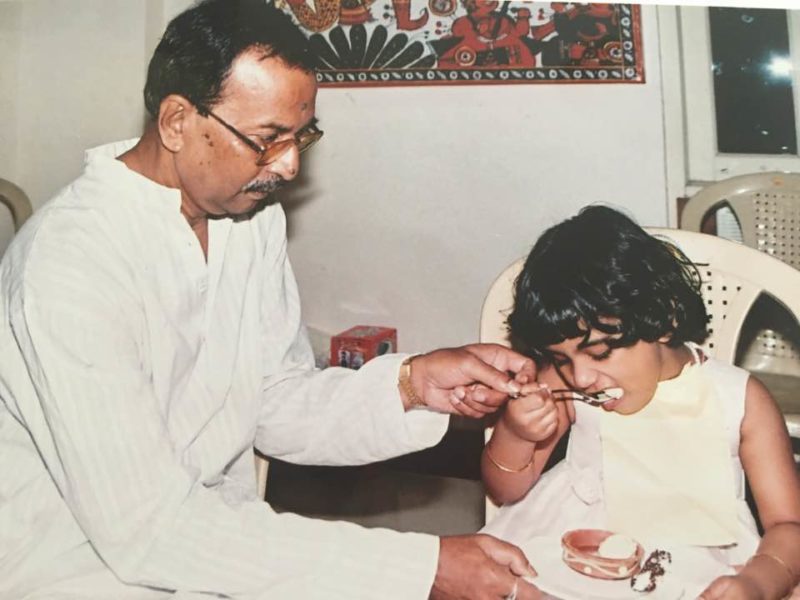 He has taken care of G or his Gunai from the time she was a little baby so that I could go clubbing, I could go to parties, movies and come back late. When we go somewhere together and I am busy, he makes sure that G is fed and well taken care of. This pic is from our 5th-anniversary party. Sam and I must have been busy with friends and he quietly sat in one corner feeding G. Don't miss the makeshift bib he made out of a napkin. When I see this pic today, I feel Baba too must be happy that there is one person who is there to spoil me just the way he would. And G's best friend in the whole wide world is her Dadu, her granddad.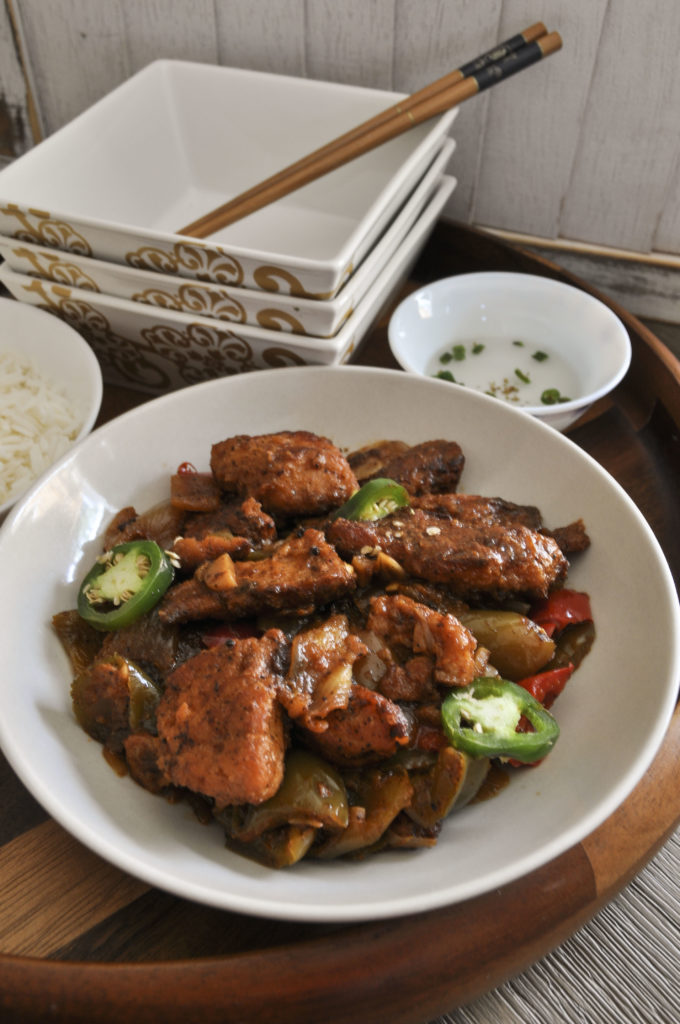 I do all the things with him I would have done with Baba. I worry about his health and never fail to yell at him for not taking care of his health. He constantly calls us and gets a little upset when we don't pick up. I make sure to call him back or at least have G or Sam call him back. Before every visit to India, I secretly pray to God that he should not look frail or beaten down than what I had last seen him, just like I do for my mom. I consult him before every big move like a date for getting in the new house, starting something new, or performing any religious ceremony at home. He on his part does his research and due diligence and lets me know. And he is the only person in this whole wide world, who I message randomly in the middle of the night when I am overcome with despair. I break down to him and he on his part just listens and gives me courage. I just know he is there for me.
And to tie it all in, let me tell you that he is a super cook. Unlike Baba, he loves cooking and never shies away from trying new things. I have many happy memories of me, my mom-in-law and dad-in-law trying out something excitedly in the kitchen and then having failed at it mourning collectively for it 🙂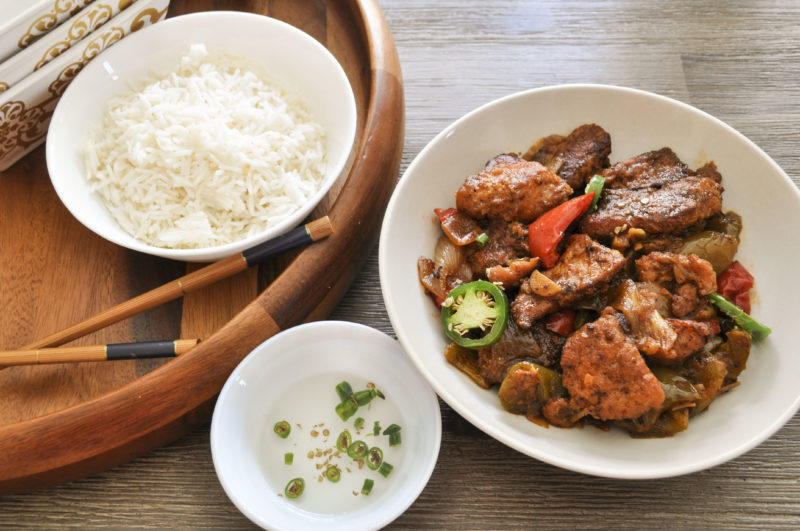 There are a few dishes papa excels in. For example, the Basanti Pulao. However, my mom-in-law would never accept the fact he makes it better than her. She would always say that he puts in more ghee (clarified butter) than her and his version is way unhealthier than hers. Also, another dish he excels in is the Indo-Chinese hot favorite, Chili fish or Chili Chicken. His would be the perfect color and taste.
For today's recipe, I sought Inspiration from his chili chicken. The Dry Schezwan Fish is not his recipe, but I had him in my mind while cooking it and did not shy away from adding that extra oil or extra chili sauce to drive up the taste. His principle is if you are making something, go all the way and don't try to make it healthier by pulling back on ingredients. Well, I did just that and this dry Schezwan Fish is a perfect appetizer to get any party started. It's a tried, tested and proven recipe and is something I entertain with a lot. Let me know if you like it.
You may also like the recipes below:
Also, I am leaving you with an image of my heartbeats, the most favorite father-daughter combo in this whole wide world. Happy Father's Day to all of you!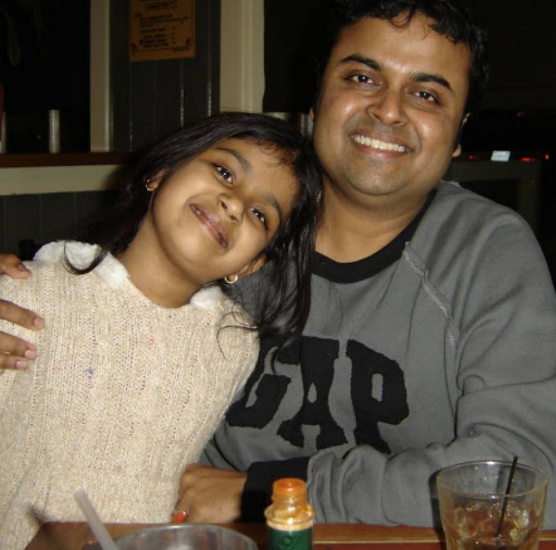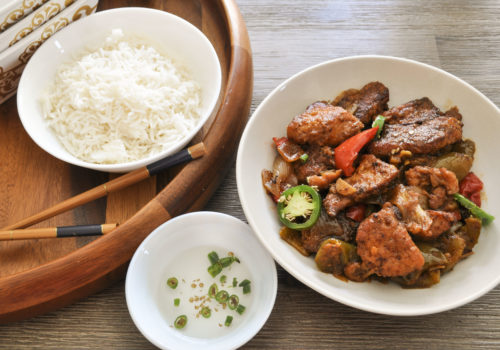 Dry Schezwan Fish
2017-06-14 21:20:11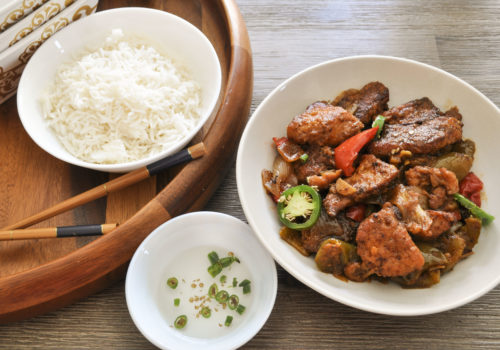 Serves 8
This Dry Schezwan Fish is the perfect Indo-Chinese recipe which is spicy, sweet and sour and perfect to get the party started.
Nutrition Facts
Amount Per Serving
* Percent Daily Values are based on a 2,000 calorie diet. Your Daily Values may be higher or lower depending on your calorie needs.
For the Schezwan Sauce
Sesame oil – 1 tbsp
Dried Red chilies – 2 large, chopped
Onions – 1/4, large, chopped
Garlic – 3 cloves, chopped
Rice Wine Vinegar – 2 tbsp
Soy Sauce – 2 tbsp
Ginger – ¼ inch, chopped
Sriracha/Tobasco Sauce – 1 tbsp
Salt – 1 tsp
Black Pepper – 1 tsp
Brown Sugar – 2 tsp (My tweak)
Peanut Oil – 2 tbsp
For marinating
White Fish Fillet – 1 pound
Soy Sauce – 1 ½ tbsp.
Rice Wine Vinegar – 2 tbsp
Ground Black Pepper – 1 tbsp
Schezwan Sauce – 1 tbsp
Corn Flour – 2 tbsp
For Frying the Fish
Vegetable/Peanut Oil – 2 cups
For the Final Sauce
Onion – ½, large, cut into big chunks
Red Bell Pepper – 1/2 large, cut into big chunks
Green Bell Pepper - 1/2 large, cut into big chunks
Garlic – 2 cloves, sliced thin
Sesame Oil – ½ tsp
Jalapeno – 1, sliced, for garnish
Peanut Oil – 1 tbsp
For the Schezwan Sauce
Heat the peanut oil in a wok.
Add the garlic and let it get fragrant for a couple of minutes.
Add the ginger and the onion and saute till the onion is translucent. This will take another 3-4 mins.
Remove from heat and let it cool.
Now add the rest of the ingredients and blend everything together to make the sauce.
For the Fish
Marinate the fish with all the mentioned ingredients except the corn flour and keep it aside for 30 mins.
After 30 mins, add the corn flour and mix it in.
Heat the oil in a wok, and then fry the fish pieces in small batches till they look crisp and golden on both sides. Make sure you fry over a medium flame.
Remove from oil and keep on a paper towel.
Fry the entire batch of fish.
For the Final Sauce
In a wok, add the peanut oil and heat it.
Throw in garlic and let it get fragrant.
Add 3 tbsps of the Schezwan sauce earlier prepared.
Add onion and saute for a minute.
Add the bell pepper and saute another minute.
Now add the fried fish pieces and coat them in the sauce well.
Remove from heat and pour sesame oil from top. Give another mix.
Garnish with spring onions or jalapeño slices and serve hot.
Notes
Check for seasoning at the end. Soy Sauces have a lot of sodium so be careful with the salt and if required you can add a tsp of brown sugar in the end to balance it.
My Friday Food Swings http://www.myfridayfoodswings.com/