Yum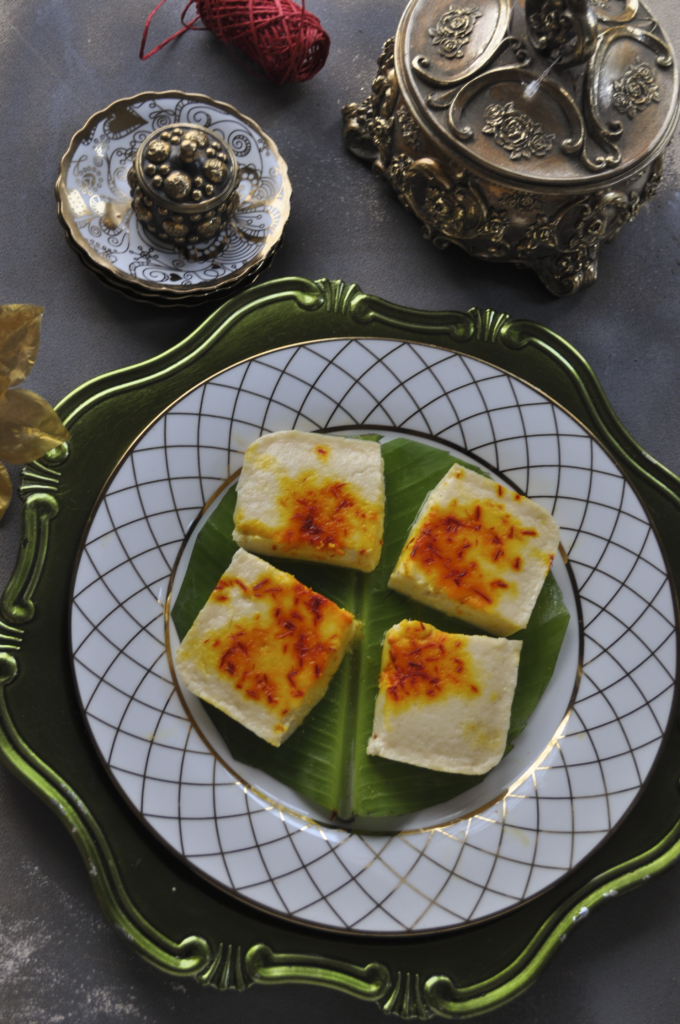 Caramel Milk Pudding or Flan is something most kids of our generation grew up on. Something moms would do quickly in pressure cookers, lots of eggs, reduced milk and sugar and of course some homemade caramel. However, if you were a regular reader of my blog you would know my mom is not a cooking enthusiast and hence she never made it. Her interests were always books and she had hobbies, which did not involve the kitchen at all.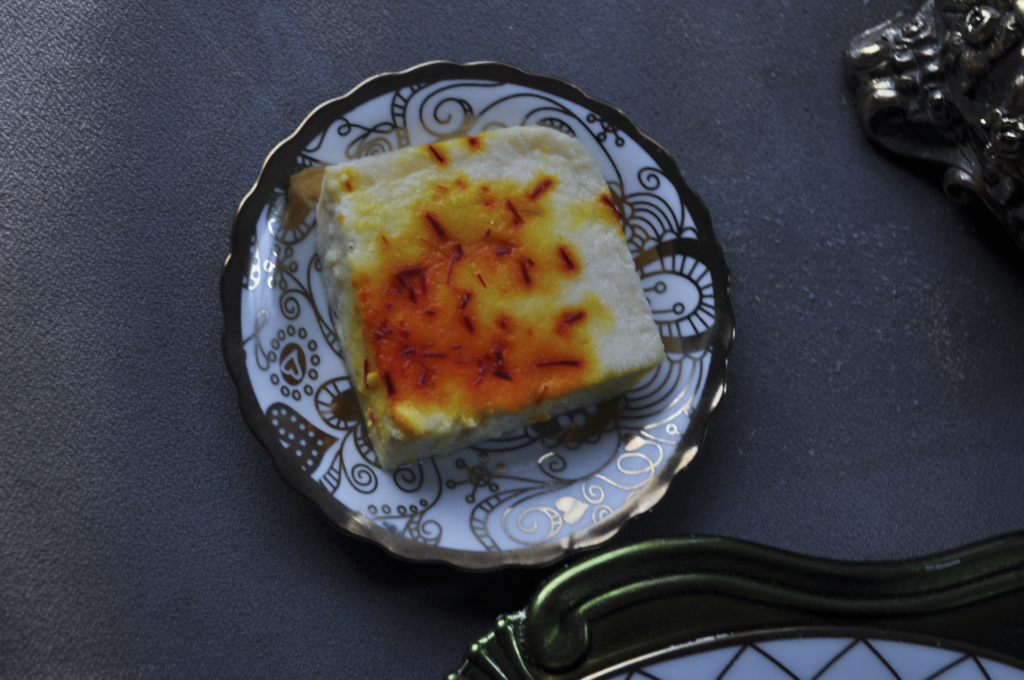 My first tryst with pudding and flan was in the US making the flan following Sandra Lee's recipe after watching her on Food Network. It's an amazing recipe, which calls for 6 eggs, and as much as I love the recipe I really don't like the number of eggs going in it. And time and again, I have had friends telling me the same thing about their pudding recipes that sometimes unless camouflaged well with vanilla, the egg smell persists. And that is the reason I have always liked this eggless version of pudding.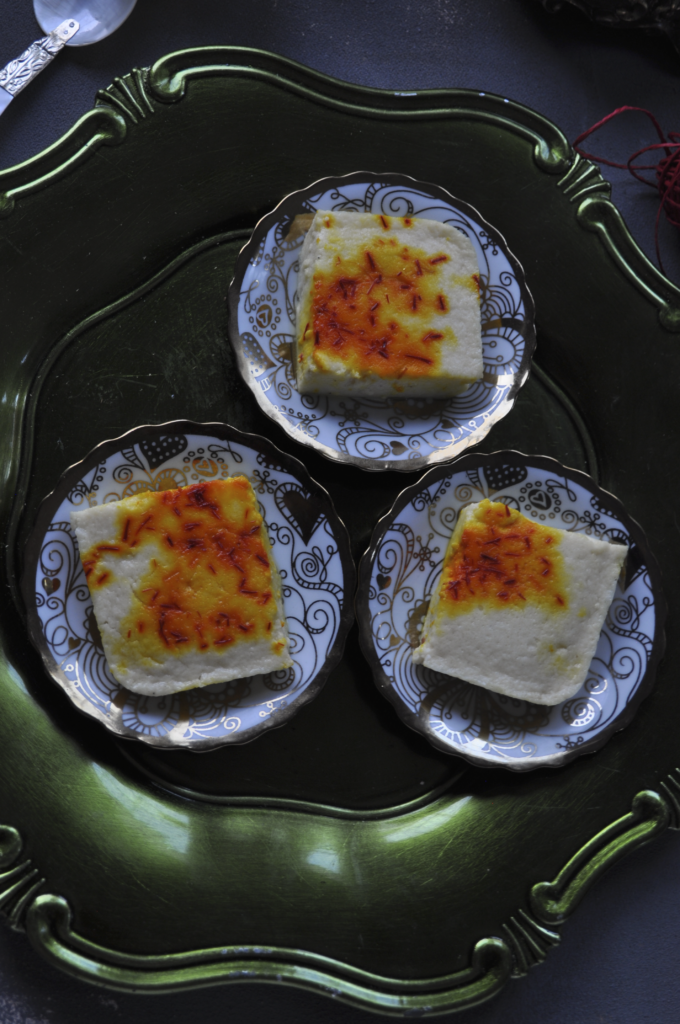 Also, this recipe does not involve any gelatin and so it is 100% vegetarian. Neither did I use any China grass. It uses plain corn flour and the results are always amazing.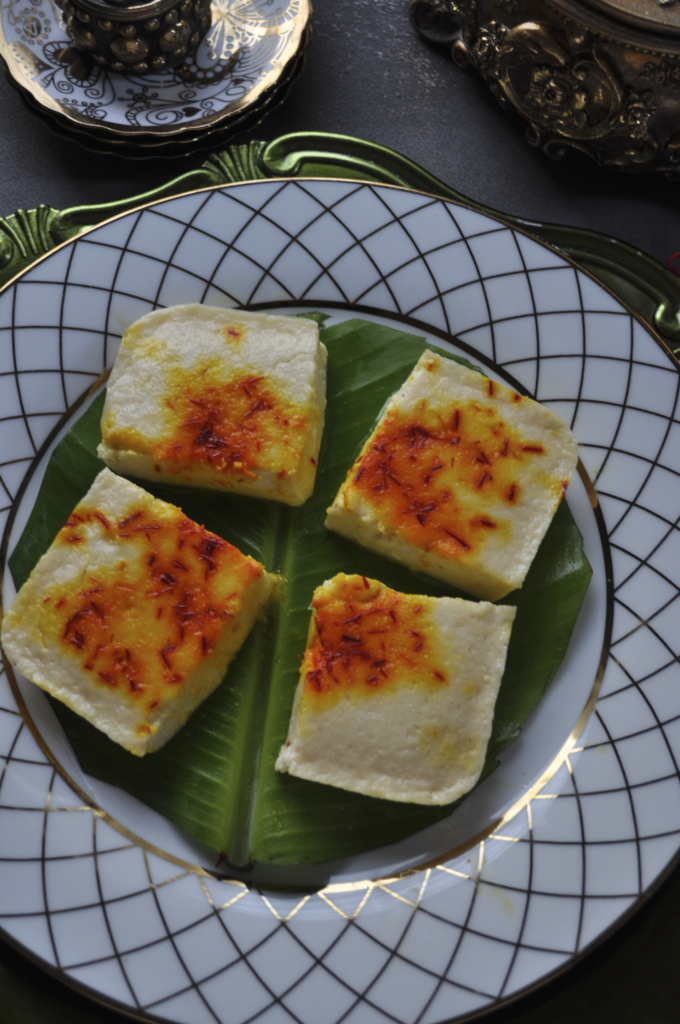 This recipe is ridiculously easy and fast. It takes just 3 very common ingredients from your pantry and is something which gives you melt in your mouth kind of a Rasmalai taste and feel. Rasmalai is a very popular Indian dessert. This is an extremely familiar recipe in my household, and there's a special reason why I made this today.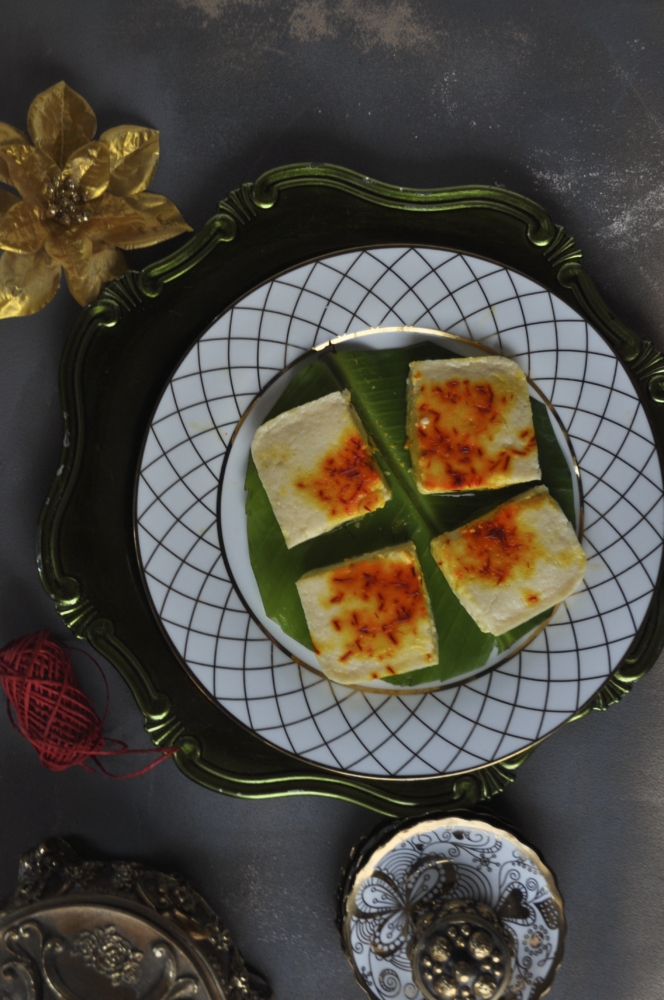 In my trip back home I had gone to Guwahati and picked up a couple of mekhela chadors. Mekhela Chadors is the garment that ladies wear in Assam and it's very similar to the saree. Now when I showed it to my friend after I got back, she really liked one and I obliged. However, in my heart, I was a tad sad for having to give it away. So my dearest husband got his cousin who was visiting Guwahati to go to the store and do a video call at 1.30 am in the morning and pick another one in the same color combination. I am beyond thrilled, to say the least. Hence, the little celebratory treat.
You may also like the recipes below: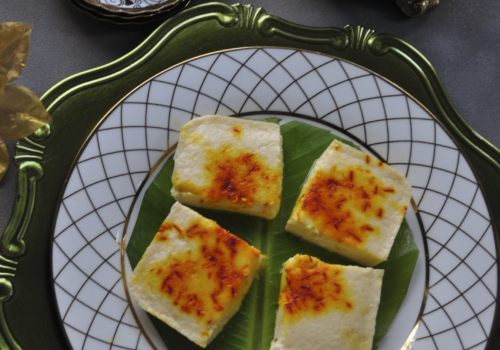 4 Ingredient Eggless Milk Pudding
2017-08-11 11:03:35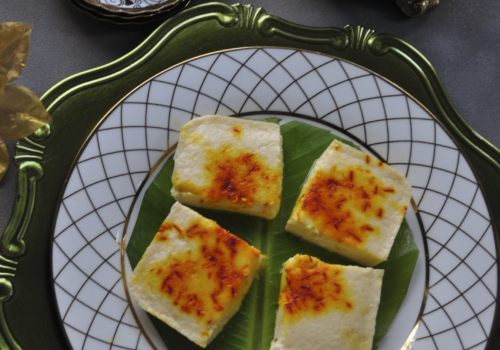 Serves 5
A ridiculously simple dessert which is 100% vegetarian and eggless and takes 20 mins from start to finish.
Nutrition Facts
Amount Per Serving
* Percent Daily Values are based on a 2,000 calorie diet. Your Daily Values may be higher or lower depending on your calorie needs.
Ingredients
Milk - 1/2 cup (OR Heavy Whipping Cream if you want to make it rich)
Greek Yogurt - 1/2 cup ( or hung yogurt)
Condensed Milk - 1/2 cup
Corn Flour - 1 tbsp
Cardamom Powder - 1 tsp ( optional)
Vanilla - 1/2 tsp (optional)
saffron - To garnish (optional)
Instructions
In a bowl, mix together the condensed milk, yogurt and milk/cream.
Add corn flour and mix well and make sure there are no lumps of the flour.
Add the aromatics, cardamom, vanilla as per your choice.
Take a greased glass container, preferably square and pour the mixture.
Take a wide shallow pan and fill it half with water. Let it come to a boil.
Slowly place the glass containing the pudding mixture in the pan. Take care that the container is half submerged.
Alternatively, you can place the glass container in the pan and then pour the hot water from the sides.
Steam it covered with lid for 15 mins. Remove from the stove and let it sit covered for another 10 mins.
Test by inserting a tooth pick in the center. It should come out absolutely clean.
Refrigerate for at least 20 mins, cut into squares and enjoy.
My Friday Food Swings http://www.myfridayfoodswings.com/