Yum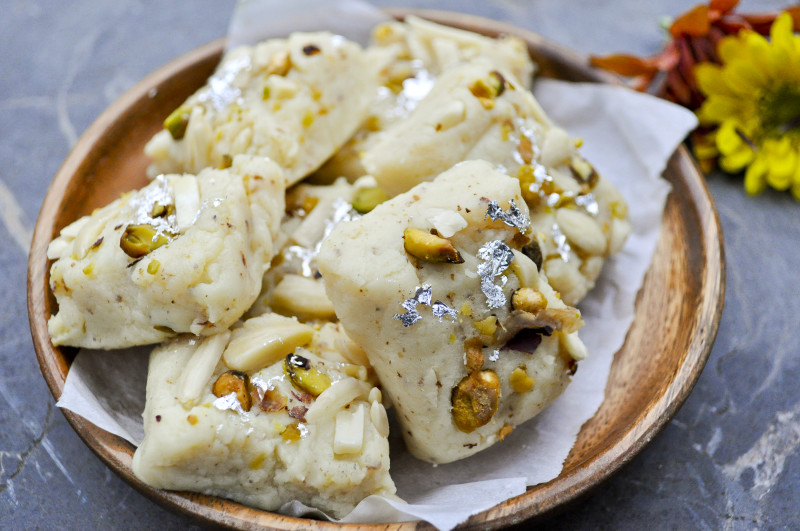 If you have been reading my posts lately, you would know that October is the month of festivities for us Indians. Navratri and Diwali are celebrated all over India. And then of course, we have some festivals that are indigenous to particular states. I belong to the state of West Bengal in the easternmost part of the country and we celebrate Durga Puja around this time. And right after Durga Puja we celebrate Laxmi Puja. Laxmi is the Goddess of wealth and prosperity. Naturally she is highly revered and worshipped in all households.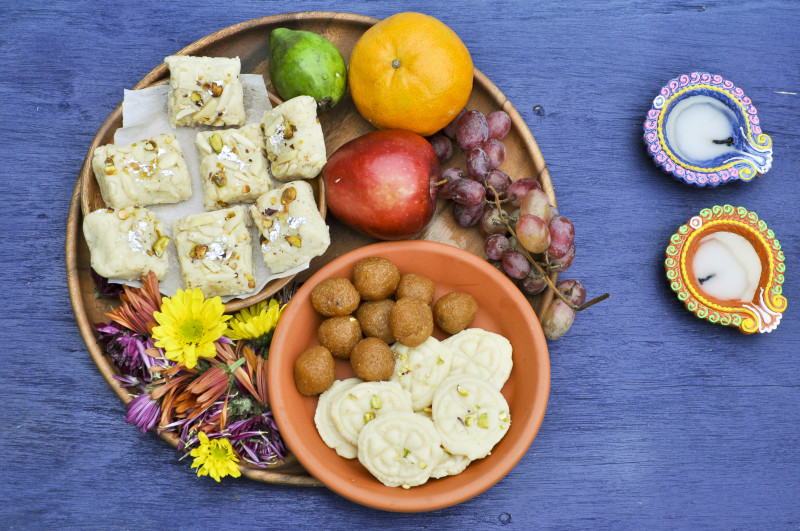 My family especially was really big in celebrating this occasion. Our ancestral home in its hay days welcomed hundreds of guests with open arms on this day. An entire floor would be taken over by the ladies of the house who would be up with the lark, take a bath and then totally immerse themselves in the preparations of the day ahead. Our Laxmi puja was unique as we offered fish to the deity. Generally, as per Hindu tradition, non-vegetarian food is not offered in religious ceremonies. But my family had this long-standing custom of offering a variety of fish as part of the "bhog" or offerings. I don't know how it started. My ancestors were priests (Brahmins) who had moved from the northern part of India to Bangladesh to work for the King. In fact, the king conferred our last name. Somehow along the way, our family steered a different way than the rest.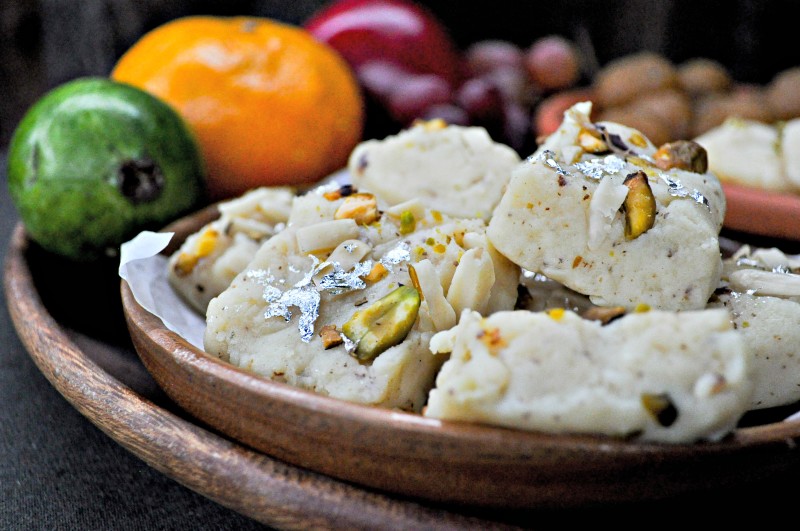 Ok, that was the history behind it all and let me go back to the celebrations. I remember my grandmother would take out a ton of brass utensils the day before this puja. We kids were entrusted with the job of washing these. These would be used just for cooking the "bhog". My grandpa, uncles and dad would make several grocery trips the day before as well as on the day of the puja. Everything that was bought was kept aside and elders made sure no one touched those. Earthen stoves would be lit up and the ladies divided the tasks between them. Some would do the chopping and some would cook. My grandma would be in charge of desserts. Naru (Coconut laddos), sandesh (cottage cheese sweet), payesh (rice pudding) were quintessentially cooked by her. In fact, she would make the payesh in coconut milk for this puja and that divine taste still lingers on my palate. Then khichudi (lentil-rice porridge), sabji (curry), fries, chutney, fish curry, dal (lentils), saag (greens), white rice and a lot more would be made. The ladies would be fasting while cooking all of these and you're not permitted to taste anything you cook for the "bhog".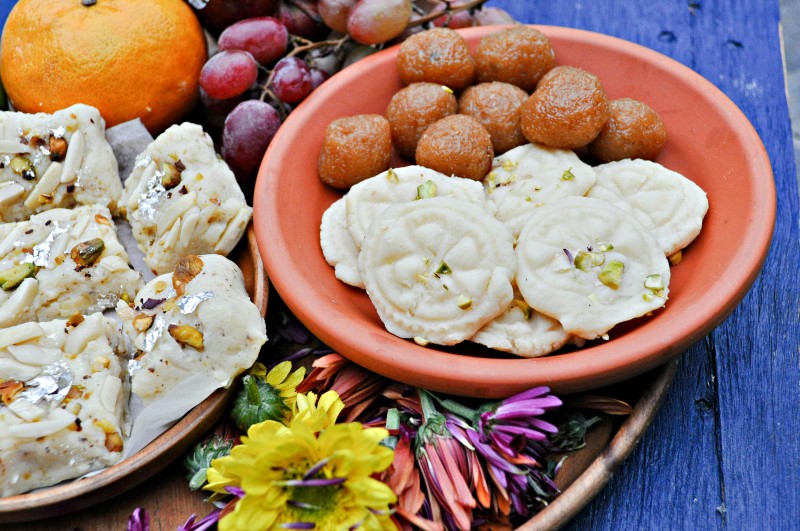 Later in the evening, the puja room would be decorated. We worshipped a banana tree (kolabou) as the Goddess. So my uncles would take it to a nearby pond and bathe it and then drape a new saree onto it. My dadu (grandpa) would be conducting the puja. I remember it would take him at least an hour or so and we kids would be super impatient. The guests would start coming in by that time and it was finally the time for the party to start, well, I mean for the food to be served. Guests would sit on the floor of a long corridor on either side and would be served on banana leaves. The whole house would be lit up with colorful lights and later in the night we would also have fireworks.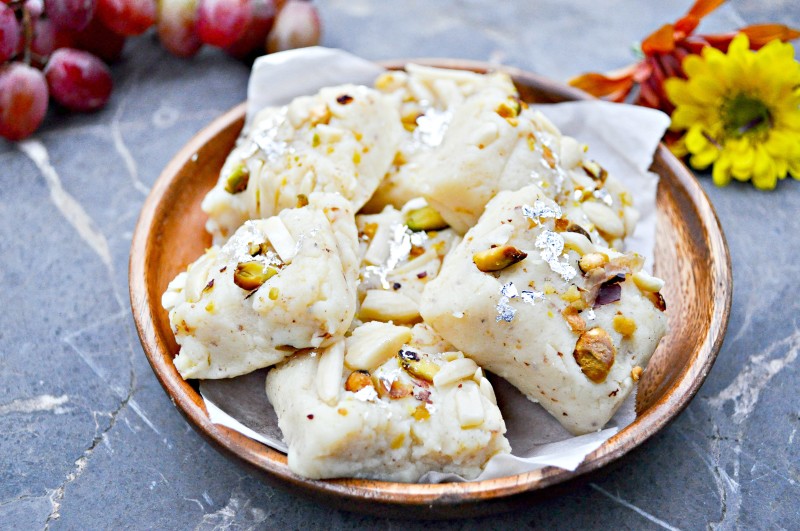 That was then. Today, if this puja was on a weekday all I could manage would be a quick bhog of a few items. I make it a point to celebrate it, no matter how small the shebang is. It's a way of keeping a tradition alive and living away from home, this is the only way of handing down family traditions. This year, Gungun had back- to-back tests and project submission at school. So I chose to make it a quiet affair and did not call any friends. I did cook a few things, but most importantly I made a few desserts. All of these were made using semi-homemade ingredients but tastes no less than the original thing.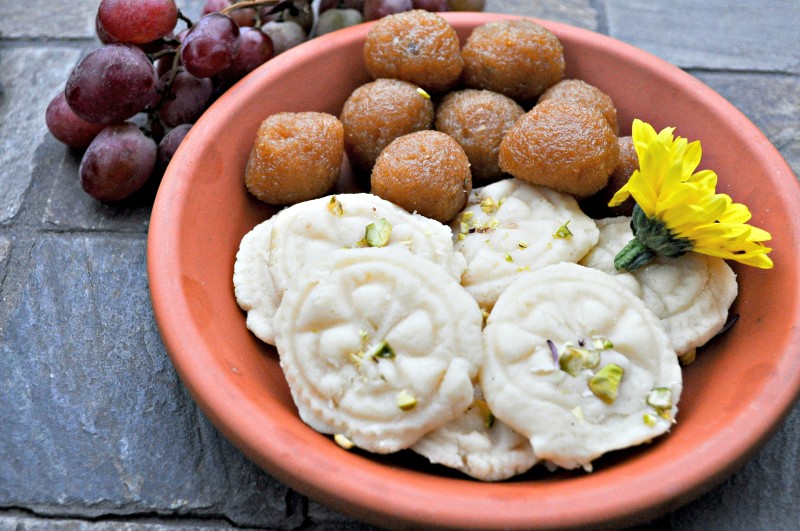 I made a Khirer Sandesh and Kalakand( Ricotta Cheese Fudge) and my mom made coconut laddoos. The Kalakand was made of just 2 ingredients if you don't count the fixin's.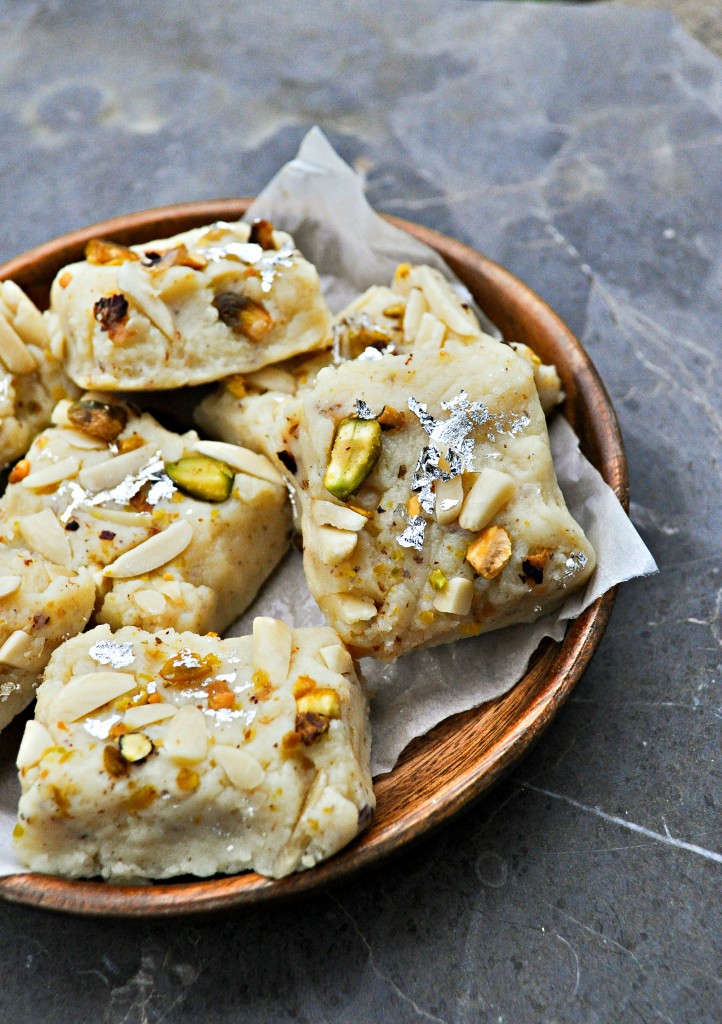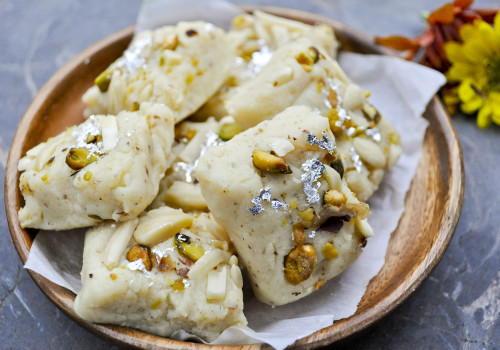 Kalakand ( Ricotta Cheese Fudge)
2015-10-29 15:50:39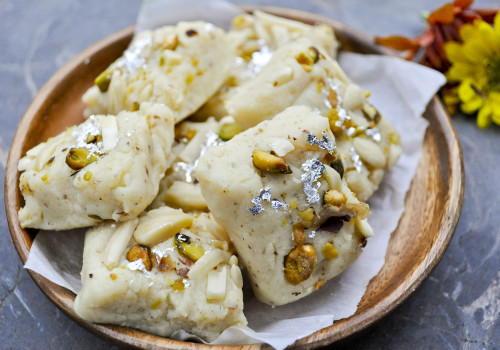 Serves 6
A semi-homemade version of the traditional Indian sweet Kalakand.
Nutrition Facts
Amount Per Serving
* Percent Daily Values are based on a 2,000 calorie diet. Your Daily Values may be higher or lower depending on your calorie needs.
Ingredients
Ricotta Cheese – 2 cups
Condensed Milk – 1 cup
Cardamom powder – 1 tsp (optional)
Assorted chopped Nuts – ¼ cup (optional)
Edible Silver foil – ¼ sheet (optional)
Instructions
In a pan, pour in the ricotta cheese and condensed milk.
Over a low flame, cook the mixture for 20 mins. Keep stirring and be attentive. It burns very easily.
By the end of 20 mins, it will start coming together. Remove from stove.
Before removing from stove you should add the cardamom powder. However, this is optional.
In a parchment paper lined edged pan, pour in the mixture evenly. Top with nuts if you wish.
Press slightly with spatula. Allow it to cool and then refrigerate for a couple of hours.
Top with edible silver foil if you want to and cut into pieces.
Serve and enjoy.
Notes
I used store-bought Ricotta cheese. If you wish, you could use homemade cottage cheese or chhena instead too. Even grated store-bought paneer would be fine.
My Friday Food Swings http://www.myfridayfoodswings.com/
You may also like the following recipes:
Khirer Sandesh ( Reduced Milk Fudge)