Yum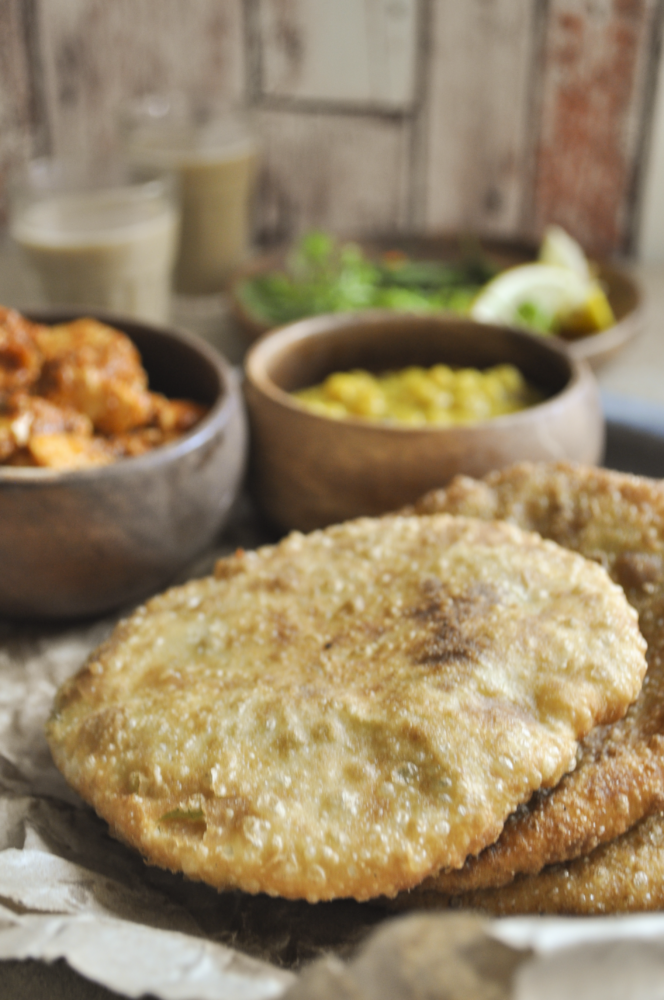 The koraishutir kochuri post is going to be really special as I am writing this en route to Singapore on the flight. Last few days were crazy with me trying hard to wrap up things at work, doing the last minute shopping and then for us summer entertaining never stops. But in all that madness there was an untold joy perceptible within all of us, the joy of going home after almost a year and a half.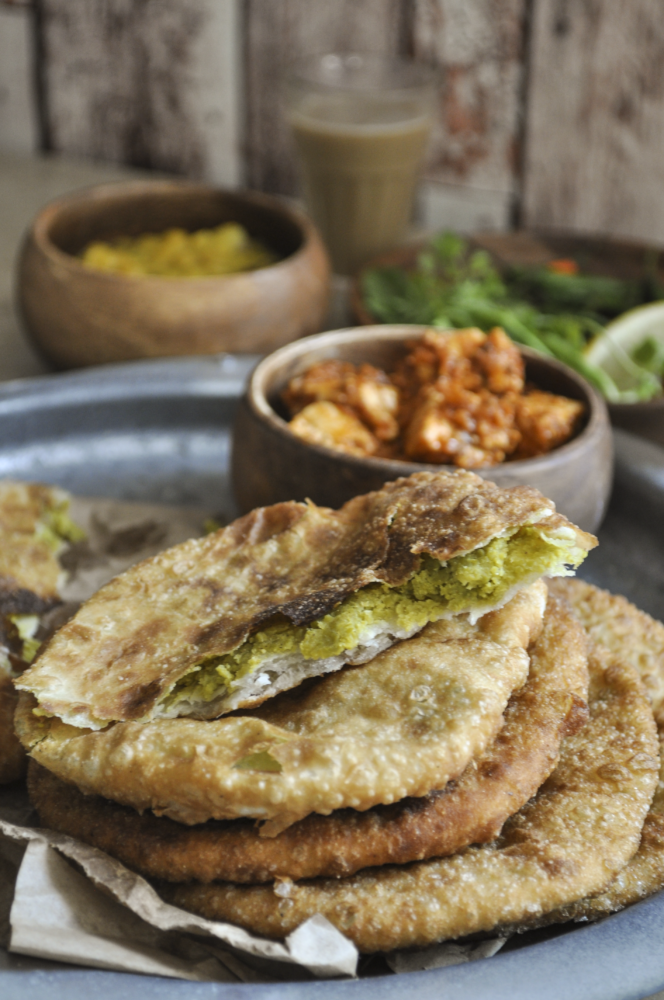 This is my favorite season back home. It's the monsoons. Even though infrastructure wise things back home are quite a nightmare now but even then the monsoons in my city bring out the little girl in me somewhere. I think for me, the coziest memory of the monsoons back home has to do with food. The best were those days when the deluge and the flooding that followed would see us all stuck at home enjoying a forced day off from work and school. We would wait for this occasional "rainy day" when things would deviate from the norm in a good way. For lunch, Maa (my mom) would be churning out a one-potter like the khichudi ( porridge with lentils and rice) with it's Bong favorite accouterments like the papad, pickles, veggie fritters and some time with fried ilish maach ( fish fry). And then there were endless cups of tea with homemade croquettes (or chops as we call them in Bengali) or teacakes.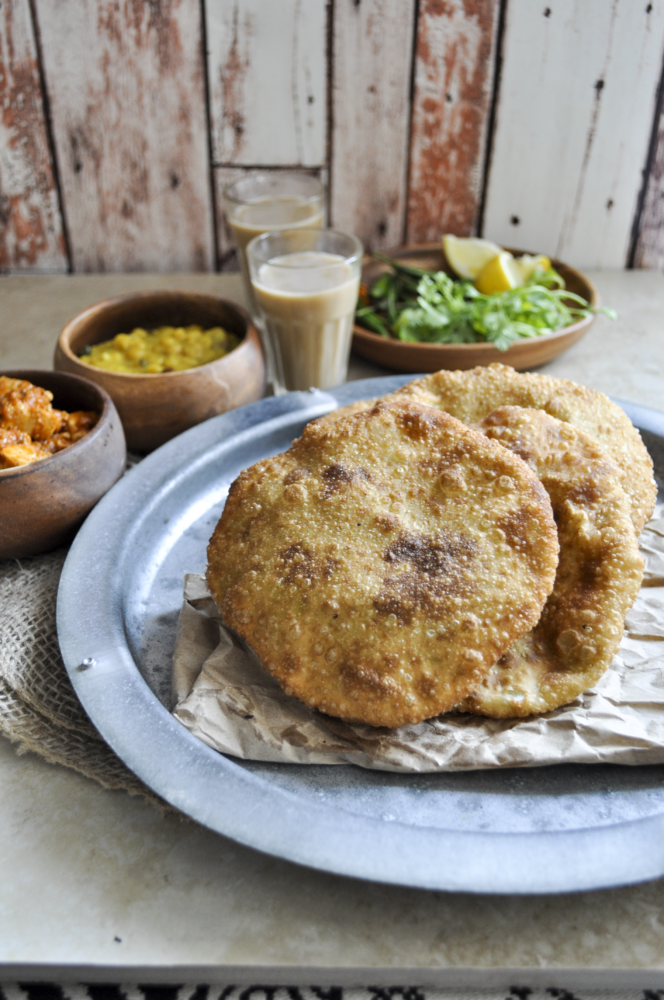 In retrospect today, that very feeling of being safe, warm; well fed and cozily tucked at home with my parents in those rainy days brings a smile on my face. I think I was exceptionally fortunate to have such supporting and loving parents as my mom and dad.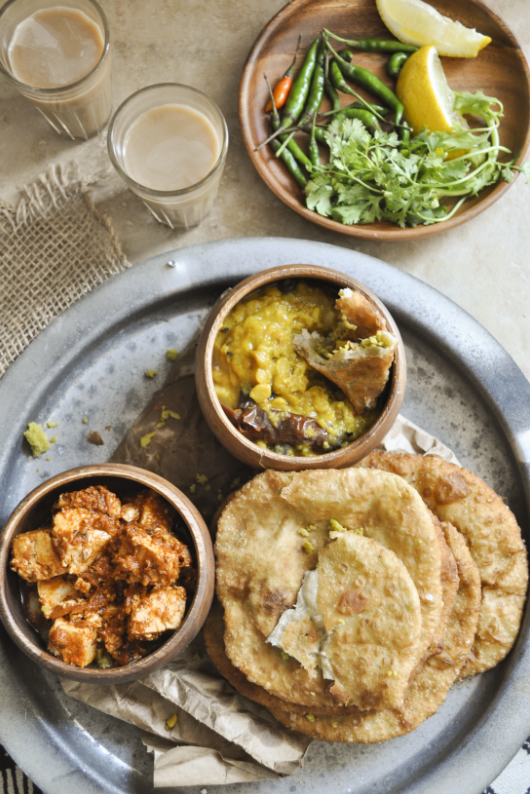 So the feeling when I am onboard a flight to go home to my family today is inexplicable. The monsoons would also see the emergence of tons of kochuris for breakfast. Kochuris are homemade deep fried bread that is stuffed with lentils. You may remember the radhaballavi that I blogged earlier. Today's recipe is in line with it, instead, it is stuffed with green peas. Traditionally, the koraishutir kochuri would be a staple during the winter months as that's the time when they would be harvested. But today, with frozen shelled peas being the accepted reality of life, things are different. I make these quite often especially when I am entertaining Bengali friends. The recipe is a little arm grease prone but it becomes the talk of the dinner table. Bengalis connect to this dish at a very emotional level.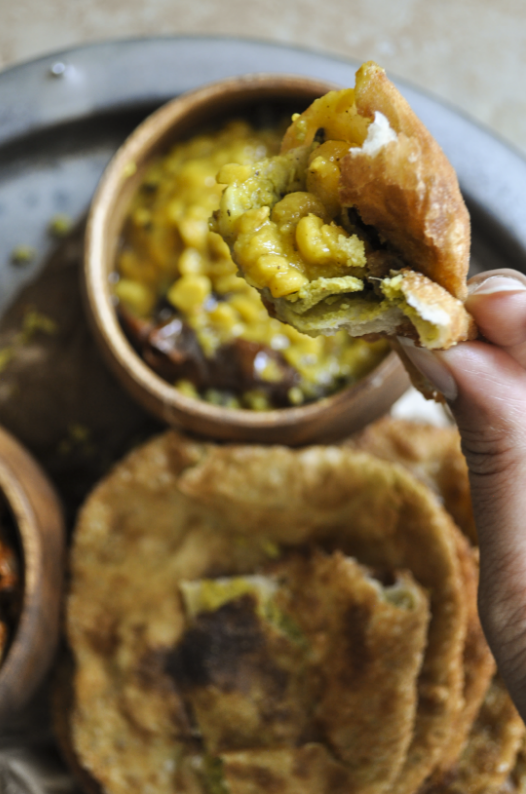 Last week I had my favorite girlfriends over. This is a group with a fair amount of Bong girls and the ones, not Bong clearly love Bong culture and love hanging with us. In an ideal scenario you would fry them when your guests are ready to eat but that way, I would be stuck at the stove forever and miss out on the fun. So I stuffed, rolled them out and fried them before everyone arrived and kept them in the warming drawer.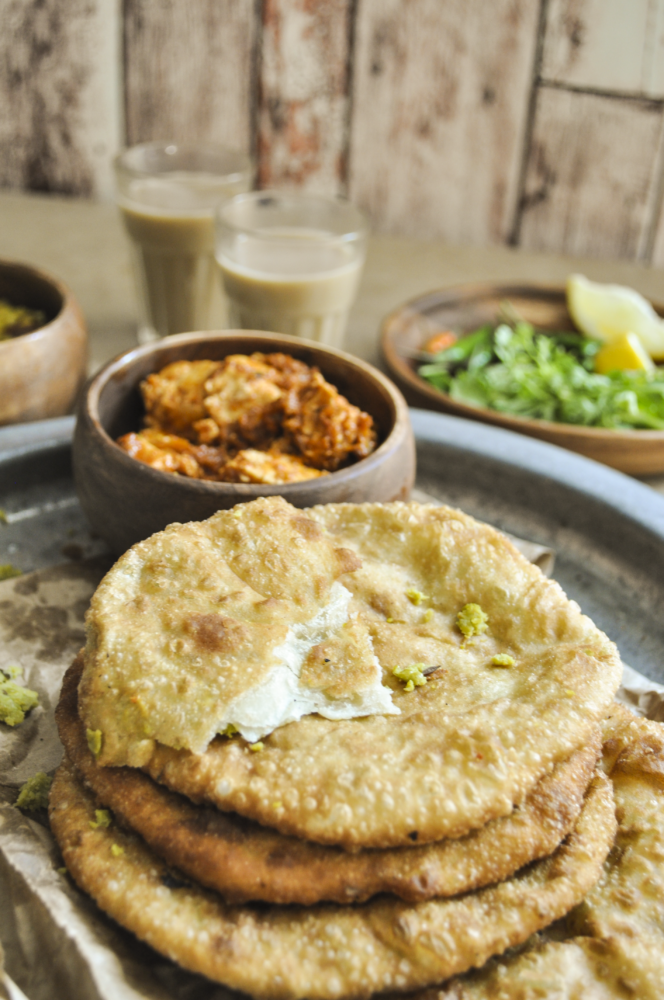 Whenever I am planning the menu to entertain, I always keep a dish or item, which is a showstopper, and also go the extra nine yards to make sure it's presented well. I think those little things enhance the experience both for the host and the guest and helps to make it a special memory.
The koraishutir kochuri is traditionally served with cholar daal ( lentils), and/or Dum Aloo ( Spicy Potatoes). I, however, chose to serve it with the daal and a paneer (homemade unaged cottage cheese) curry. It was a delicious affair indeed.
You might also like the following recipes: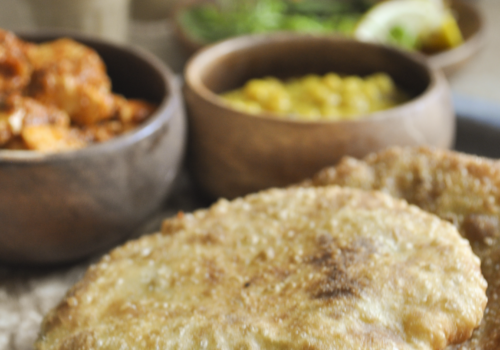 Koraishutir Kochuri
2017-07-07 21:31:21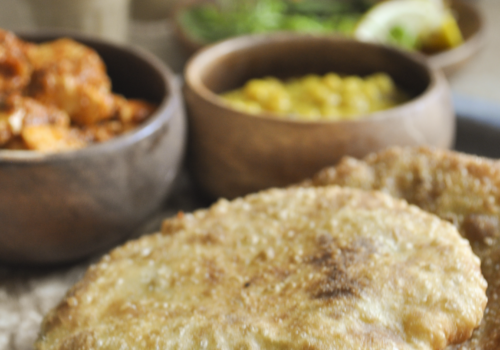 Serves 12
A typical breakfast
Nutrition Facts
Amount Per Serving
* Percent Daily Values are based on a 2,000 calorie diet. Your Daily Values may be higher or lower depending on your calorie needs.
Ingredients
Peas – 2 cups (I used frozen, you can use fresh too)
Vegetable Oil – 3 tbsp
Cumin Seeds – 2 tsp
Asafoetida – 2 tsp
Salt – To taste
Sugar – To taste
Coriander powder – 1 tbsp
Cumin powder – 2 tsp
Kashmiri chili powder – 2 tsp
Ghee – 1 tbsp
For the Dough
All Purpose Flour – 3 cups
Vegetable Oil – 3 tbsp.
Salt – 1 tsp
Water – 1 cup (add a little more flour or water as needed)
To Fry the Kochuris
Vegetable Oil – 2 cups
Instructions
Thaw the peas for 30 mins.
Throw them in a food processor and make a paste. Add a couple of tbsps. of water if needed to run the processor if things become too chunky.
In a pan, heat the vegetable oil for a couple of mins over medium flame and add in the cumin seeds and asafoetida.
Let it get fragrant and add in the paste you made out of green peas. Keep on stirring with a spatula over medium flame.
Add salt, sugar and the rest of the spices and keep cooking over a slow flame for at least 30-40 mins so that the moisture is dried out.
Turn off the flame and let it rest uncovered for at least 30 mins.
For the dough, take all the ingredients in a big bowl and knead the dough adding the water slowly a little at a time. The dough should be relatively stretchy and moist. Again take care that it is not dry.
Once the dough is kneaded, spread a thin film of oil over the dough and let it rest for at lest an hour before you set out to make the kachoris.
Divide the dough in golf sized balls. I got about 10-12 from mine.
Roll out a ball and add 2tbsp of stuffing in the center. Bring together the rolled out dough from all sides and wrap it up.
Keep it aside and repeat the process with the rest of the balls. Remember to not overstuff the kachoris as they will burst at the seams then.
Now take one of the stuffed balls and roll out in a small circle. Dust a little dry AP flour when you are rolling the dough.
Heat the 2 cups of vegetable oil for about 4-5 mins over a medium flame.
Dust the kochuris of any flour and add the rolled out kochuris one at a time. Make sure they are well submerged in the oil and you will see them puff up.
Fry till they are golden brown on both sides.
Serve them with a curry of your choice.
Notes
I would advice preparing the peas stuffing at least a day in advance. The consistency should be like a good dough and it should not be too dry and fall apart. If you feel there's a little bit of moisture still in the stuffing, you can add a tbsp. of corn flour or all purpose flour or cook for another 15 mins on the lowest flame.
My Friday Food Swings http://www.myfridayfoodswings.com/