Yum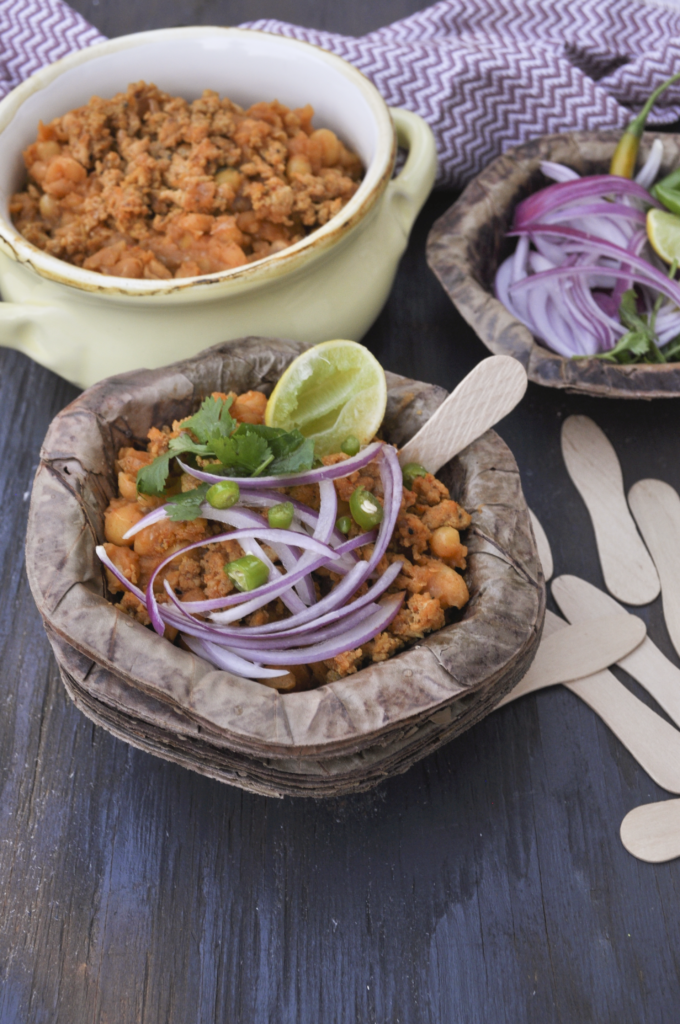 The recipe is mangsher ghugni but the story is not about Bijoya. Yes, I had planned to blog the mangsher ghugni for Bijoya. But today as I am typing this, it's a completely different thing that I have on my mind and I want to write about. It could be the end-of-pujo melancholy or the fall cozy feel of early October, but whatever it is, it is a kind of a realization that gave the heart a joy and the mind a whiff of the days left behind.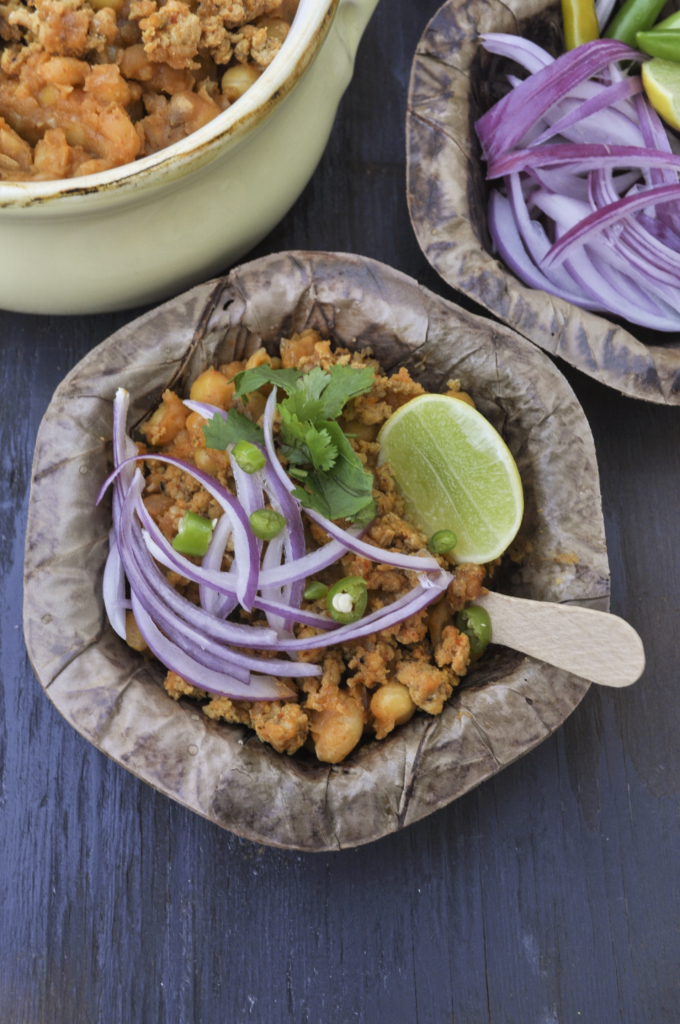 I have been having a really crazy schedule lately. Work has been hectic, we have family visiting from Kolkata, Sam being extremely busy and unavailable and most importantly, G going through the high school admission process. And if that was not enough, this is the festive season and I am getting pulled in hundred's of social commitments knowingly or unknowingly. I have been trying to keep up with things at a robotic pace. But then fatigue kicks in from time to time especially mornings. I am barely getting 5 hours of sleep and the 6 am in the morning drill of waking up, getting lunches ready and being out of the house by 7.20 am with G feels torturous. And after I drop her off, I have a good 22-23 miles drive to work.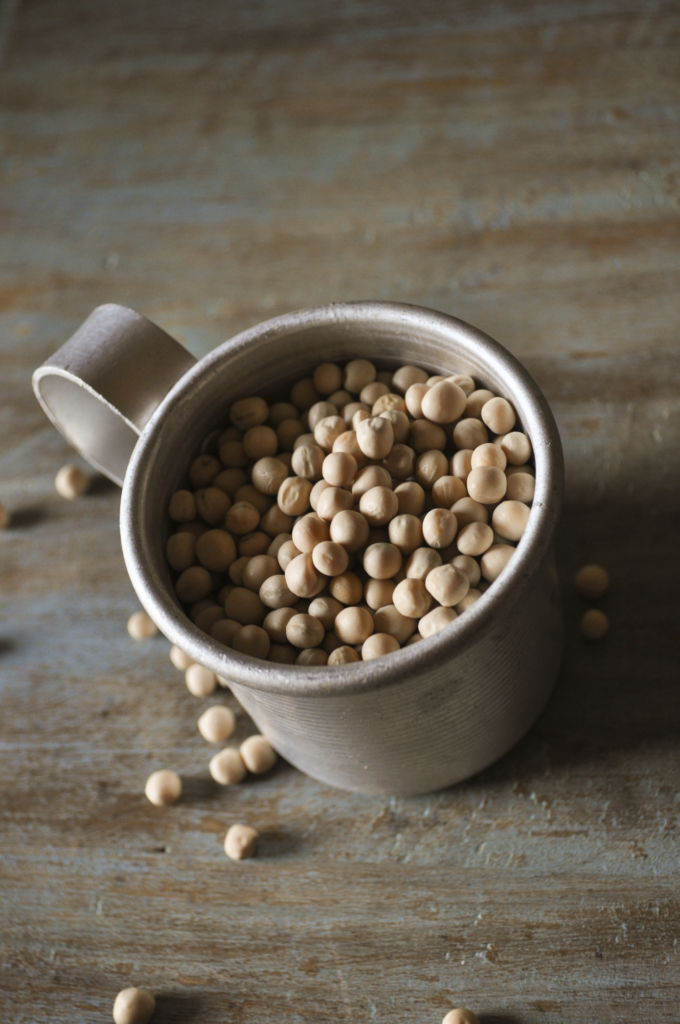 This morning too I set out for work and then just turned on the car radio. And the song by RD Burman "Kitne bhi karle tu sitam" was on the air. I have always been an RD Burman fan and became more so because of my husband who is a die-hard fan. Sam romanced me totally to RDB numbers. But when this song played it was not him whose visual came to my mind.
It was this other guy who was extremely interested in me when I was in college. He was the first who sent me this huge bouquet of red roses on Valentine's Day. That was the first time ever I received flowers from a guy. And the first is always something one remembers. And when this song played on the radio, I was transported back some 18-19 years. We were really big on photocopying each other's notes back then and I remember this lanky and lean young boy standing by the copier and singing this song in front of everyone and looking at me. I was visibly embarrassed and hated him at that point. But today after so many years, that memory makes me feel so young again. Obviously, things did not work out between him and me. And I have no clue where he may be, but the conjunction of a timeless classic by RDB and that little memory made this mommy of a newly minted teen feel young and beautiful again.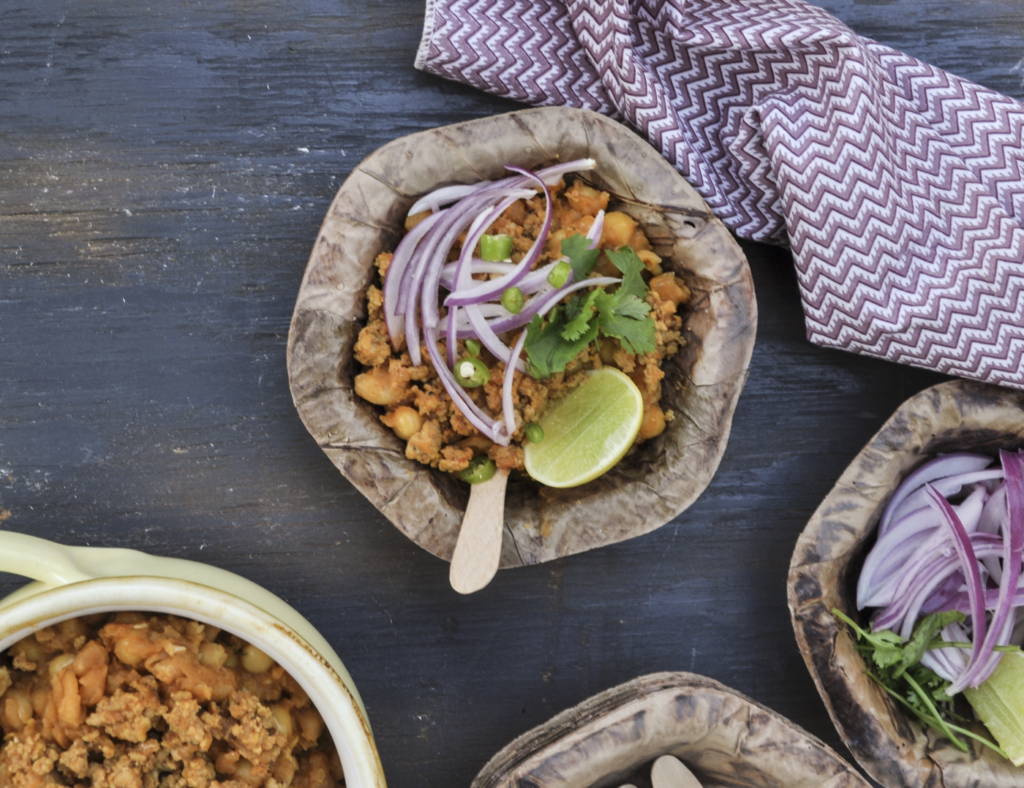 Life is such a storybook where everyone you meet leaves behind a little of themselves with you. You don't always move ahead taking everyone with you literally but even then, somewhere, a part of them does live on in you. And sometimes such a little memory is all you need to brighten up a dull day.
Coming to the ghugni or white/yellow peas stew/curry, this is a Bijoya classic. It is like the Bong version of an American chili especially when it is cooked with meat. And it is a classic street food, sold roadside from simmering bronze plates along with all the accouterments like raw onions, cilantro, green chilies, finely chopped tomatoes, tamarind sauce etc to help one reach the crescendo of this piquantly delicious symphony of flavors. And this is the meat version of this stew. Ground chicken is marinated and then sautéed to a golden brown before it gets added to the stew and gives the palate something to look forward to with every bite.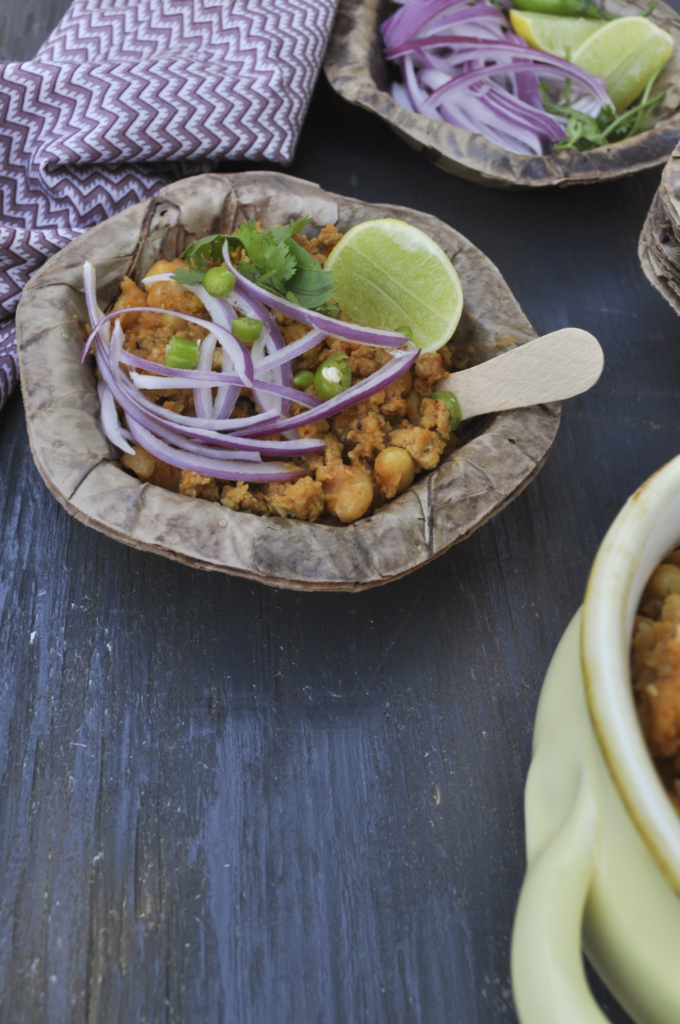 And this mangsher ghugni is something I cook often in my Instapot. So I have included the Instapot version of the recipe too!
You may also like the recipes below: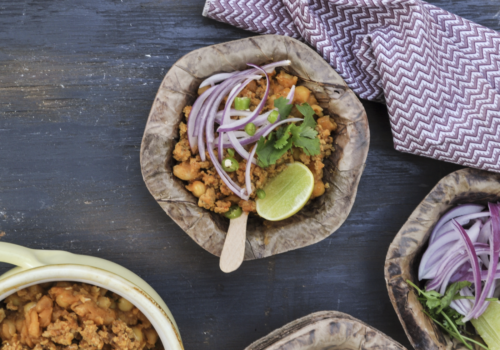 Bengali Mangsher Ghugni
2017-10-05 01:41:04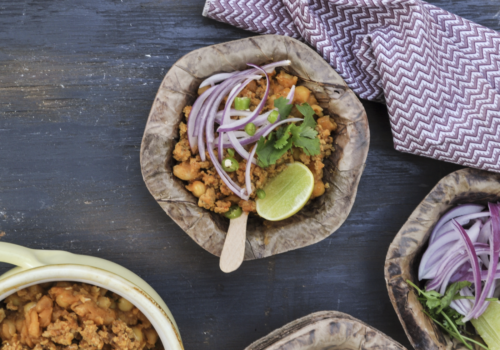 Serves 6
A delicious street side delicacy from Kolkata that can be exceptionally healthy too.
Nutrition Facts
Amount Per Serving
* Percent Daily Values are based on a 2,000 calorie diet. Your Daily Values may be higher or lower depending on your calorie needs.
Ingredients
White Peas – 1 1/2 cups
Salt – To taste
Sugar – To taste
Turmeric – 11/2 tsp, divided
Onion – 2/3 cups, finely minced
Ginger Garlic paste – t tbsp
Bay Leaf – 1
Cumin
Vegetable Oil – 2 tbsp
Tomato – 1, large, finely chopped
Cumin powder – 1 tsp
Coriander powder – 1 tsp
Red chili powder – 1 tsp
Tomato Ketchup – 2 tsp
Garam Masala – ½ tsp
Cilantro – 1 tbsp, finely chopped
For the chicken
Minced Chicken – ¾ cup
Lemon Juice – 1 tbsp
Vegetable oil – 2 tsp
Black Pepper – 1 tsp
Salt – To taste
Sugar – To taste
Garam masala – ½ tsp
Cilantro – 1 tbsp, finely chopped
For Roasted Spice Mix
Cumin Seeds – 2 tsp
Red Chili -1
To serve
Onions (finely chopped) – To taste
Cilantro (finely chopped) – To taste
Green Chilies (finely chopped) – To taste
Lemon Juice – To taste
Roasted Spice Mix – To taste
For the Minced chicken
Marinate the chicken with lemon juice, black pepper and garam masala. Rest for 15 mins.
In a pan, heat the vegetable oil, and add the chicken. Fry for 3-4 mins. Add salt and sugar to taste.
This should get semi cooked by now.
Add the cilantro and mix it in.
For the Peas Curry
Soak the dried peas for 5-6 hours.
Pressure cook the peasin 2 1/2 cups of water. If I am using the pressure cooker I would cook for 3 whitles and then let the steam escape completely. If I am using the Instapot, I cook it in manual for 12-14 minutes.
In a pan, heat the vegetable oil, add the cumin seeds and bay leaf. Let it crackle and get fragrant for a min.
Add onions and fry for a couple of minutes.
Throw in the ginger garlic paste and keep frying for another couple of minutes.
Add the tomatoes and fry for a good 5-6 mins till oil leaves the side.
In a bowl add ½ cup of water and throw in the cumin, coriander and chili powder. Mix well and throw in the onion, ginger-garlic, tomato mixture. Mix everything together.
Add the tomato ketchup, salt and sugar to taste and add the boiled peas. Mix well.
Let it simmer and get cooked. This will take 8-10 mins. You could add a little water at this stage if required depending in what consistency you need. I don't generally add any water.
Add the chopped cilantro and garam masala.
Add the chicken and let it all simmer for 2-4 mins.
Mix well and remove from the stove.
For the Roasted Spice Mix
Dry roast the red chili and cumin seeds over medium flame so that they get roasted uniformly.
Once roasted and fragrant, let it cool completely.
Grind in a mortar pestle and make a fine powder.
To serve
Serve the ghugni or peas in a bowl.
Top it with onions, cilantro, green chilies, lemon juice and roasted spices as per taste and enjoy.
Notes
Instead of chicken, you could use minced mutton too!
My Friday Food Swings http://www.myfridayfoodswings.com/