Yum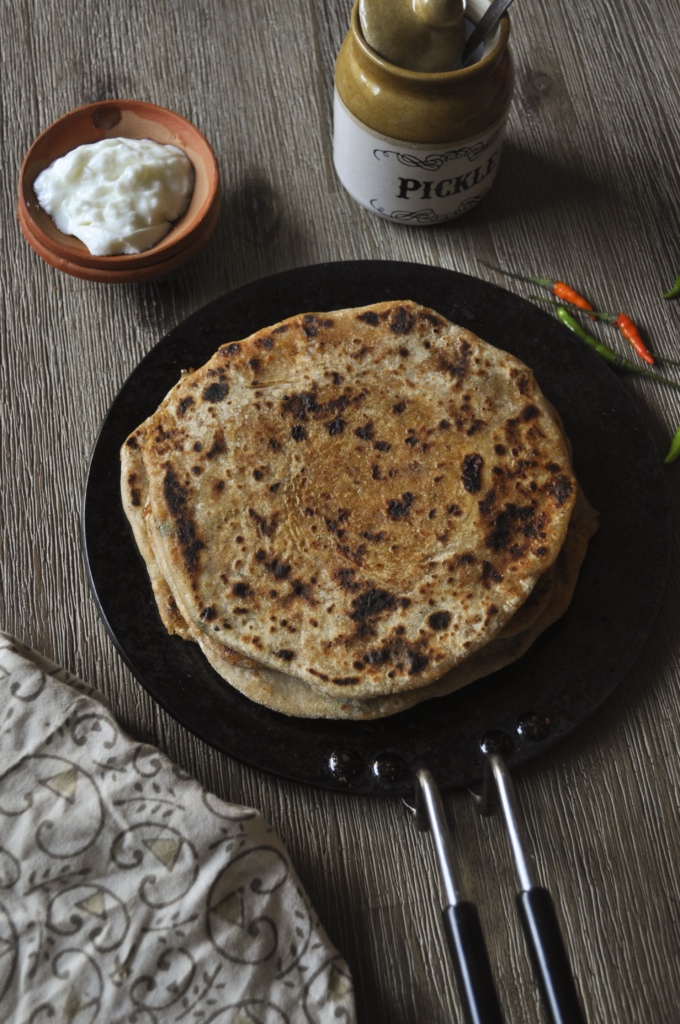 Masala Gobi Parantha. As I utter these words, the visual that I have on my mind is that of a dhaba en route to Manali from Delhi. Sam and I did this amazing bus trip from Delhi to Manali once and so that comes to my mind right away. Dhabas are rustic eateries in India by the highways where people would stop by for a quick bite before continuing to their destination. The food is a no-fancy, straight and simple affair. If you were me you should look out for telltale signs of lack of hygiene and if things look really bad then pick a different place. But then I am the clean freak and an old OCD ridden soul; so do not take me too seriously. The only thing anyone can vouch for in these places is that the food is absolutely delicious.
North Indian owners traditionally run Dhabas and the menu is true to that fact. Paranthas, nans, and rotis are the most common choice of bread rather flatbreads. Nans and rotis and even paranthas would be eaten alongside some veg or non-veg gravy based dish but when it comes to a stuffed parantha, it is fine to eat those with a side of a pickle and yogurt. Stuffed paranthas are very popular in India as a breakfast choice. Have one and you would not be hungry for the next 3-4 hours.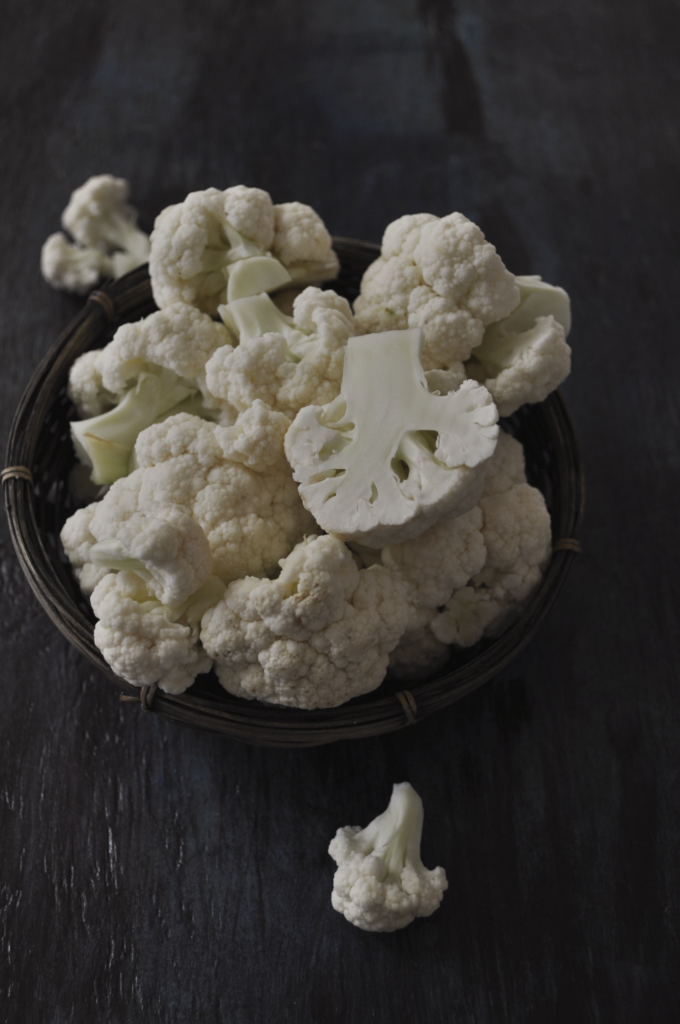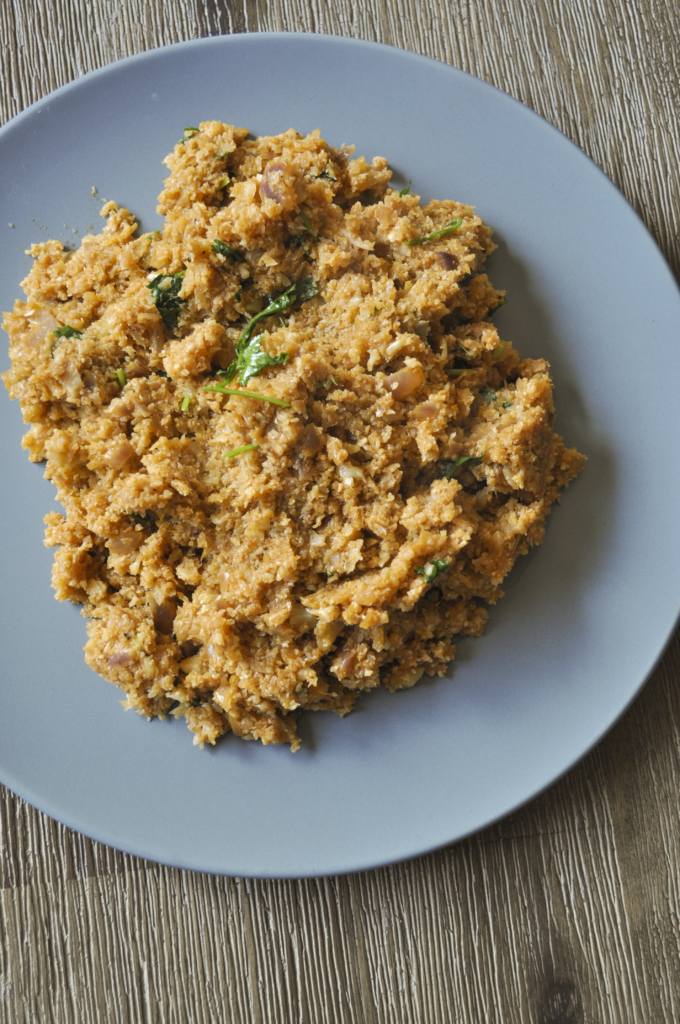 And making a stuffed parantha right needs some skills. Here are some tips on the process. I generally make stuffed paranthas during weekends when we wake up late and I really do not feel like cooking. Paranthas are this one-dish meal that is savored by the remaining two in my family immensely. And there's something about parantha and wintertime. Vegetables like cauliflower, carrots, radishes would be in season in winter and making stuffed paranthas with these would be a real treat. Here in the US, it's hard to know when what is in season except probably for berries and so stuffed paranthas are relished in my household all year long. But when we have it this time of the year, we relish it while reminiscing fond wintertime memories from back then.
These paranthas are made from cauliflower. A lot of times I get riced cauliflower from Trader Joes. However, this time I just put cauliflower florets in the food processor and got two cups of the riced vegetable.
You may like the recipes below:
Malai Paneer with Onion Kulcha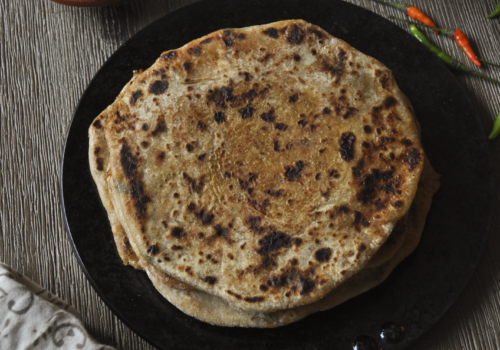 Masala Gobi Paranthas
2017-12-30 11:53:17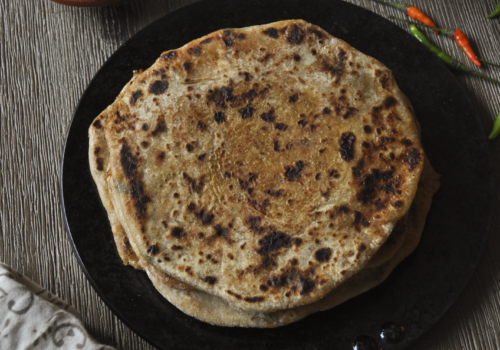 Serves 8
This dish is a winter comfort food for most Indians and goes to constitute a wholesome breakfast in most Indian households.
Nutrition Facts
Amount Per Serving
* Percent Daily Values are based on a 2,000 calorie diet. Your Daily Values may be higher or lower depending on your calorie needs.
Ingredients
Grated Cauliflower – 2 cups (or cauliflower chopped superfine)
Ginger – 1 inch, finely chopped
Vegetable Oil – 2 tbsp
Salt- To taste
Sugar – 1 tsp
Turmeric – 1 tsp
Cumin powder – 2 tsp
Coriander powder – 1 tsp
Amchur Powder – 2 tsp (dried Mango powder)
Red chili powder – 1 tsp
Cilantro – 2 tbsp, finely chopped
Oli from existing Pickle – t tbsp (optional and I mean Indian Pickle)
For the paranthas
Whole wheat flour : 2 cups
All Purpose Flour – 1 cup
Vegetable Oil – 2 tbsp
Salt – 2 tsp
Lukewarm water – 11/4 cup
For the Parantha Dough
Knead the dough for the parathas for at least 10-15 mins. Let it rest for 20 mins covered with a wet towel till the filling gets ready.
For the Filling
In a pan, heat the vegetable oil for a couple of minutes.
Throw in 1 tsp of sugar.
Add the ginger and sauté for a min.
Throw in the grated cauliflower; add the salt, turmeric and sauté for 3-4 minutes.
Add the cumin, coriander, amchur and red chili powder and mix it in well. Continue cooking for 3-4 mins on medium flame.
Add the chopped cilantro and pickle oil and mix everything in.
Remove from stove and let it cool down completely.
For the paranthas
Take the dough and make 8 golf ball sized dough balls.
Take one dough ball and roll it out into a flat disc. Put a tablespoon of the filling in the middle and bring the dough together to conceal it in the middle. Let the dough ball rest for 10 mins before you attempt to roll it out. In the meantime, finish up stuffing all dough balls with the filling.
Roll out the dough ball. Use a little flour on the rolling pin and board to prevent it from sticking.
Heat a skillet and let the parantha cook on either sides for at least 2-3 minutes.
Brush with ghee/vegetable oil and let it get browned for 30 secs on each side before removing it from the skillet.
Serve with vegetable pickle, plain yogurt and onions on the side.
My Friday Food Swings http://www.myfridayfoodswings.com/