Yum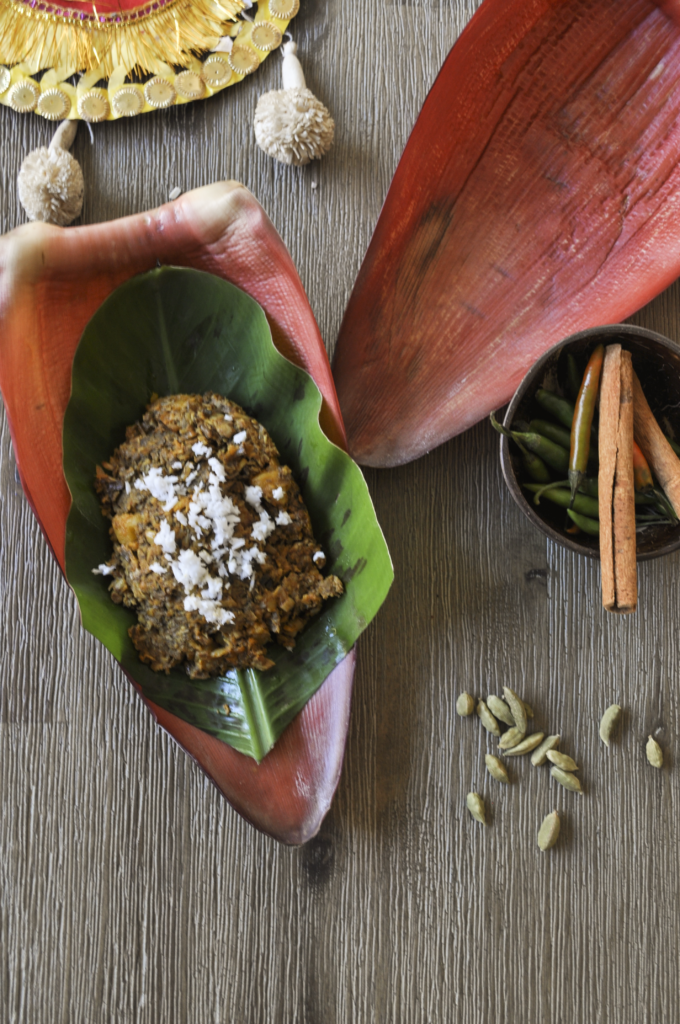 Mochar Ghonto is something that has been cooked in my kitchen here some 3-4 times if you want me to be honest with you and that too when Maa was visiting us. But this is one thing I have watched being cooked some hundred of times. Both my family and Sam's family love Mocha. Just in case you did not know what mocha is, it is the banana blossom.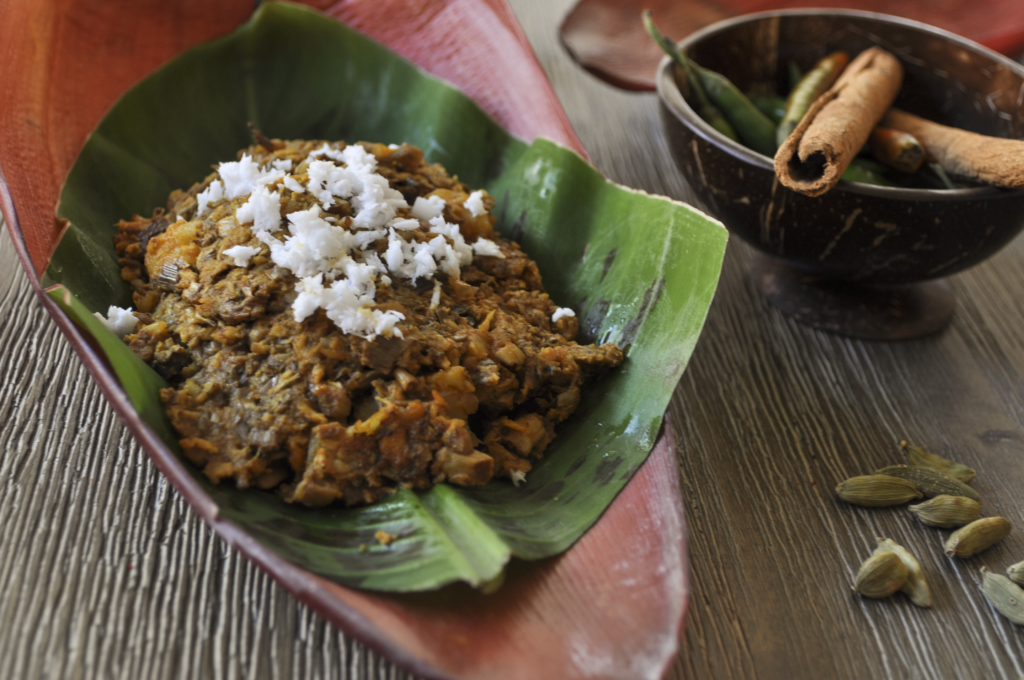 Growing up in Kolkata and later Shillong, I grew up in places where bananas grew in abundance. And the mocha or the banana blossom was something that occupied prime real estate in the Bengali vegetarian menu. Our families would eat vegetarian on Saturdays and it being the weekend, Maa would take on the labor-intensive mocha to get through the veggie lunch with minimal resistance from her daughters.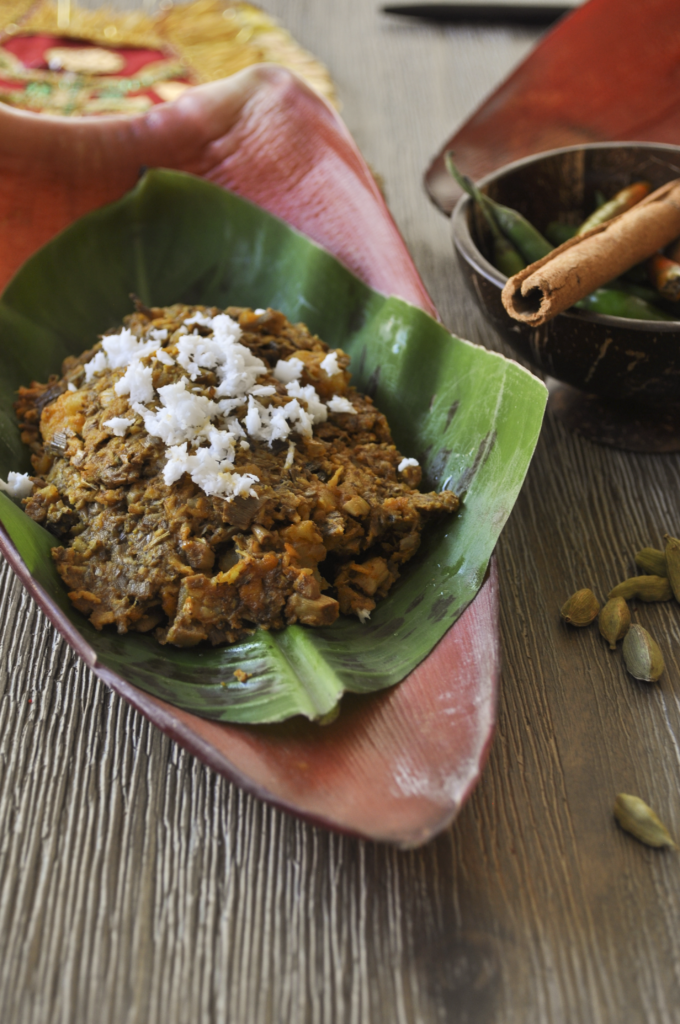 Mocha is a delicacy, which requires a lot of TLC. And if you have a fetish for manicured hands I suggest you get those gloves first. Mocha is very high in iron content and handling it would often mean being left behind with unsightly marks on your palms. It isn't for the amateur to cook. You need some kind of brief crash course on it before you unleash the mocha ninja in you. Yes, "mocha ninja"! I could never be one for sure.
As you know that now I have family visiting (mom and Sam's parents) and all the traditional Bengali recipes are making an appearance in my kitchen here. And it being Durga pujo, I am relishing everything even more. Luckily, in California, we get almost all ingredients that are required to make traditional treats like mocha. During the week when I had gone to the Asian market to buy fish, I had picked up the banana blossom and Maa & Maa (mom-in-law) got working on it and the result was delicious.
Now as I was telling cleaning and prepping mocha requires a little bit of know-how. It is really well explained here. Look through it if you are doing it for the first time.
You may also like the recipes below: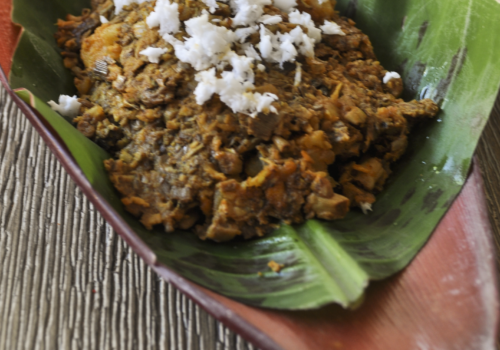 Mochar Ghonto
2017-09-25 01:50:21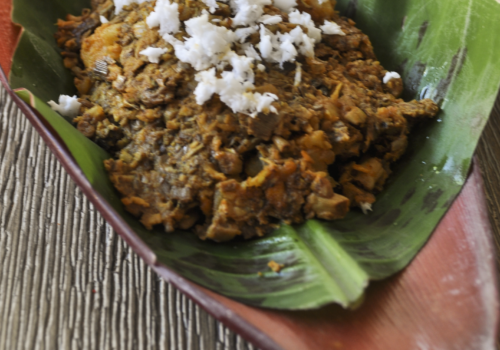 Serves 6
A traditional Bengali banana blossom curry that is the star of the Bong vegetarian menu.
Nutrition Facts
Amount Per Serving
* Percent Daily Values are based on a 2,000 calorie diet. Your Daily Values may be higher or lower depending on your calorie needs.
For preparing the mocha
Mocha – 1 big
Salt – To taste
Turmeric Powder – 2-3 tsp
For the curry
Mustard Oil – 2 tbsp
Potato – 1, large, peeled and cubed
Cumin Seeds – 1 tsp
Bay leaf – 1
Cinnamon Stick – ½ inch
Ginger – 1 tbsp, grated
Coconut – 1/3 cup, grated
Turmeric Powder – 2 tsp
Cumin powder – 1 tbsp
Coriander powder – 2 tsp
Toamato paste – 2 tsp
Red chili powder – 1 tsp
Garam Masala – 2tsp
Ghee – 1 tbsp
Sugar – To taste
Salt – To taste
Instructions
After the mocha flowers are cleaned and chopped into small pieces, you have to keep it submerged in water along with salt and turmeric.
Pressure-cook the mocha along with the water, salt and turmeric for 15 mins. If you were using an Indian pressure cooker, it would mean 2-3 whistles.
In the mean time, heat the mustard oil in a pan.
Add the cumin seeds, bay leaf and cinnamon stick.
Once the seeds splutter and you get the toasted aroma of the spices, add the potato cubes.
Add salt and turmeric and fry the potatoes for 2-3 mins.
Add the ginger and fry for 2-3 mins.
Then goes the coconut and fried for another 2-3 mins. By this time the potatoes start to look golden brown.
In a bowl take ½ cup water and add the cumin, coriander and red chili powder. Mix well.
Add it to the potatoes along with the tomato paste. Mix well and cook on a low flame. If required ¼ cup of water can be added.
Now drain the boiled mocha and add it to the potatoes. Add salt and sugar to taste and mix everything well.
The curry is dry, so you should wait for it to come together and continue to cook on a low flame.
Once done, remove from heat and add garam masala and ghee. Mix well.
Serve along side white rice.
Notes
You may use 1 medium fresh tomato if you decide to skip the tomato paste.
My Friday Food Swings http://www.myfridayfoodswings.com/