Yum
My first post of the year and 2017 is one year I am so looking forward to. We get to move back to our newly constructed house. And honestly, 2016 was a very hard year both emotionally and physically but I know in the grand scheme of events when we will look back, it would be one of those years, which was a true friend. A friend who may not be the most pleasant on the face but one who did you real good and helped you reach somewhere.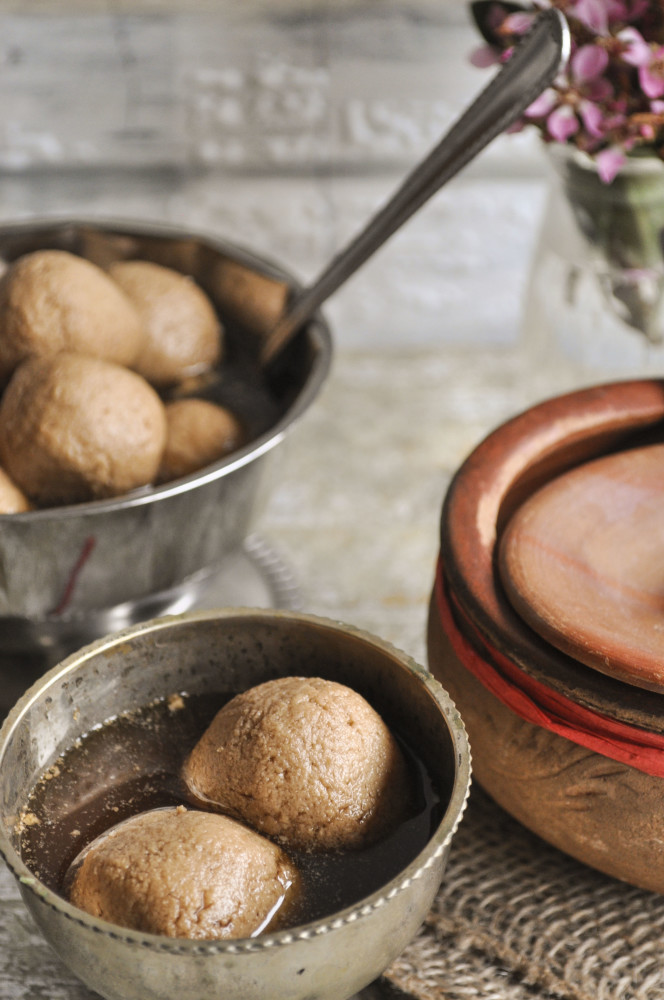 This is one year which made me introspect the most and repeatedly forced me to count my blessings for the things I have been taking for granted, for the joys of life I have lived so far, for the camaraderie and trust I could be part of and most importantly for having been bestowed with a passion that helps me always find the light at the end of the tunnel. Yes, I am talking about food blogging.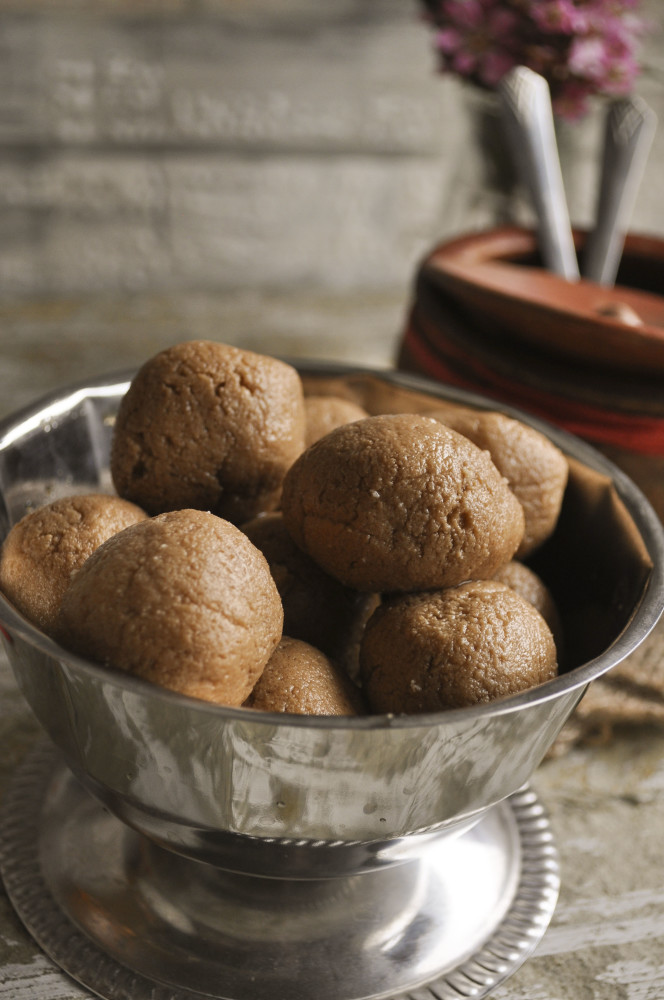 I think that's what helped me get through this trying phase. It is such a joy to play with ingredients, colors, and flavors and create something so intensely gratifying. There can't be anything more gratifying than food. And when a hobby is purely driven by passion, there cannot be anything more relaxing than that to get back to at the end of the day. I just feel so blessed to have found many like-minded foodies in 2016 whose work has been a constant source of inspiration. And my biggest high of 2016 was that I got to work with Chef Ranveer Brar, Masterchef India judge in a culinary event here. So I am ready to embark on the 2017 journey with truckloads of hope, prayers and to a certain extent some acquired wisdom from the turn of events of 2016.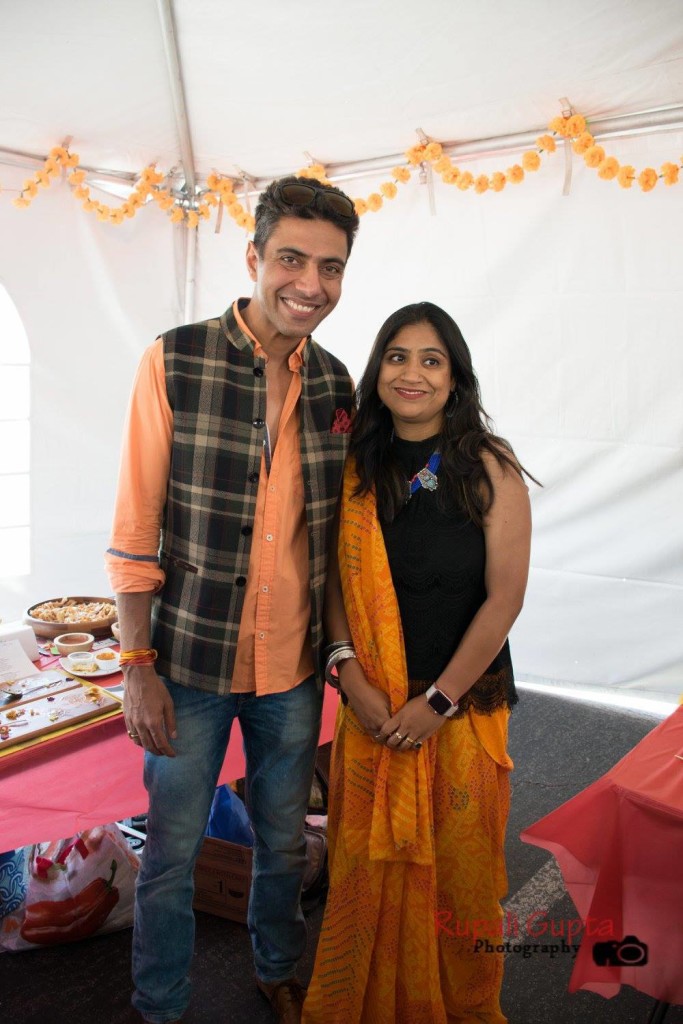 Back home on New Years Day during my childhood years, apart from the special home cooked feasts; my grandma and later mom (ma) would always make a special dessert. That would quintessentially be a rice pudding or payesh made with "Nolen Gur" or Date palm molasses. During my grandma's time in our ancestral home, the rice pudding would be made with fresh untreated molasses just collected from the trees. In the winter months around the end of December or early January, for a very brief period, the tall date palms would be slit skillfully near the crown and earthen pots would be hung around them to collect the sap. As we owned a few of these trees, we had employed designated people and entrusted them with the task of collecting the filled pots and replacing them with empty ones every morning. I still remember that these men would be riding their bicycles very adeptly balancing multiple terracotta pots on their back carrier and would be dropping these pots off very early in the morning. The date palm sap would undergo fermentation if exposed to sunlight and the sugars would be chemically transformed into alcohol. So whatever needed to be done had to be done really early in the morning. That one memory of my grandma collecting the pots from these men and the scramble that ensued with us grandkids trying to make sense of things and the general excitement that was in the air with older men trying to take a few swigs of it and see if any alcohol could be traced in it is still fresh on my mind. Memories come flooding back at the mention of the humble "nolen gur".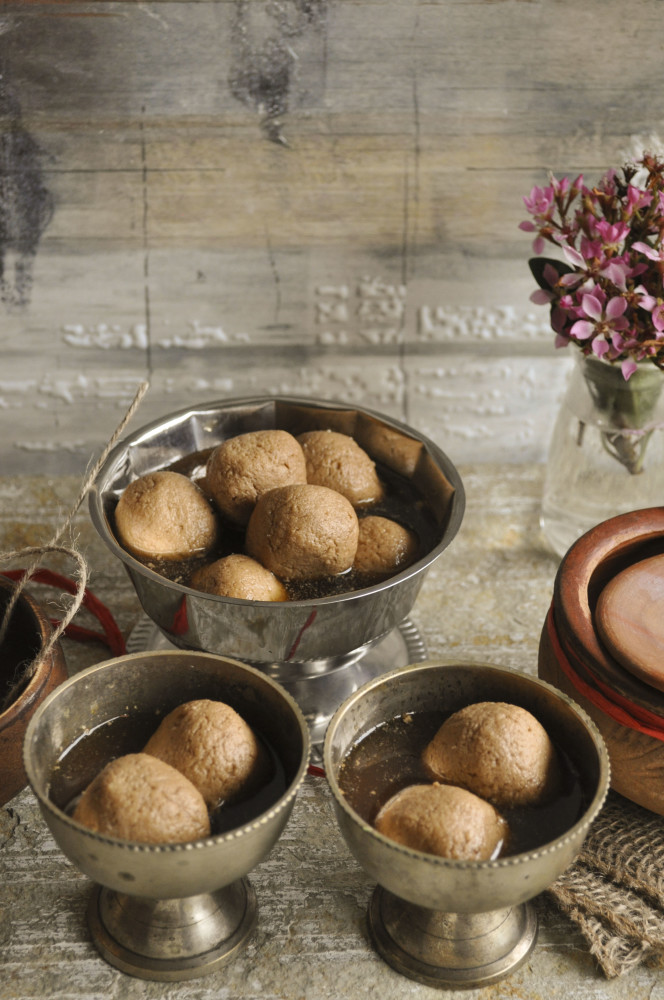 Generally, the sap is boiled, the sugars concentrated and sold in the shape of solid discs or bars. This is the form that I buy nolen gur here. So New Years Day had to see some kind of a "nolen gur" dessert as an ode to my childhood foodie memories. I really did not have the patience to stir and cook a rice pudding. So I re-created another favorite winter dessert that is quintessentially Bengali in all its grandeur, form, and shape, the "Nolen Gurer Rosogolla". Here's my feeble attempt at translating what I just wrote; these are just ricotta cheese balls stewed in a sugar syrup made with sugar and molasses. These are lightly sweetened and perfumed with the essence of the molasses, which is more like a nostalgic aftertaste.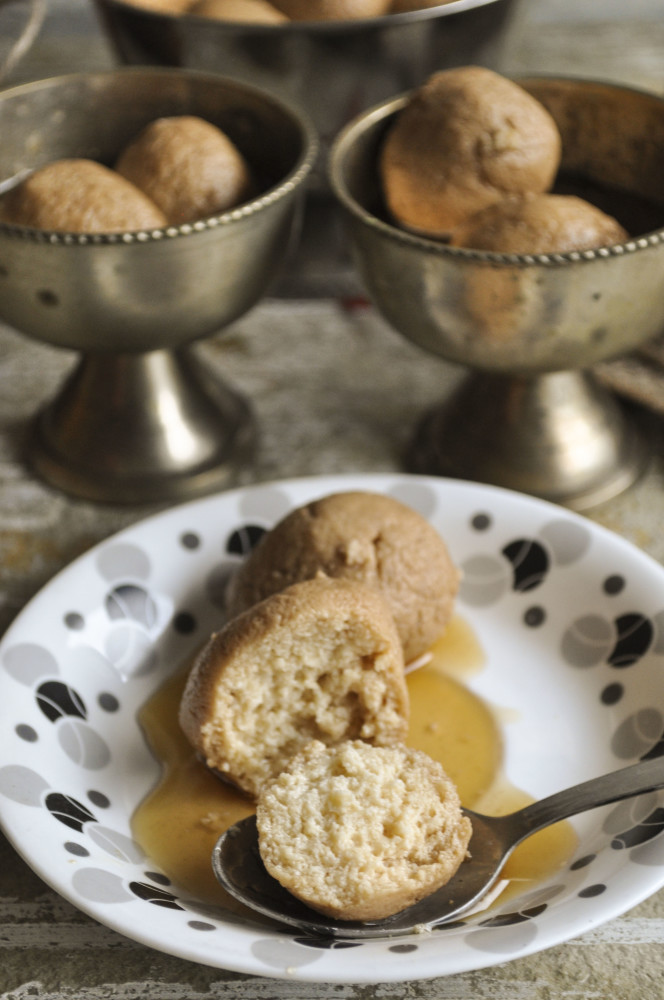 Every time I make something like this which take me back to my roots, I somehow take a moment to flip through the pages of my life spent so far and it's amazing to see and realize that a lot of the love that we were given then took the expression of our parents and elders giving us a taste of the food and life they have been a part of in their early years quite literally. And if I were to take a minute and look down on my life today and even as I am writing this blog, that's exactly what I am doing today. The circle of life continues through the different generations, exactly how it is meant to be, to the extent it feels that everything was pre-destined, pre-planned and pre-placed.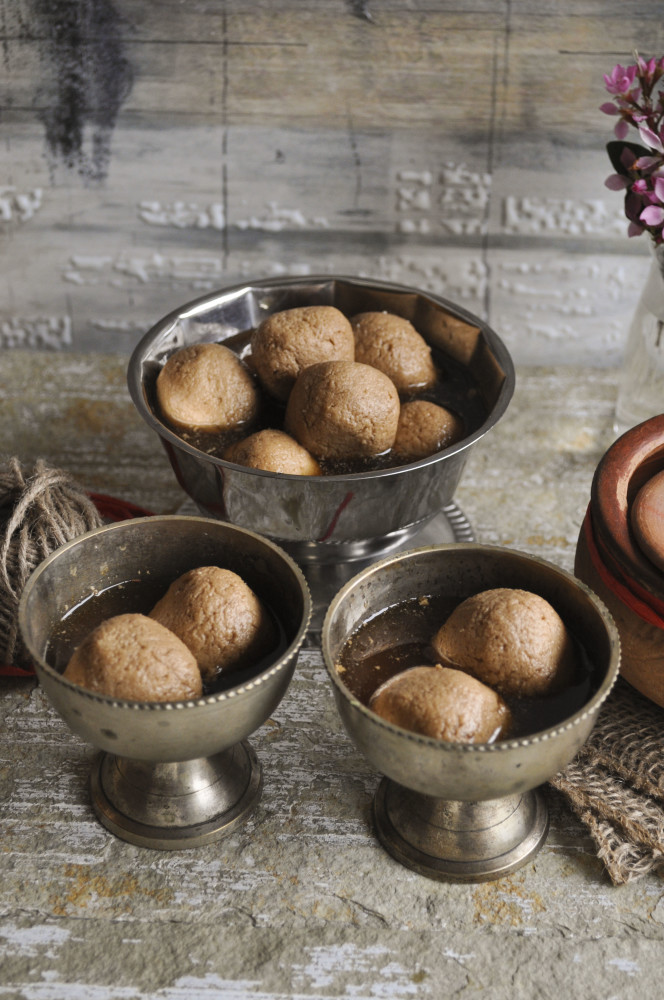 Happy New Year to you all! Best wishes for a fabulous year ahead!
You may also like the recipes below: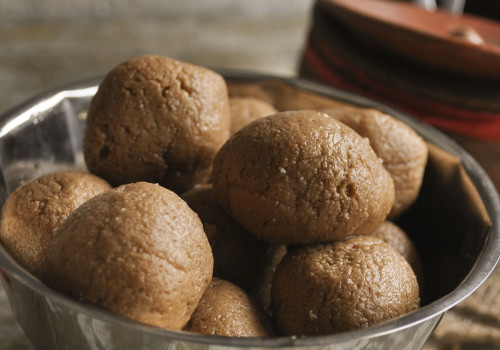 Nolen Gurer Rosogolla
2017-01-04 01:44:23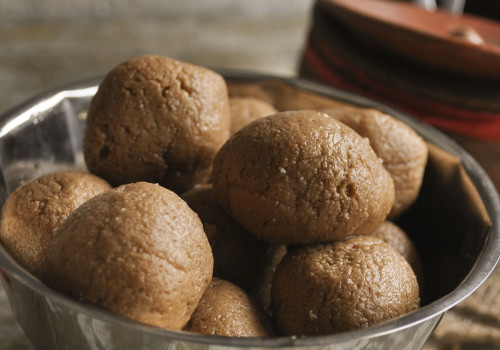 Serves 16
A slow-cooked traditional winter time delicacy that is hard to resist!
Nutrition Facts
Amount Per Serving
* Percent Daily Values are based on a 2,000 calorie diet. Your Daily Values may be higher or lower depending on your calorie needs.
Ingredients
Whole Milk - 1/2 gallon ( 1.8 L)
Lemon Juice - 1/4 cup
Sugar - 1 cup
Nolen Gur (Date Palm Molasses) - 1 cup
Water - 5 cups
For the Sugar Syrup
Boil sugar and water together and let it come to a boil. The sugar should dissolve.
Add the molasses and let it dissolve too.
Lower the heat and let it cook for about 15 mins.
For the Dough Balls
Bring the milk to a rolling boil.
Add the the lemon juice, one teaspoon at a time stirring continuously to mix. You will slowly see the milk curdle and the whey separate.
Remove from heat and let it rest for 10 minutes.
Strain and rinse with cold water to remove the lemon juice.
Put in a cheese cloth and squeeze out the excess water nicely enough to remove the water yet not drying it out completely.
Now take the cheese and knead with hands or pulse in a food processor for 2 minutes. If you're kneading by hand, make sure to knead for a good 6-7 minutes or until the cheese gets a smooth, non-grainy consistency. The dough should not stick to your hands.
Make small balls out of the dough and keep aside. There should not be any cracks in the balls.
For the Rasgullas
Bring the syrup to a boil again and get it ready.
Drop the dough balls and let them cook for 15 minutes in high flame.
Reduce the flame and let it cook covered for a good 40 minutes.
Turn off the heat and let it sit undisturbed for 3-4 hours.
Remove the rasgullas in a serving dish and serve chilled.
Notes
The dough will be smooth but not overly moist or dry. In that case it will end up disintegrating in the syrup. If the dough looks a little moist you could add 1 tbsp of all purpose flour to it and if it looks dry add 1 tsp of the whey water.
The sugar syrup is the key here. If your rasgullas are not sufficiently sweet, you can remove them from the syrup after they are cooked and further boil the syrup for 10 minutes to concentrate it more and then drop the balls in the syrup again and let them cook for 5 minutes in the boiling syrup.
I have used whole milk here but milk with 2% works fine too!
The rasgullas will puff up, so make sure you use a wide utensil to cook them so that there is enough room for all the rasgullas to swim around.
My Friday Food Swings http://www.myfridayfoodswings.com/