Yum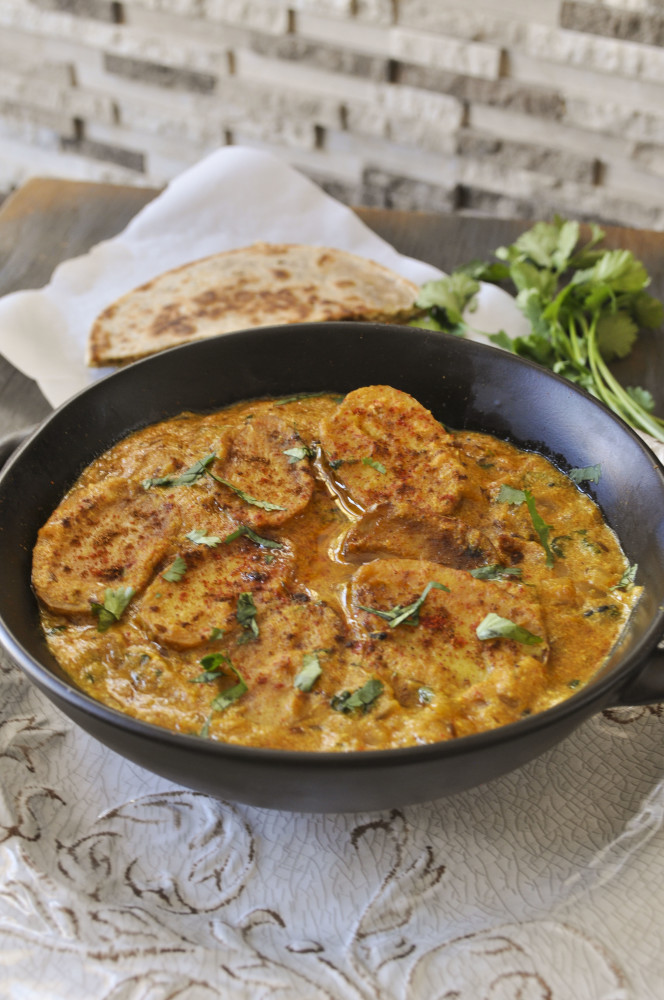 "Chandramukhi ke nie tor mar ei fascination agey janle ami I kichu ekta kortam", said baba sheepishly! I could not have missed the twinkle in his eyes or the smile in the corner of his lips. For those of you who don't follow Bengali, he was worried about my mom's growing fascination towards Chandramukhi. And today's recipe, the Pahari Aloo Khatta/Palda does use Chandramukhi! Confused?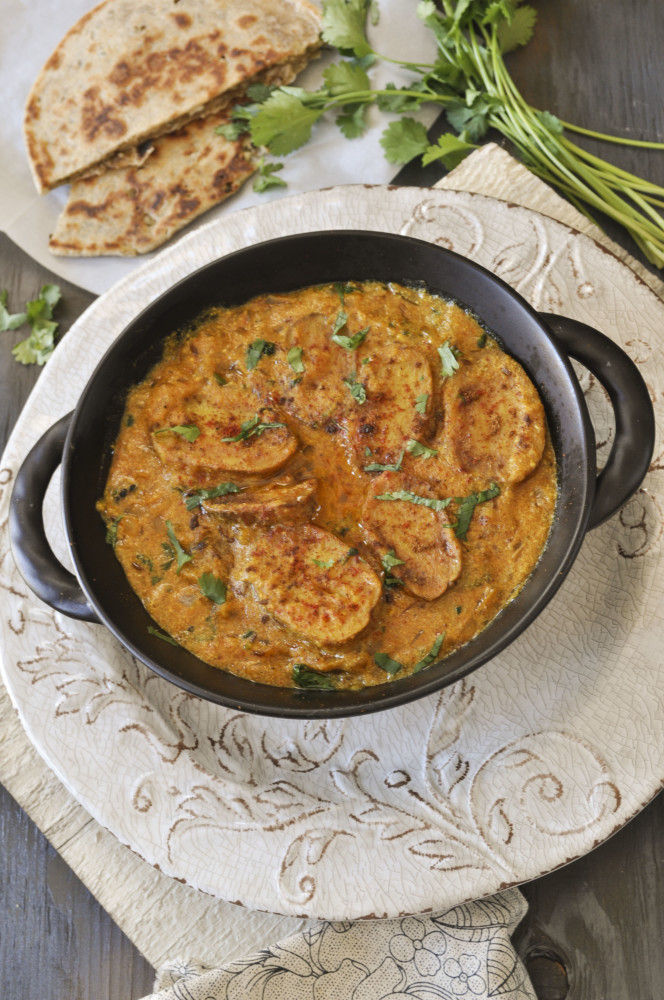 Now, hold your horses and before you attempt to jump to conclusion, Chandramukhi is the Bengali name of a genus of potatoes commonly known here as the Yukon Gold Potatoes. They are a prime variety of potatoes and had made to my mom's preferred list from times unknown. My mom is the biggest addict of potatoes. Yes, I would say, addict, as all her dishes would have a potato by any means or the other. And she made sure that the pantry was always well stocked with potatoes if not anything else. I have accompanied baba many times to the market and he would take the time to hand pick well-rounded and symmetrical potatoes sometimes as much as 10 Kgs at a time for my beloved mom.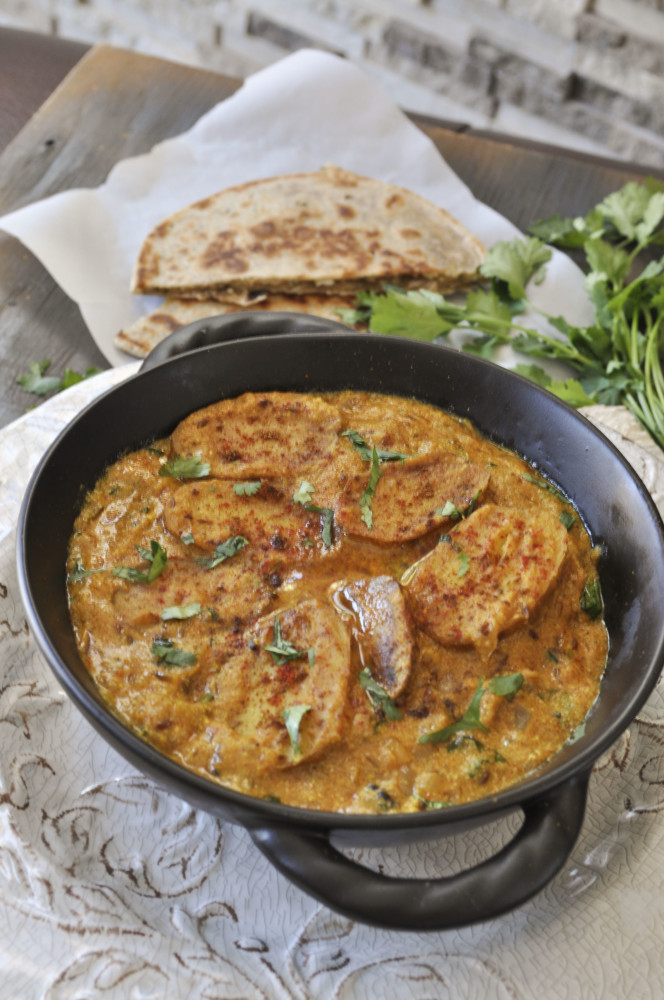 When we lived in Shillong, there was a year when there was a severe political disturbance going on and there would be a public curfew on most days. The police jeep would come by and announce the time frame when curfew would be relaxed and at that time my dad would just hustle to the market and restock on groceries and most importantly restock aloo or potatoes so that Mom would feel secure. I laugh in my head thinking about these things now.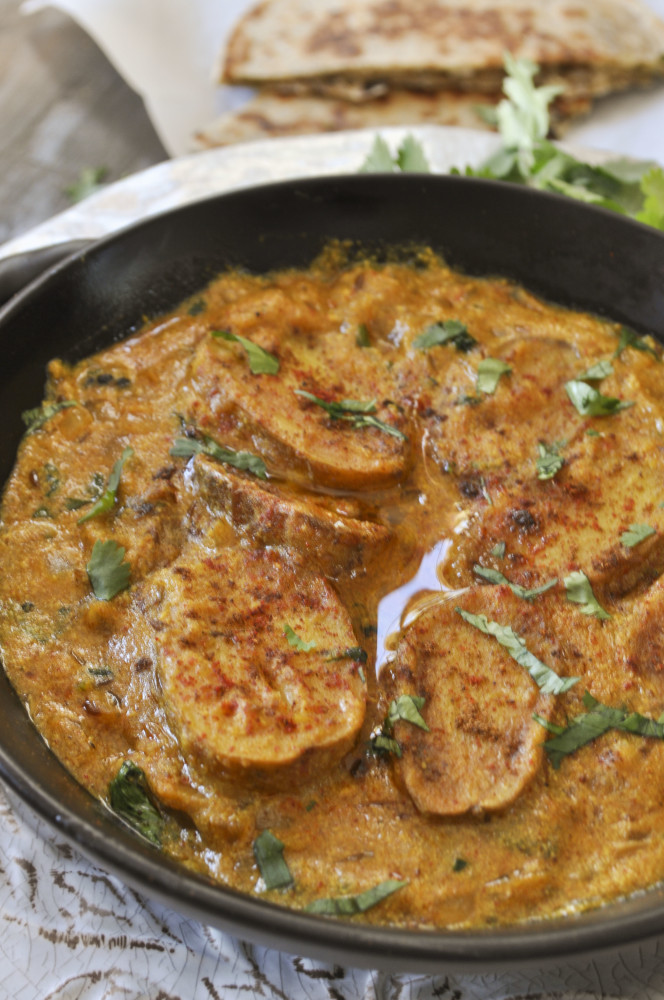 In fact, even now when I go back home, ma would sometimes request me to get some potatoes if I happened to go to the market and she would insist that I went to the same grocery every time. She does not like the fact that I don't handpick them for her and so she would tell me a hundred times to mention to the grocer that I am her daughter so that she could be assured of the quality of the produce I got back. Baba had completely spoilt her when it came to her Chandramukhis.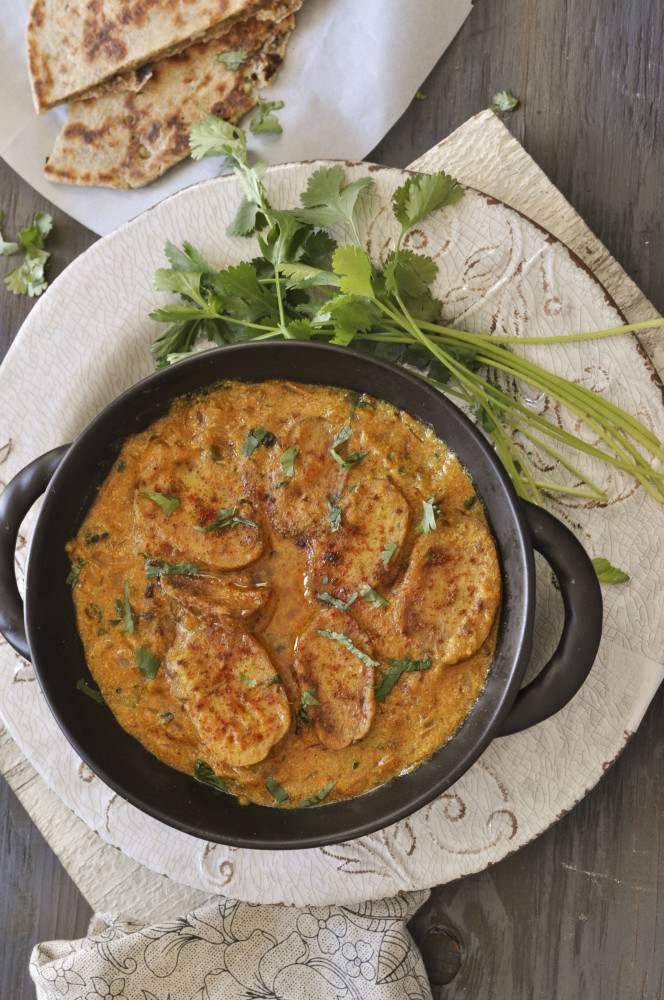 I remember distinctly that Maa would pack me an aloo sandwich sometimes for lunch. It had two slices of white bread (there was no brown bread then) with a generous filling of masala aloo ( spiced potatoes) and then hand-dipped in batter and deep fried. Now, how sinful is that! And at those times calories didn't count.
Today being Mother's Day, I kept thinking about Maa and what would be something I would cook for her. And it was not hard to know, it would be the humble aloo or potatoes. I make a lot of curries being inspired from different regions of India and Maa, when she was here would love them. So I decided to make Pahari Aloo Khatta and it turned out so delicious that it reminded me of the hills.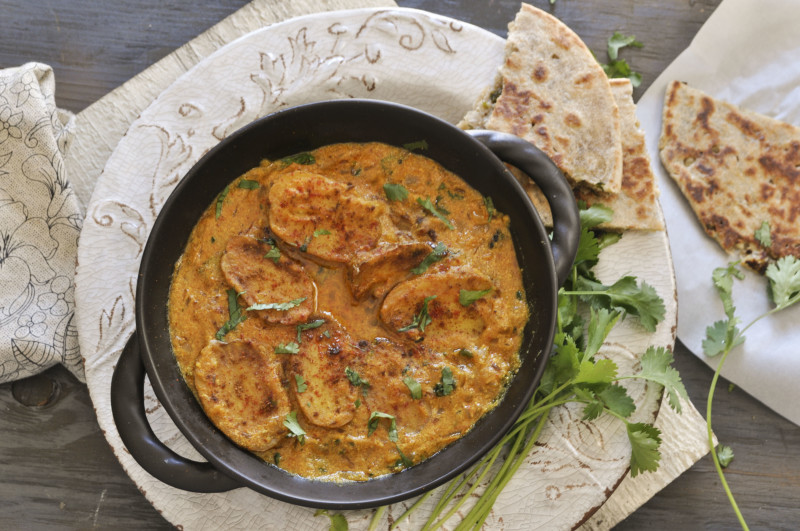 Pahari Aloo Khatta is a recipe from the hills of Uttaranchal in India. It uses yogurt for the sourness and the two significant members of my family relished it with paratha for lunch today. The recipe is pretty foolproof and I can't wait to make it for Maa, my mom.
Happy Mother's Day everyone! Go make her feel special!
You may also like the recipes below:
Aloo-Pakodi Curry ( Potato & Steamed Lentil Fritters in a Curry)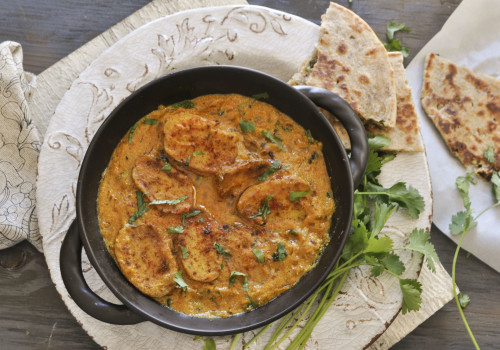 Pahari Aloo Khatta
2017-05-14 11:09:09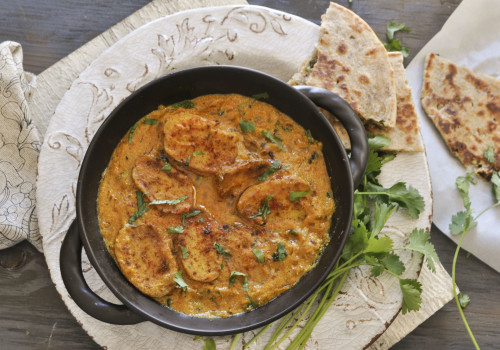 Serves 4
Nutrition Facts
Amount Per Serving
* Percent Daily Values are based on a 2,000 calorie diet. Your Daily Values may be higher or lower depending on your calorie needs.
Ingredients
Potatoes - 6 (Mini Yukon Gold Potatoes)
Yogurt - 3/4 cup ( Plain sour curds)
Turmeric - 1 tsp
Salt - To Taste
Vegetable Oil - 1 tbsp
Onion - 3/4 cup ( finely chopped)
Black Cardamom - 1 ( crushed)
Cloves - 4-5
Cumin Seeds - 1 tsp
Coriander Powder - 11/2 tsp
Garam Masala - 1 tsp
Red Chili Powder - 1 tsp
Rice Powder - 1 tbsp
Green Cardamom - 2
Ghee - 1 tsp
Sugar - To taste
Cilantro - To Taste ( finely chopped)
Instructions
Cut the potatoes in half after peeling them. Mine were small so I halved them.
Wash the potatoes and put in the microwave in high for 5 mins.
Take them out, rinse in cold water and set aside.
As the potatoes are cooking, in a pan, heat vegetable oil.
Add the potatoes and turmeric and salt. Fry them golden brown. This is not done in traditional palda but I did it.
Set the potatoes aside and in the same oil, throw in the cumin seeds, cloves and cardamom. Fry till fragrant for about 2-3 mins.
Add the onion and saute for 5 mins.
Whisk the yogurt and add it.
Add red chili powder and coriander powder and saute for another 3 mins.
Now add a cup of water and the potatoes and let everything cook for 3-4 mins.
Turn off the heat and add salt to taste if required.
You could also add a little sugar to taste.
Now add the garam masala, ghee and chopped cilantro and serve right away.
My Friday Food Swings http://www.myfridayfoodswings.com/