Yum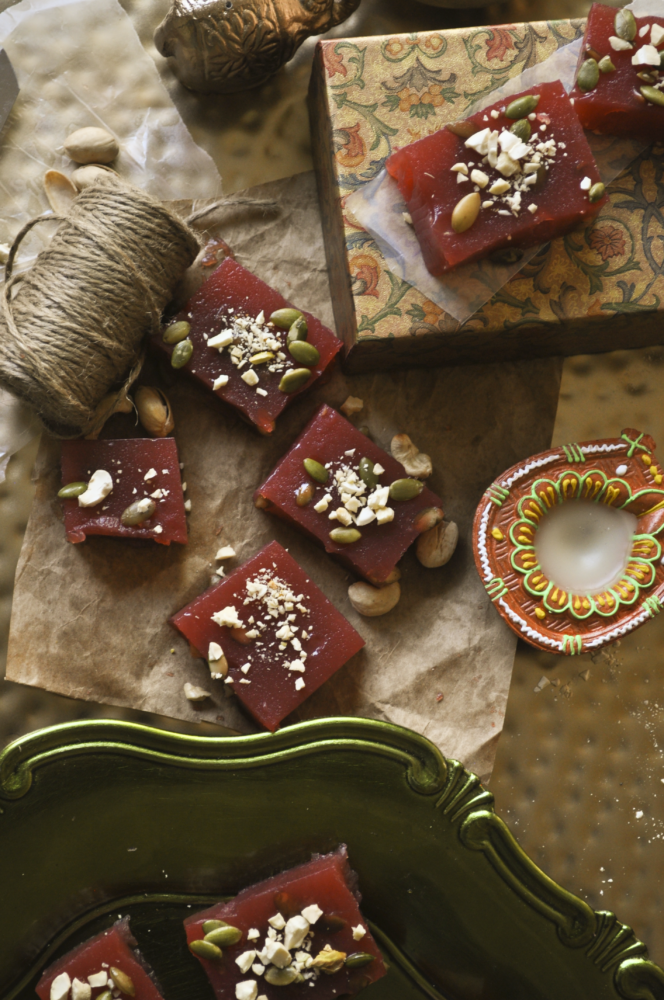 Well, I never knew that Karachi Halwa or Bombay Halwa was its name. I was really young when my masi got me this cellophane wrapped gummy, chewy, stretchy red sweet dotted with nuts and redolent with ghee. That was my first time having it and more than the sweet I remember how excited I was to indulge in something, which my mom had forbidden as it had tons of artificial color. And my masi would be the one who would be pampering us and buying us joys in the form of everything, which Maa stopped us from having.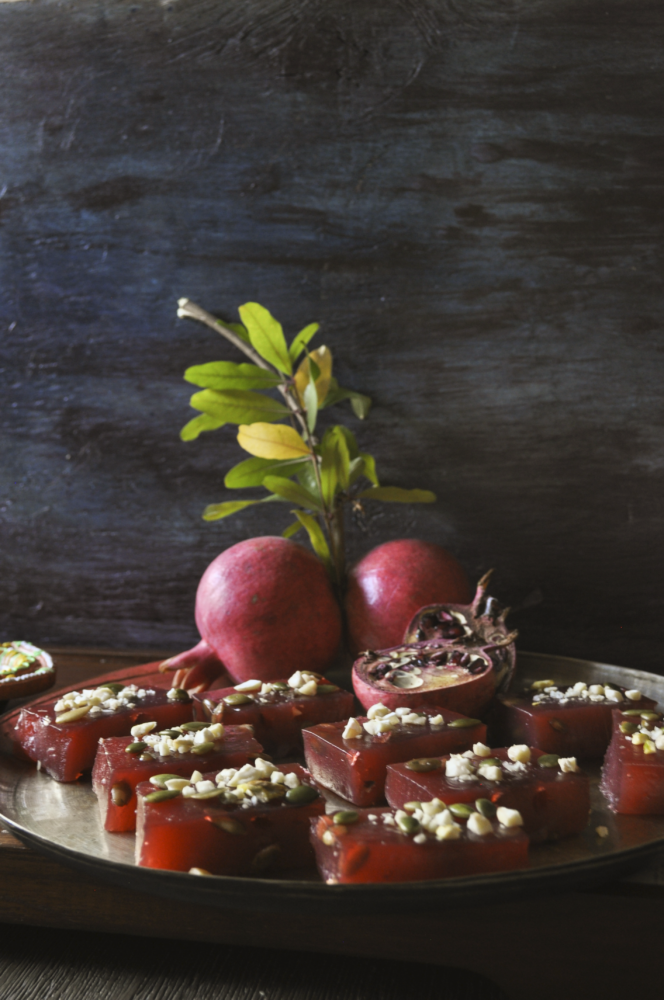 But now that I am a mom I steer clear of stuff, which has artificial colors too. Well, I am not as chaste in my food habits as my Maa, so sometimes, food colors do sneak in my frostings and sweets but I do not feel good about using them. And definitely if possible I go the natural way. And this Diwali, it gives me immense happiness, as I am able to recreate this favorite sweet and that too without using any artificial colors.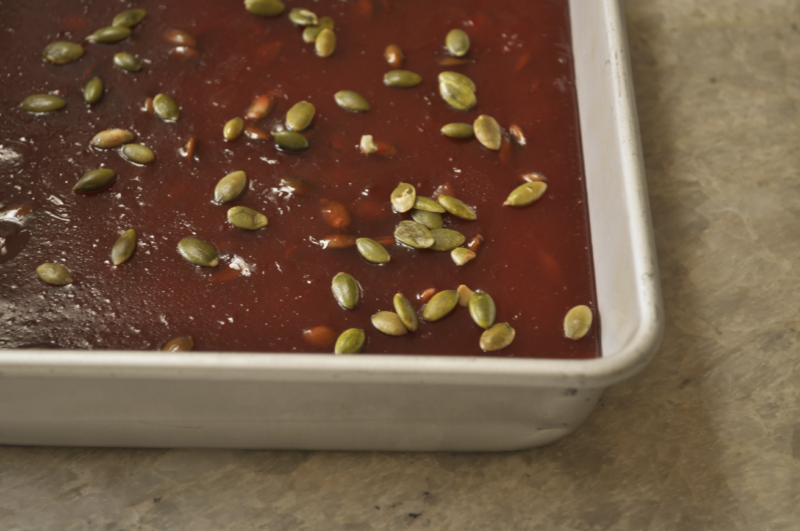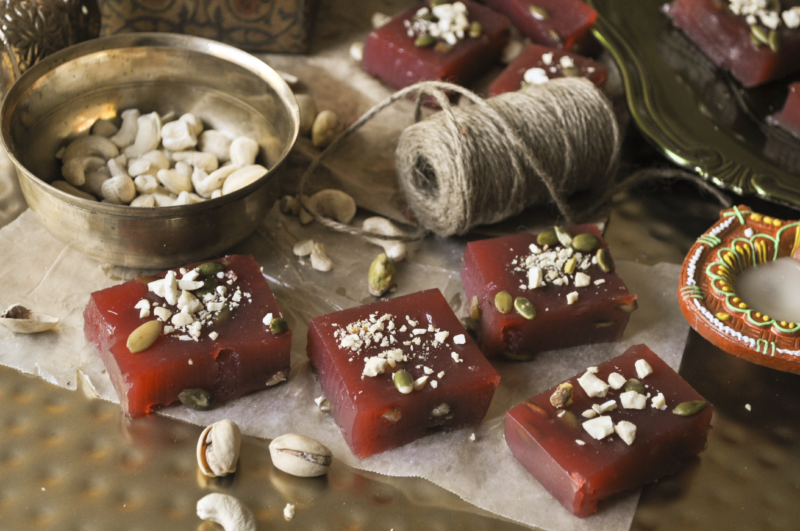 I have tons of pomegranates growing in my backyard and that red color is what lured me into trying this festive sweet the natural way. Yes, I have used pomegranate juice and freeze dried cranberry powder to get the crimson going here. But then this is a mithai, a sweet, so I do not claim it to be healthy. Never the less, the addition of the pom juice makes me feel better.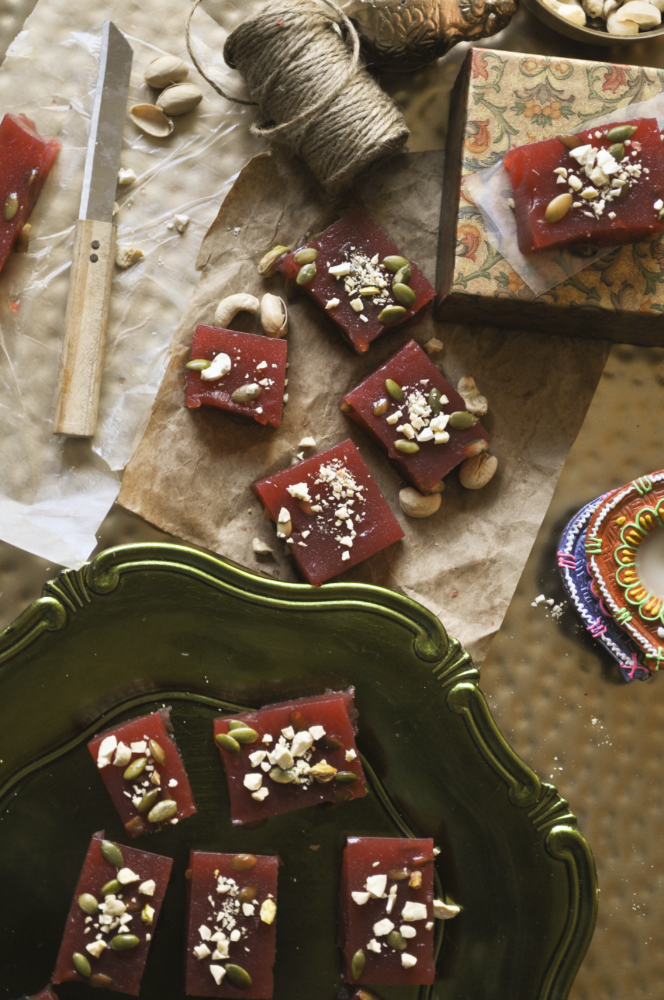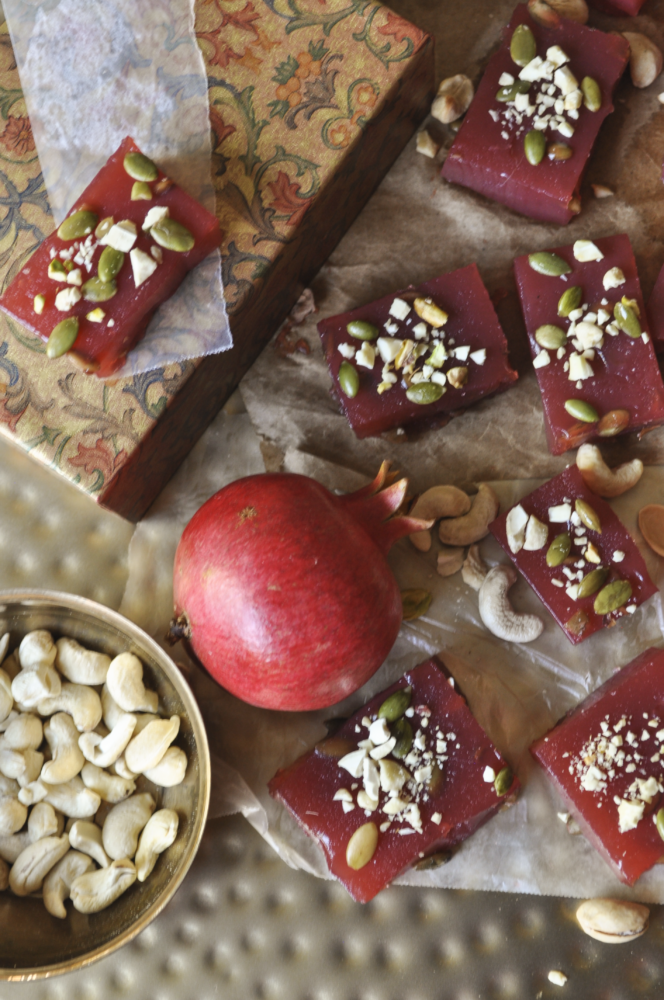 On Diwali, I generally send out homemade mithai to my friends. You can read here about last year. And this year I am beyond excited to include this red festive treat in the box for sure. Karachi Halwa is also called Bombay Halwa. And it is also referred to as Bombay Karachi Halwa. I really don't know the connection of the cities here but halwa or the halva in all its forms (and there are many) definitely came to India from the Middle East and is also found in cuisines of countries in South Asia, Central Asia, and Africa. However, the Karachi Bombay halwa is quintessentially an Indian Diwali sweet and loved by most or at least the ones like me 🙂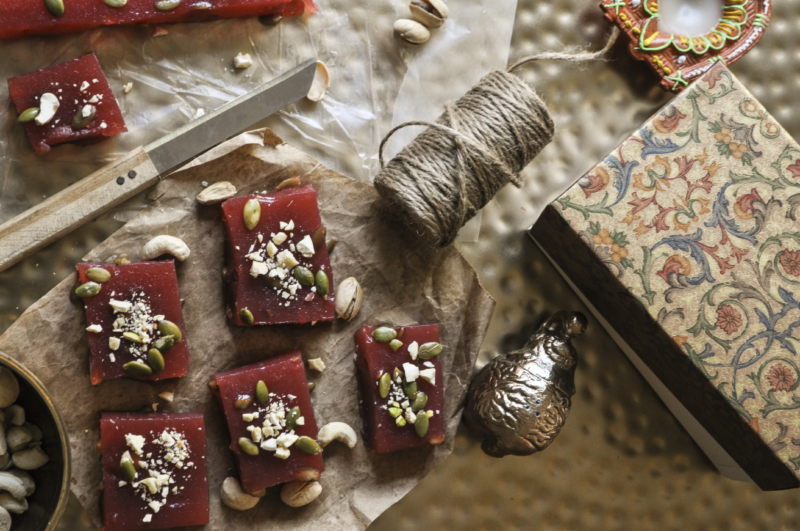 This year I am also participating in a virtual potluck with some of my favorite blogger friends. Diwali is incomplete unless we get together with friends and share good food and good thoughts. So here it is! The potluck was hosted by my dear friend Kankana from Playful Cooking. And I listing the links of all the individual delicacies by everyone else too below. Wish you all a safe, prosperous and blissful Diwali! Peace and Happiness!!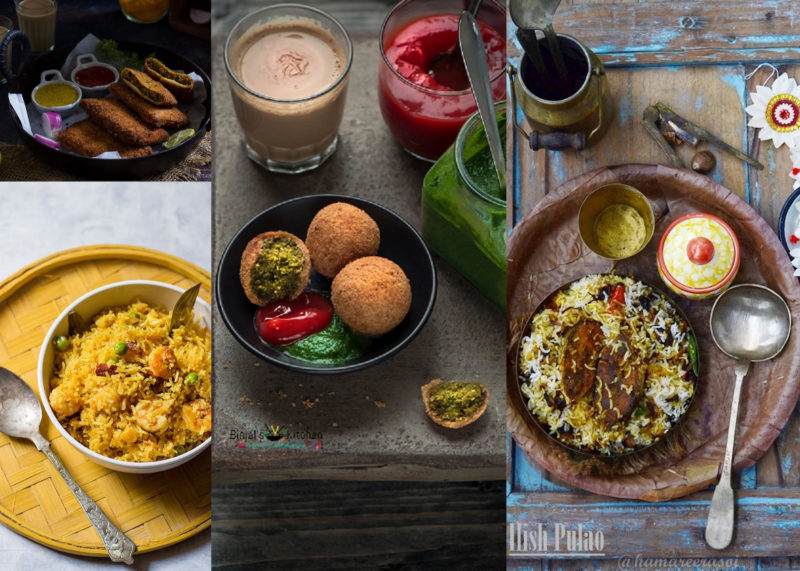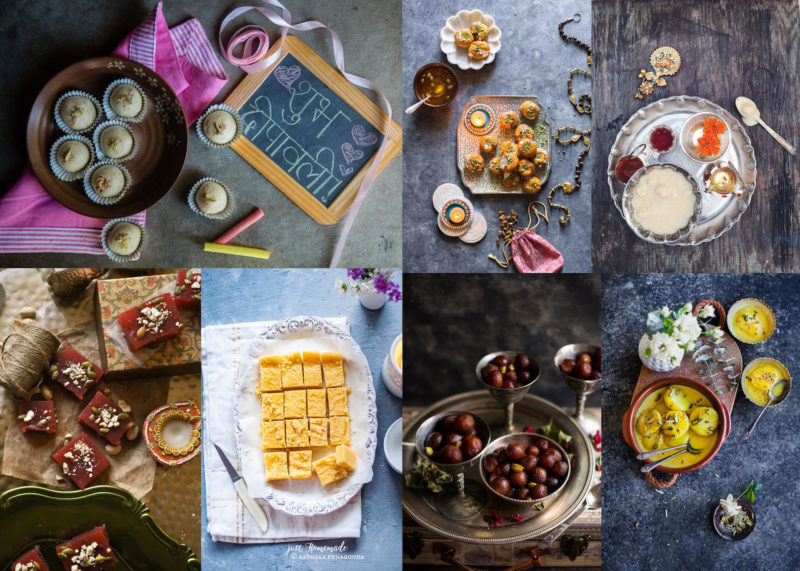 You may also love the recipes below:
Ilish Machher Pulao by Deepasri
Mutton Pantheras by Maumita
Lilva Kachori by Binjal
Malai Laddu by Prerna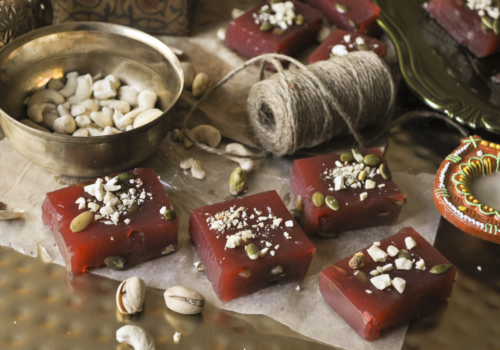 Pomegranate & Cranberry Bombay Karachi Halwa
2017-10-16 00:34:13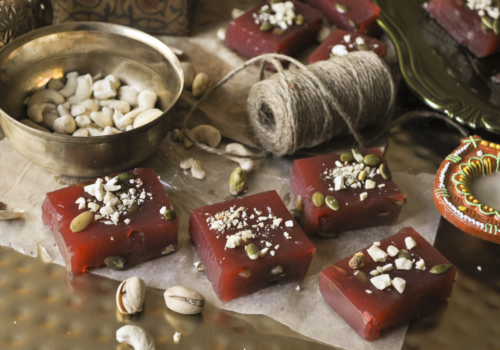 Serves 12
A traditional, indulgent and classic Diwali treat with a little twist
Nutrition Facts
Amount Per Serving
* Percent Daily Values are based on a 2,000 calorie diet. Your Daily Values may be higher or lower depending on your calorie needs.
Ingredients
Corn Flour – 3/4 cup
Water – 11/2 cup
Pom Juice – 1 cup
Sugar – 11/4 cup
Freeze Dried Cranberry Powder– 2 tsp
Cardamom Powder – ¼ tsp
Ghee – 3 tbsp
Nuts – ½ cup (pepitas, crushed cashewnuts & pistachios)
Instructions
In a bowl mix the corn flour, freeze dried cranberry powder and water well so that there are no lumps.
Bring the Pom juice to a boil and add the sugar. Stir to mix the sugar and make sure it is totally dissolved.
Add the cardamom powder and mix it in.
Now slowly pour the corn flour slurry into the boiling liquid.
Add half the nuts and keep stirring over a medium flame.
In about 2-3 mins you will see the mixture getting gelatinous. Keep stirring for another 2-3 mins.
As it gets even more reduced, add the ghee and mix it in. The mixture would get a shine now.
Remove from flame and pour it in a deep greased tin and level it with spatula. Add the remaining nuts from above and press them from above.
Let it rest at room temperature for another 1 hour.
Cut into squares and serve.
Notes
You can omit the cranberry powder; the color would probably be a little lighter than mine.
You can omit the pom juice and use water instead and 2 drops of red gel food color.
You can use other nuts like slivered almonds and watermelon seeds.
My Friday Food Swings http://www.myfridayfoodswings.com/