Yum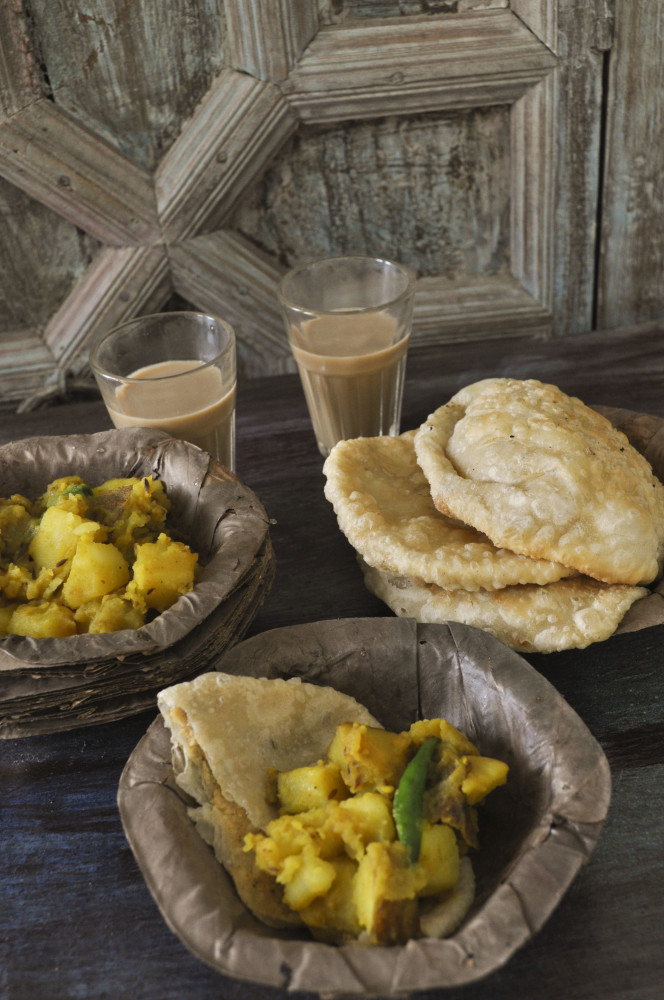 The recipe that I am blogging today has a very special significance and for a couple of reasons. One, I made these as a showstopper for Sam's birthday spread this year and the second reason being that I ended up burning my hand pretty bad doing these. So these "radhaballavis" are really memorable for the right and wrong reason. I really don't know the history behind the nomenclature of them but these are nothing but lentil stuffed deep-fried puffed bread. They are a breakfast staple in the part of India that I come from.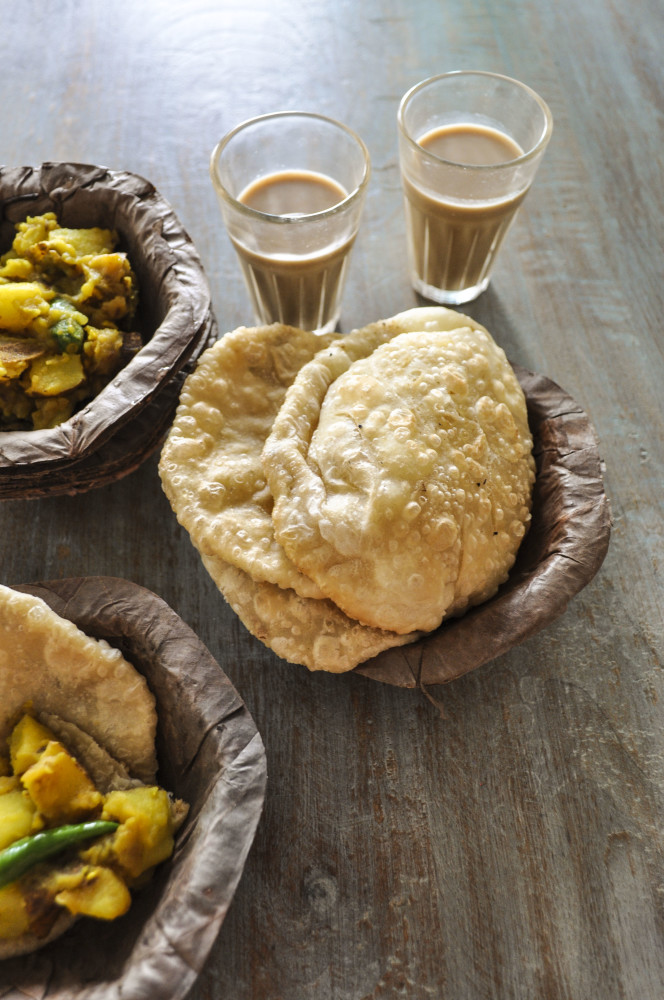 However, these are wedding feast favorites too back home. I have not attended a "biye bari" or wedding in recent times, so don't know what's the trend now but back in my days a traditional Bengali wedding feast platter would see Radhaballavis being served in the first course alongside some spicy potatoes cooked to perfection and redolent of ghee, aka, the Kashmiri Alur Dom. However, the avatar of Radhaballavis that I remember and miss are more the ones served for breakfast alongside some rustic, old school, no-fuss potato curry done sans ginger and garlic. And the breakfast spread that I am talking about barely happens at home. The plain Jane poori or luchi (simple deep-fried puffed bread) happens quite often, I would say, but the fancier lentil stuffed Radhaballavis are quite a luxury by the home cook's standards. So these are most frequently bought from neighborhood hole-in-the-wall food stalls. Well, I would not say these do not involve arm grease but the sheer convenience of having them readily available hot and fresh every morning explains the inertia of the home cook to try decoding or demystifying them.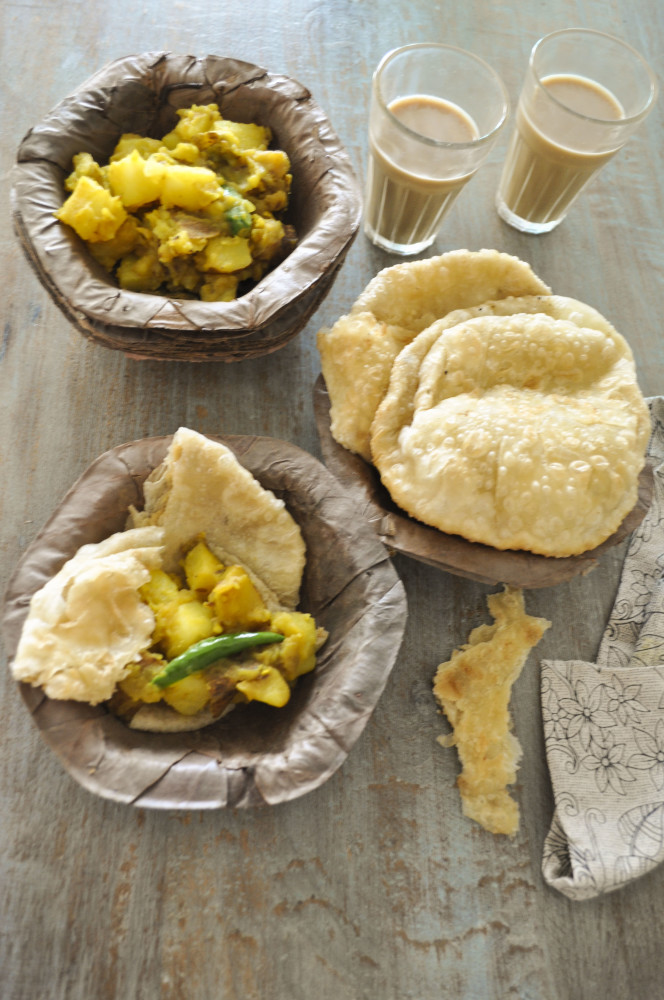 The situation is not comparable to us living abroad. We would start by missing the weddings, then the feasting (I am seriously not sure which comes first) and then one thing would lead to another and finally, you would find me roll up my sleeves and frantically looking up recipes on the internet trying to replicate and replay the past memories through food.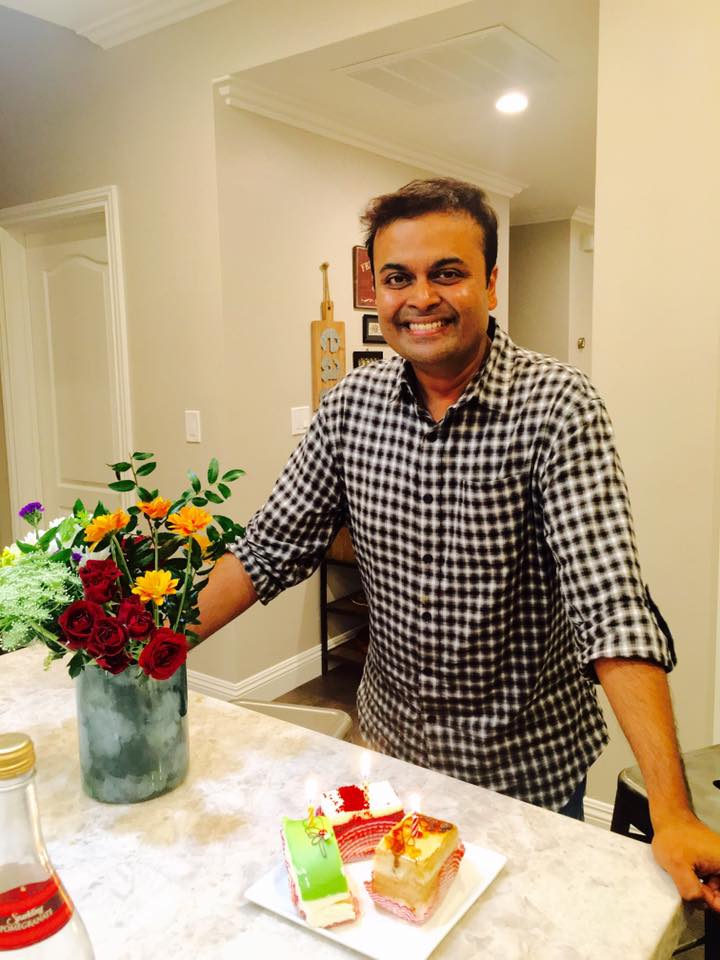 Sam is extremely fond of these pooris or kachoris as he calls them. And I had invited a small group of his close friends in the evening. I got the stuffing ready, the dough ready and planned to make them just a tad before I was expecting everyone to arrive. By the time everyone arrived and we had a few rounds of wine, I was reminded of the fact that I had to fry these. We set up a small assembly line where I was stuffing and rolling out them and a friend was frying them. In between the jokes, the banter and the uncontrolled mirth, joy, and laughter, BAM! a good amount of the hot oil lands on my hand. And now about 10 days into that day, I am sitting with a big blob of pink skin on my hand, trying hard to get rid of the scar. This was the biggest burn I ever experienced in my life. Not a pretty sight but these Radhaballavis will be remembered for quite some time for sure.
You may also like these other breakfast recipes: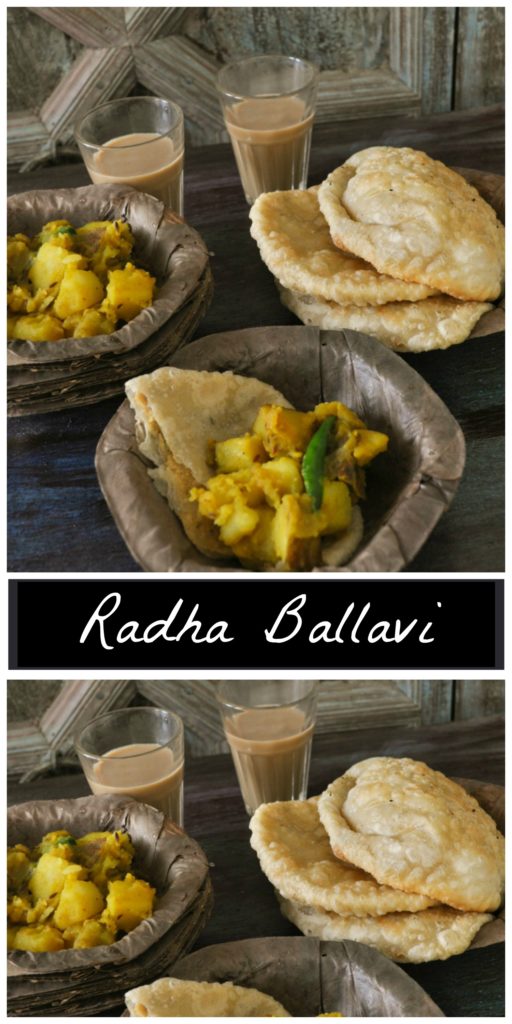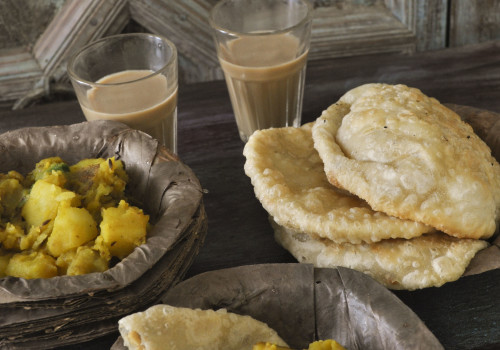 Radha Ballavi ( Lentil Stuffed Deep Fried Bread)
2017-04-04 17:18:54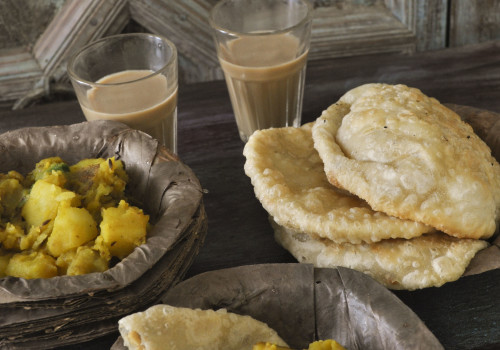 Serves 4
A traditional breakfast staple back home.
Nutrition Facts
Amount Per Serving
* Percent Daily Values are based on a 2,000 calorie diet. Your Daily Values may be higher or lower depending on your calorie needs.
For the Stuffing
Urad Dal – ¾ cup (white lentils)
Ginger – 11/2 inch root
Asafoetida – 1/ 2 tsp (Hing)
Fennel Seeds – 1 tbsp
Cumin seeds – 1 tbsp (Jeera)
Coriander seeds – 1 tbsp (Dhaniya)
Red Chili Powder – 1 tsp
Salt – To Taste
Sugar- To Taste
Ghee- 2 tbsp
Vegetable Oil – 2 tbsp
For the Pooris
All Purpose Flour – 2 cups
Ghee – 2 tbsp
Salt – To Taste
Luke warm water – ¾ cup
Vegetable Oil – 2 cups for frying
For Potato Curry
Mustard Oil – 1 tbsp
Potatoes – 2 (large)
Salt - To taste
Sugar – To taste
Turmeric – 1 ½ tsp
Cumin Seeds – 1 tsp (Jeera)
Asafoetida – ½ tsp (Hing)
Green Chilies – 2-3
For the Stuffing
Wash and soak the urad dal for a couple of hours.
Boil it in 3 cups of water for about 20-25 mins. Remove from stove and let it come to room temperature.
Rinse and drain the water from the dal and grind it with ginger.
Dry roast the fennel, cumin and coriander and grind to make a fine powder.
Now add the spices, salt, sugar, red chili powder and hing to the dal mixture.
Add the ghee and mix it well.
Now heat the vegetable oil in a non-stick pan and add the dal. Stir often and keep mixing.
Cook the dal mixture until it comes to thick dough like consistency. This will take 6-8 minutes.
Remove from heat and let it cool.
Divide the dal into 12 small sized round balls.
For the Pooris
Add salt and ghee to the all purpose flour. Mix the dry flour well to incorporate the ghee.
Add warm water little by little and knead the dough. You can add a little water or flour to bring it to the right consistency, which is not too hard and not too soft. It should be soft and stretchy.
Divide the dough into 12 equal sized balls.
Take a ball and flatten it with a rolling pin. Add a ball of dal to the center, and cover with dough from all sides. Let it rest until you are done doing the same with all the 12 portions.
Take the balls one at a time and roll out in a small circle like a poori.
Heat oil and then turn the flame to medium.
Gently slide in one poori at a time and fry until they are puffed up and golden on each side.
For the Potato Curry
Wash potatoes and roughly dice them.
Heat Mustard oil in a pan. Once it is heated, add cumin seeds and let it splutter.
Throw in the potatoes.
Add salt, hing and turmeric and sauté over medium flame.
After about 4-5 mins add ¾ cup of water and cover the pan.
Check back in 5 mins. The potatoes should be cooked.
Add the slightly slit green chilies.
Add sugar to taste and continue cooking if the sauce looks runny. The consistency should not be runny.
Serve the potato curry alongside the Radha Ballavis and enjoy.
Notes
While frying the pooris, aka, RadhaBallavis make sure that the oil is not too hot as the pooris would just cook in the exterior and not the interior then. Make sure the flame is medium.
My Friday Food Swings http://www.myfridayfoodswings.com/