Yum
Friday, Mar 20, 2015
I'm a bit of a sucker for birthdays, in general. For me, birthdays are extremely special and taking the time to remember and wish someone on his or hers brings a lot of genuine happiness to the person concerned. It's just a kind thing to do. Who does not like to have birthdays celebrated unless you're a complete dork! After all, it's your day!
So two and a half months into the year and we are ready to celebrate the first birthday in the family. We just celebrated Sam's birthday yesterday. I am sure, you already know by now.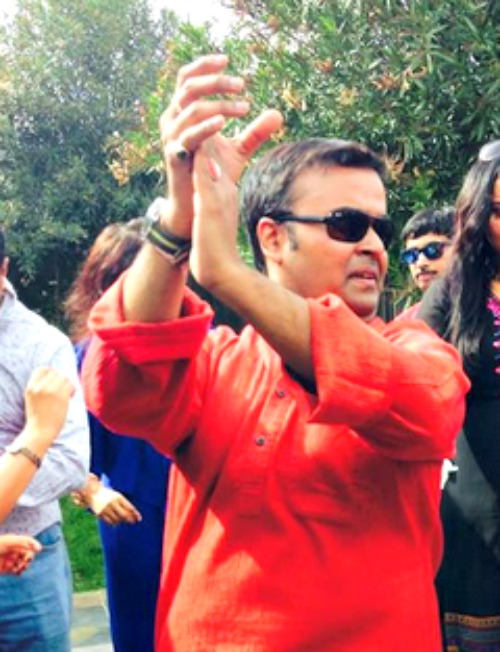 I met Sam some 15 years back during a bus ride to college. He is one guy who had and still has a pair of smiling eyes and he very graciously offered me his seat. Later on, I would often meet him on the same bus. Those smiling eyes would smile at me, but we never spoke, until someone, a regular like us taking the same bus every day, introduced us. He was a techie and would offer to help me with several courses that I was taking during my post-graduation then. A few weeks later, we exchanged phone numbers and the story gradually moved forward.
If I look back and remember just those first few weeks of knowing each other, there was one thing for certain. He liked me and was interested in a future together right from Day 1. And during the initial phase of our courtship and even later on, that very fact kind of threw me off. How can one be so sure because quite honestly, I wasn't so sure? It took me some time to get there and know that he is the one. He spoke of a future which would take us to the USA. He spoke of a baby girl; he spoke of a house with a garden and so many other things. Today almost, 15 years later, I know that's the exact life we're living and that, it was dreamt of long back. I was his first priority that day and I am his first priority today. And to me he was the one who made me laugh.
I truly thank God for being so kind. I feel the honesty and the positivity with which he looks at life are almost uncanny. There's no doubt anywhere in his mind about what he wants from life and that sheer conviction of knowing what he wants just takes him forward. There are things which are just so normal in our lives, but these are the things which overwhelm me quite often. If one of my favorite songs is on the radio, he turns up the volume without being told. If I sit next to him, his hands would automatically reach for my hair and his fingers would run through them. A typical scene in our house especially on Fridays is me lying on the couch reading a book and he massaging my heels as he is engrossed in something on the telly.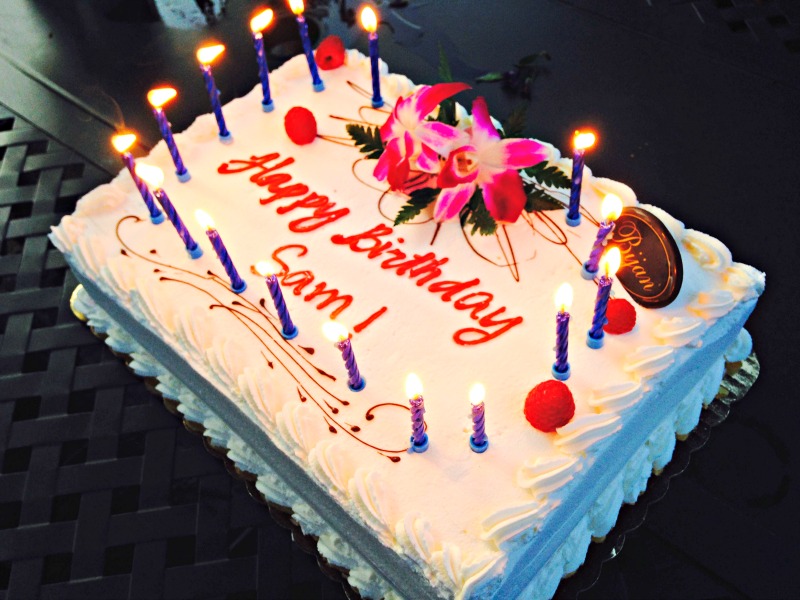 I just feel that his parents have done a super job of raising him. I can just imagine how much love he must have seen growing up to be able to give back so much today. You'd be wrong to imagine that there's no occasional yelling, shouting, raging happening. But it is me who loses it in three out of the four times. And I kid you not in situations like those; he has a lot of silly antics up his sleeve to save the day and make me break into a smile. In fact, he could write a book on those.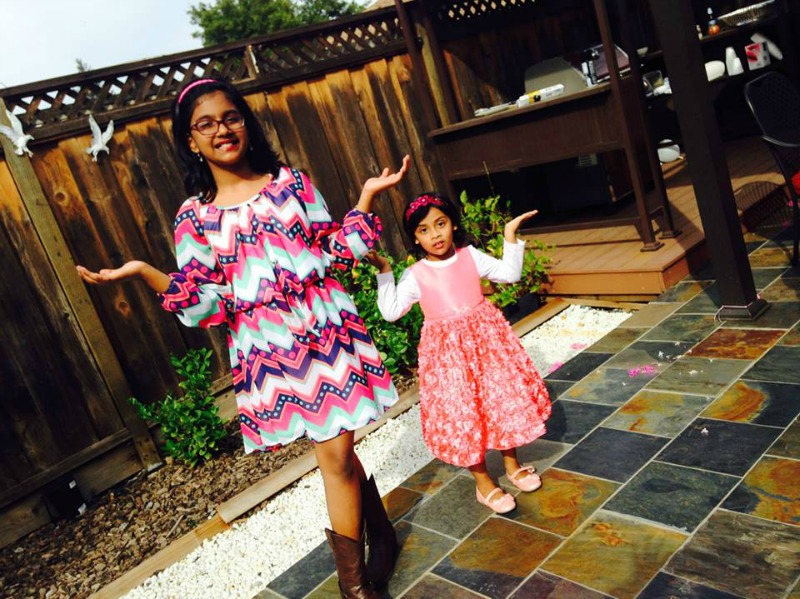 So all that said, I planned a birthday party for him last Sunday and invited some of our closest friends. We fired up the pit and got our hands dirty. Tandoori chicken legs, Broiled Fish Amritsari along with the customary accoutrements like chips, dips, fruits and salad got the party started. Also, we had Malai Paneer, Chicken Kofta, and Egg Masala along with some Yellow Rice Pilaf on the side. The part of India we are from, we need some kind of a sweet chutney to polish off a meal. And, of course, we had Indian sweets and the cake for dessert.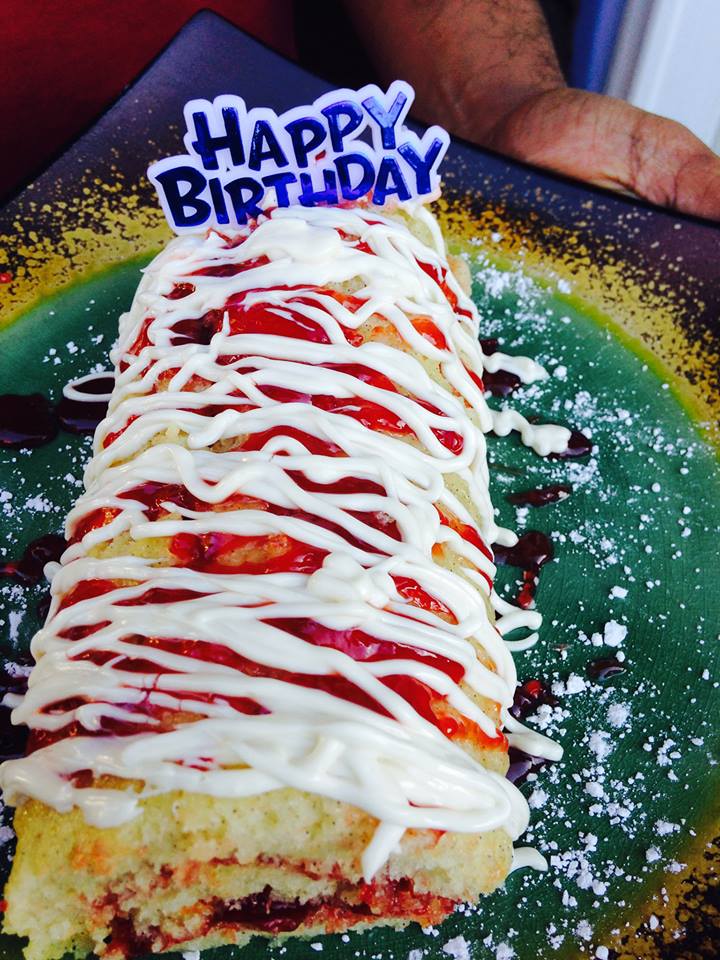 Drinks were abundant and the Bollywood themed party did full justice to the celebration. It included a fashion show and a quiz. The entire shebang was well coordinated and 5 days into it, we're still talking about it. I did make him a rice pudding yesterday which is a birthday custom back home. And I also made a quick cake, which is his childhood favorite. It's a jam roll with a drizzle of Kissan Mixed fruit jam (Indian made) and cream cheese. Took me 30 mins to pull off this baby and it is totally semi-homemade.
Finally, a dinner at our favorite fine dining restaurant specializing in Latin American cuisine and a long drive to some of his choicest Rahul Dev Burman Bollywood songs. It was a good day for sure.
I am a very emotional person. That could be it, but today as I am writing this, all I am left with is an overwhelming gratitude. I am blessed to be taught by him to believe in myself, taught to believe in the goodness of people and most importantly taught to be positive, to dream big and never give up.