Yum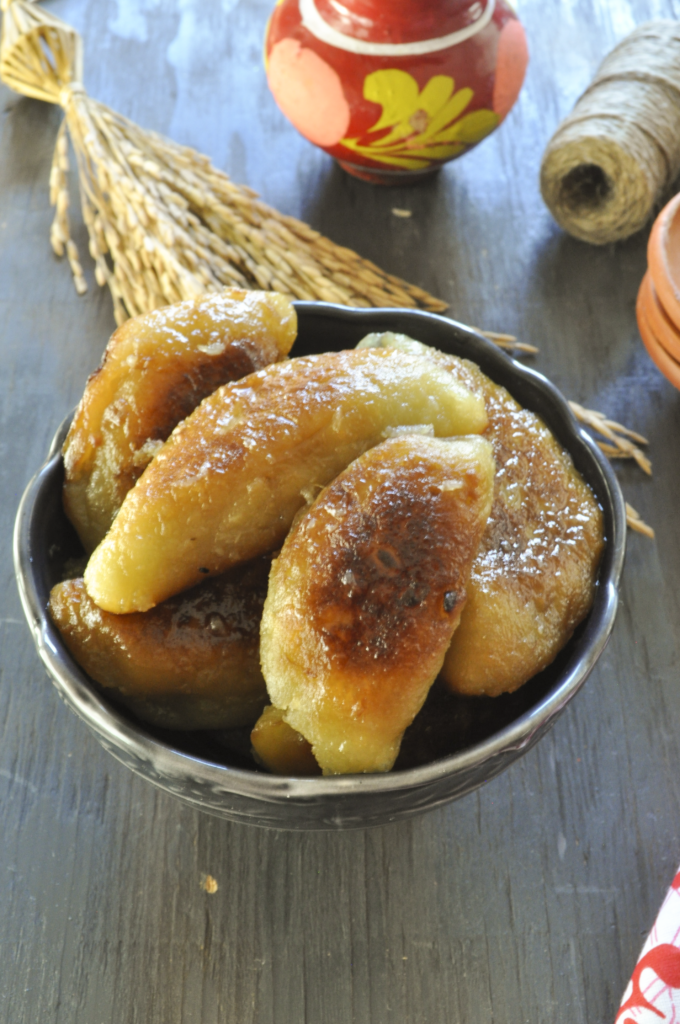 Ranga Alur Puli Pithe! Yes, another pithe, blame my Bong genes which keeps craving these nostalgic treats. Ranga Alu is nothing but sweet potatoes. I remember those afternoons in our ancestral village home when my grandma would simply roast sweet potatoes in the dying embers of her clay oven after she was done cooking the lunch for her family of 24 members. She would very patiently peel off the roasted potatoes, make little portions out of them and feed the grandkids one by one. The "pak ghor" or my grandma's kitchen was our favorite place to be, in the hope of being fed little things in between the meal preps and heavy duty cooking. That very visual makes me feel like I am a thousand years old. How could time go by so fast? Today my grandparents are gone; the house is in the process of being torn down. All that remain are tender memories.
The Ranga Alur puli pithe is made using the very seasonal (back home) sweet potatoes, some flour and of course, these have a delicious coconut filling. Deep fried and then dunked in sugar syrup. The sinfulness of these babies knows no bound and can handhold you to destruction if you are in a January healthy eating mode. But then if you go by a Bengali foodie calendar, such a thing as healthy eating needs cosmic intervention. So right after the bacchanal welcome to the New Year is done with, we are in the Sankranti mode. All the foodie nostalgia engulfs you and causes you to take a detour on your way back home from work in search of the ingredient that leads you to Bong ambrosian bliss – Nolen Gur or the Patali Gur. Once you have sourced the Patali, rest is easy.
So here is the recipe for you to make and enjoy. I do urge you to exercise caution and moderation as these severely addictive.
You may also like the recipes below: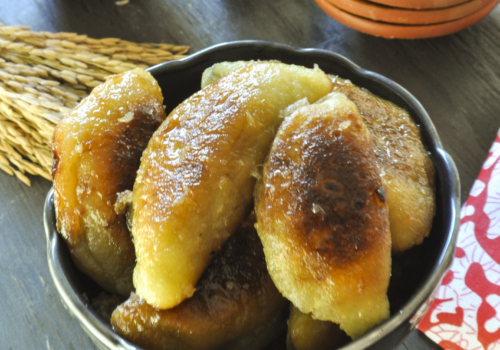 Ranga Alur Puli Pithe
2018-01-10 23:05:31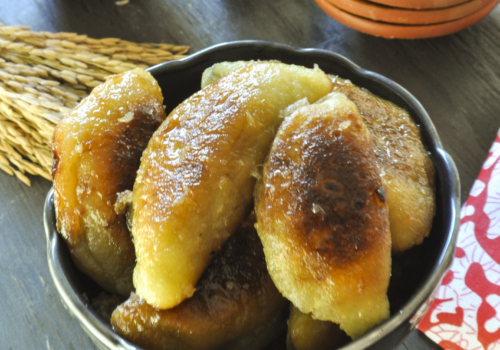 Serves 10
Ranga Alur Puli Pithe is a traditional and rustic pithe that is made from sweet potatoes with a coconut filling, deep fried and then dunked in sugar syrup.
Nutrition Facts
Amount Per Serving
* Percent Daily Values are based on a 2,000 calorie diet. Your Daily Values may be higher or lower depending on your calorie needs.
For the pithe
Sweet Potato – 3, large (½ cups mashed pulp)
All Purpose Flour – ½ cup
Rice Flour – 1 tbsp
Salt – ¼ tsp
For the Coconut Filling
Ghee – 2 tsp
Grated Coconut – 1 cup
Sugar – ¼ cup
Jaggery – ½ cup, powdered
Cardamom Powder – 1 tsp
Vegetable oil – 2 cups ( for frying)
For the Sugar Syrup
Water – 2 cups
Sugar – ¾ cup
Jaggery – ½ cup, powdered
Cardamom Powder – 2 tsp
For the coconut filling
Heat a pan and add the ghee. As it melts, add the coconut and stir for a couple of minutes.
Add the sugar and let it melt.
Throw in the jaggery and let it melt. Keep mixing everything together.
Add the cardamom powder and mix in. Keep cooking the mixture for 7-8 mins or until it comes together such that once fisted it should hold the shape.
For the sweet potatoes
Cook the sweet potatoes in boiling water for 10 -15 mins until they are fork tender. Strain away the water and let them cook down. You can microwave the potatoes too.
Peel them and mash the potatoes with the salt.
Add the flours and mix together. It should come together in smooth and soft dough and stick to your fingers. If the dough is moist and sticky, feel free to add a tbsp. or so of flour.
For the Sugar Syrup
Heat all the ingredients except the cardamom powder and let it come to a boil.
Let it boil over medium flame for 8-10 mins. Test a drop of the syrup between the tips of your fingers. It should have a one-string consistency.
Add the cardamom powder, remove from stove and keep warm.
Assembling the pithes
Out of the sweet potato dough, make golf ball sized dough balls. I got about 10.
Take one dough ball and roll it out to a small circle. Use dry flour if required.
Now take 1 tbsp of the coconut mixture and place in the center of the circle. Close the circle by taking the seams and pressing them together kind of like an empanada. It will look like a semi circle after the exercise is over.
Also, feel free to make some pattern on the edges. It just looks good.
Now heat the vegetable oil, and deep fry the pithes, a few at a time to a golden brown over a medium flame.
Once they are fried, take them out and dunk them in the warm sugar syrup for about 4-5 mins.
Take them out and serve them.
Notes
When the sweet potatoes are done cooking, immediately remove them from the water. If you let it sit in the boiled water it absorbs even more moisture.
If you want to make the recipe even richer and decadent, fry the pithes in ghee instead.
My Friday Food Swings http://www.myfridayfoodswings.com/