Yum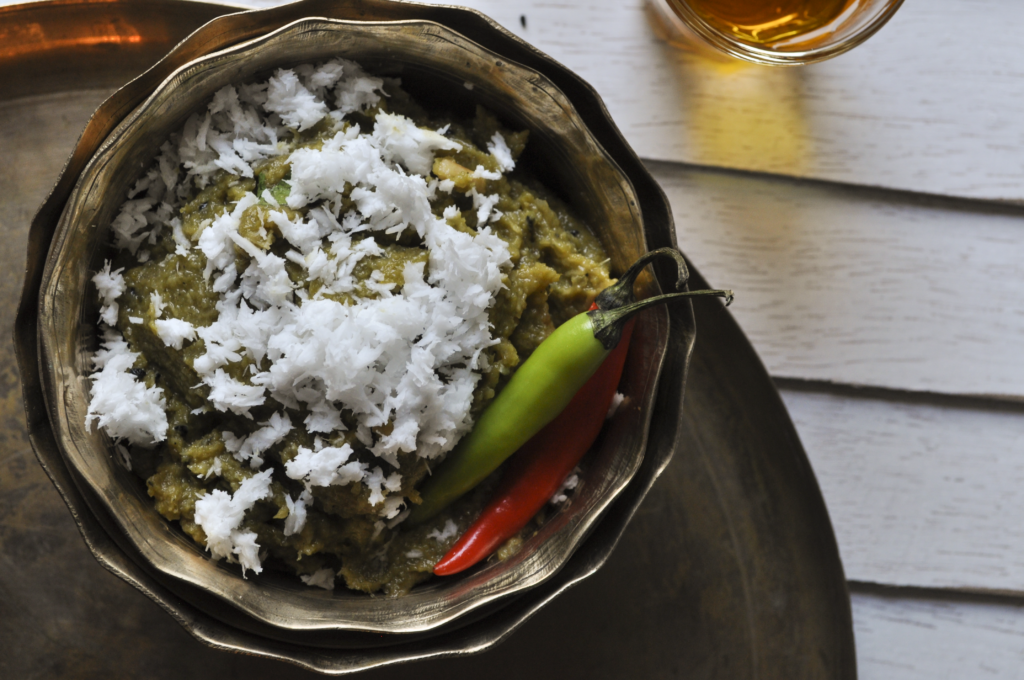 When I cook things like this shim bhorta here, it has to be for something special. I am a true Bong at heart but that said, I have been living in the US for almost 12 years now, so as much as I love to go back to my roots, my immediate environment also heavily influences me. And so most days especially weekdays, dinner may be a bbq chicken salad or a big pot of soup and some crusty bread. Mmmm, delicious!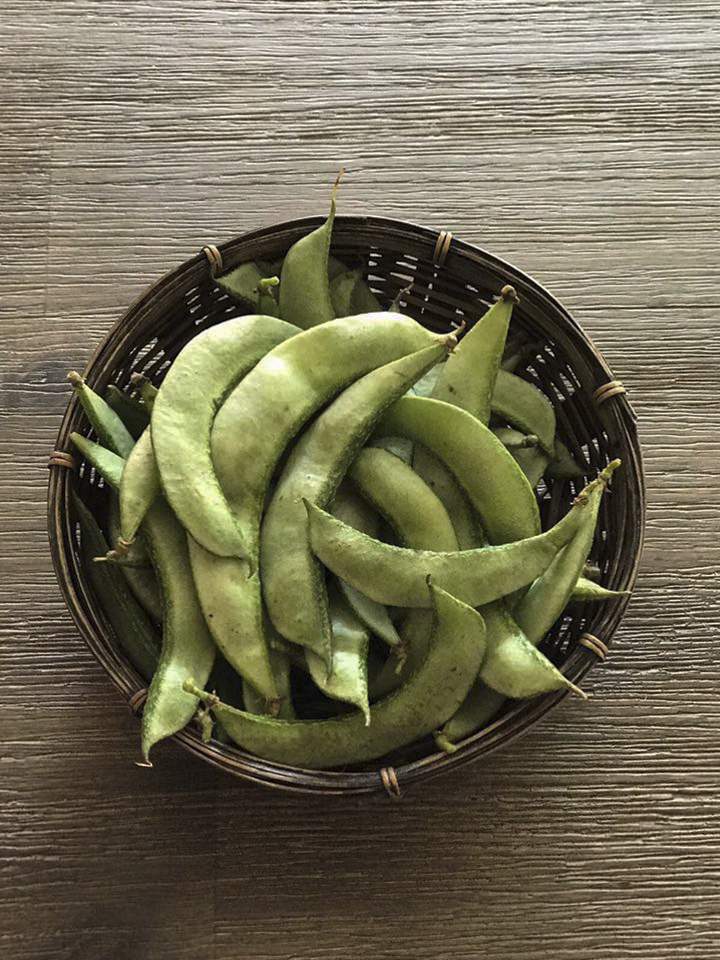 And it's not just food; it is true for every bit of our lifestyle. We are the generation, which got to enjoy the best of both worlds. And I hope that my daughter too gets to do the same. I hope she has the same appreciation for the Bong way of life.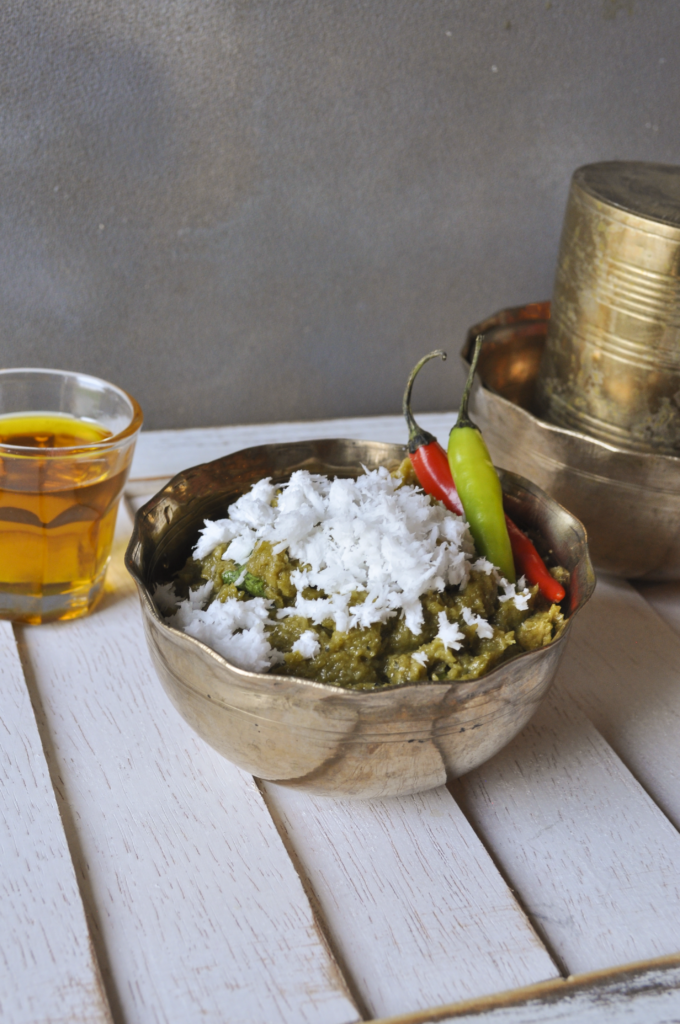 My ancestors were originally settled in Bangladesh. You may know already from here. A lot of the food that we eat at home shows significant Bangladeshi influence. For example, excessive use of coconuts. My grandma had a "bharar ghor" which was essentially her pantry. She would stock everything there and there was a small bed in there. Underneath the bed, at any given day, you would find at least 10-15 unhusked coconuts freshly picked from trees. She would forage leaves, roots and stems from the kitchen garden and have a delicious little sauted dish or curry with some generous usage of scraped coconut cooked for her big family of 24 members.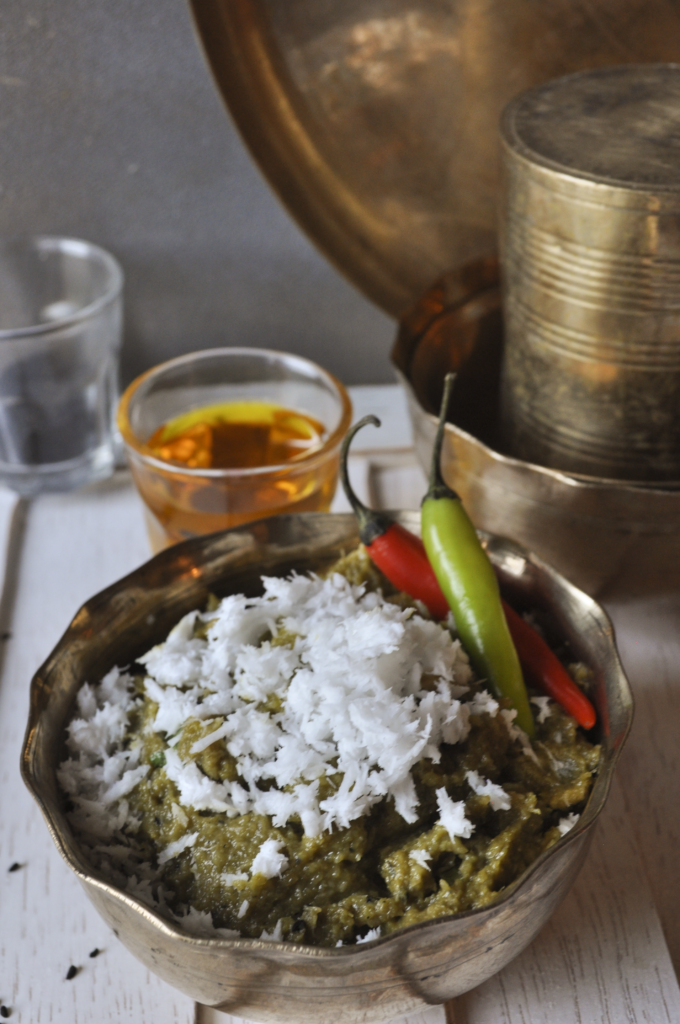 A little chechki here or a chochhori there using leftover peels or vines from her garden were a daily affair. And speaking of vines, she had a compost bin and she would have a pumpkin, a snow peas (Shim), a French bean growing out of it most of the times.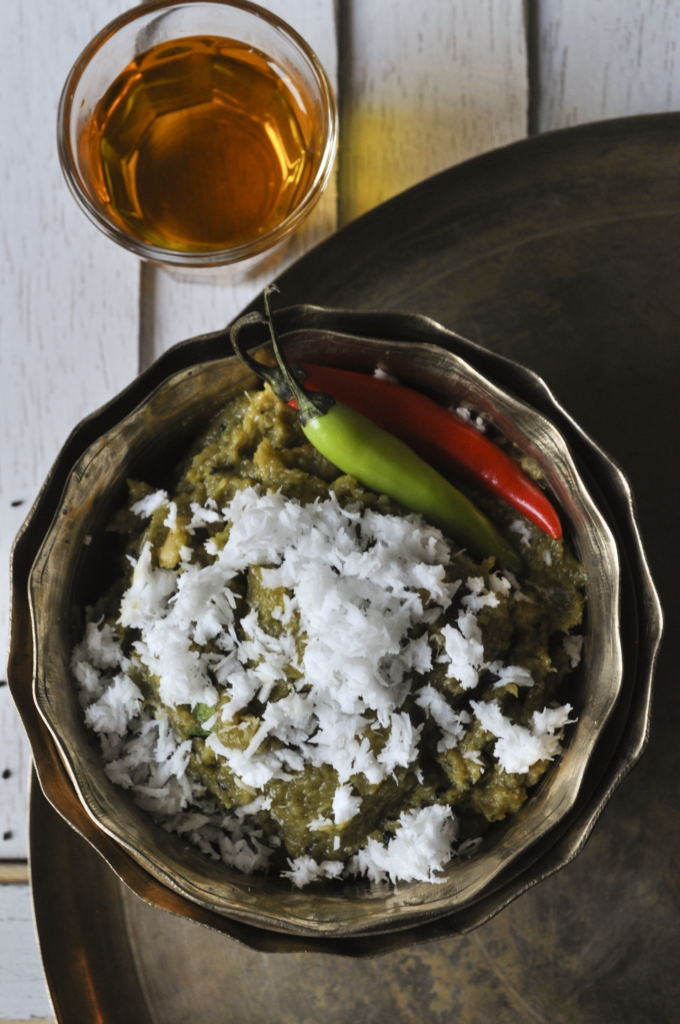 Truth be told, this Shim Bhorta was not something she made. But she often made a shim chechki with tons of coconut. Being on Instagram and following many communities around Bengali food, I was attracted to this dish. My in-laws and Mom are visiting and now the focus being Bengali food, hence I went for this shim bhorta. And everyone just loved it.
You may also love the recipes below:
Shukto – A light stew of summer veggies
Shim Bhorta
2017-09-12 02:00:31
Serves 4
A completely vegan little side dish which accompanies a traditional Bengali home-cooked everyday kind of meal.
Nutrition Facts
Amount Per Serving
* Percent Daily Values are based on a 2,000 calorie diet. Your Daily Values may be higher or lower depending on your calorie needs.
Ingredients
Snowpeas ( Shim) – 1 ½ pounds, thinly cut
Onion – ½ cup, chopped
Garlic – 3 cloves, finely chopped
Nigella Seeds – 1 tsp
Salt – To Taste
Sugar – To Taste
Coconut – ¾ cup, scraped
Green Chilies – 3
Mustard Oil – 1 tbsp
For Tempering
Mustard Oil – 1 tbsp
Nigella Seeds – ½ tsp
Green Chilies – 2
Garlic – 1 clove, finely chopped
Instructions
In a pan, heat oil and add the nigella seeds and let it sputter.
Add the garlic and let it get fragrant.
Throw in the onions and fry till they look translucent.
Add the snowpeas or shim and stir for a good 3-4 mins.
Add the coconut and further sauté the mixture for another 3-4 mins over medium flame.
Add salt and sugar to taste.
Cook the peas covered over the lowest heat for 10 mins.
Remove from heat and let it cool completely. It takes about 10-15 mins.
Now make a paste of the cooked peas and chilies in a blender. Throw in a little water if required to make a fine paste.
Once the paste is ready, keep aside.
In a pan, heat 1 tbsp of mustard oil.
Throw in the nigella seeds, chopped garlic and chilies in quick succession. Wait for it to get fragrant.
Add the cooked paste made from beans and sauté till most of the moisture is absorbed. This takes about 6-8 mins.
Once done, remove from heat and serve along side white rice.
My Friday Food Swings http://www.myfridayfoodswings.com/