Yum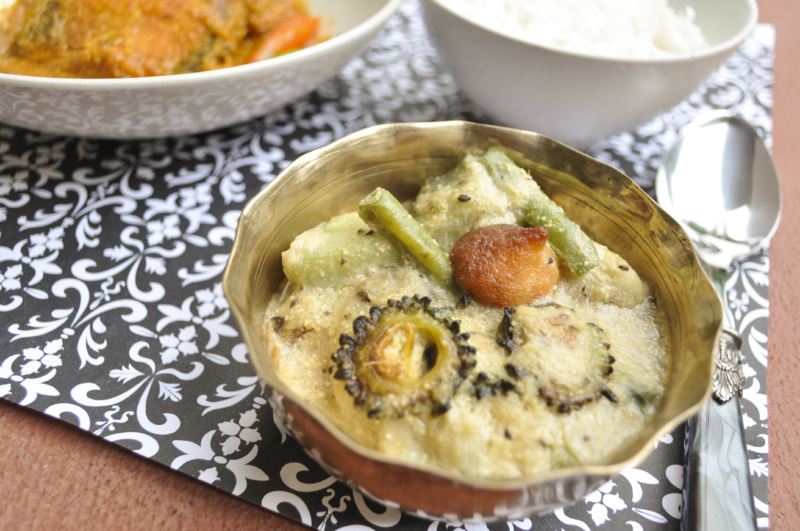 Unlike me, Shukto is not an everyday affair in Gungun's life. I grew up eating shukto in some shape and form practically every single day of my life. But I grew up in India in the pre-internet, per-cellphone era. So her life is expectedly quite different than what was mine at her age. But even then we are so similar.
G being 13 yrs old now, I realize a lot of things now, which I did not realize earlier. I feel somewhere I am exactly a photocopy of Maa, my mom. Maa and Baba had this immense faith and confidence in me that I will never do anything wrong. Just that confidence ended up influencing my life's decisions most of the times. I pushed myself harder so that I did not fail them but if I failed (which I did countless times) I had two loving shoulders to cry on and scout every inch of me to find the courage necessary to get up and put up a fight again.
I think I have a similar confidence in Gungun now. Something which makes me feel she will do what is best not only for her but for all of us. And today was another validation of my thought. We enrolled G for a speech and debate summer camp at a high school we are considering for her after middle school. And last time when we went for a preview of this school, things were a little overwhelming both for G and us. The high school environment is very different from the protective, middle school environment that she is in now. So she was very reluctant to go back to the summer camp at this school. She told me several times that she did not want to go to this camp.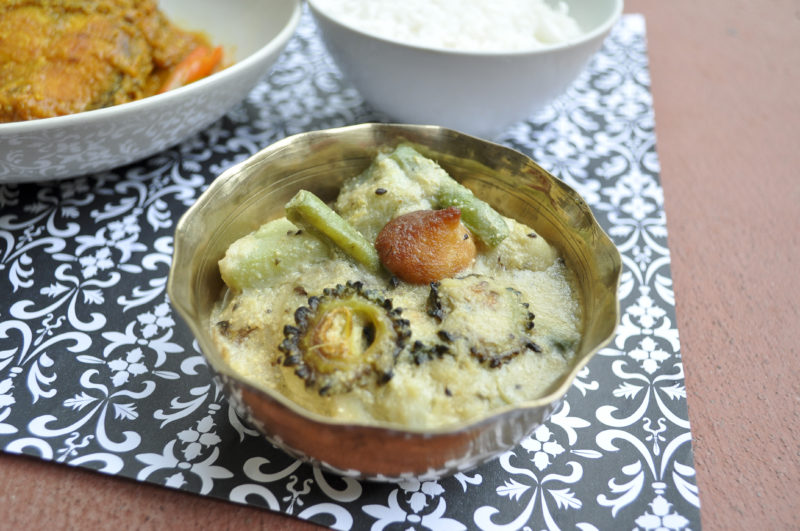 Last night when she went to bed I had a talk with her. I told her that if she did not go, in her heart she would know she chickened out. She is afraid of being uncomfortable, that if she does not put her chin up and face it, how will she ever grow. And she has her dreams, which needs a lot of courage on her part to achieve.
This morning when we entered the school campus, that very moment, I felt I heard her taking a deep breath. She told me, "Mom you leave, I will find my way". I insisted on accompanying her to the classroom. And the gait and demeanor with which she entered the classroom; I knew she will give her best no matter what.
And when I went to pick her up, there she was just bubbling over to share her experience of the day. She loved it and even told us the feedback she received from the moderators. In fact, she came home and got to her research to prepare for tomorrow. I feel that it was a very small thing today, but I know that my daughter will never quit without trying.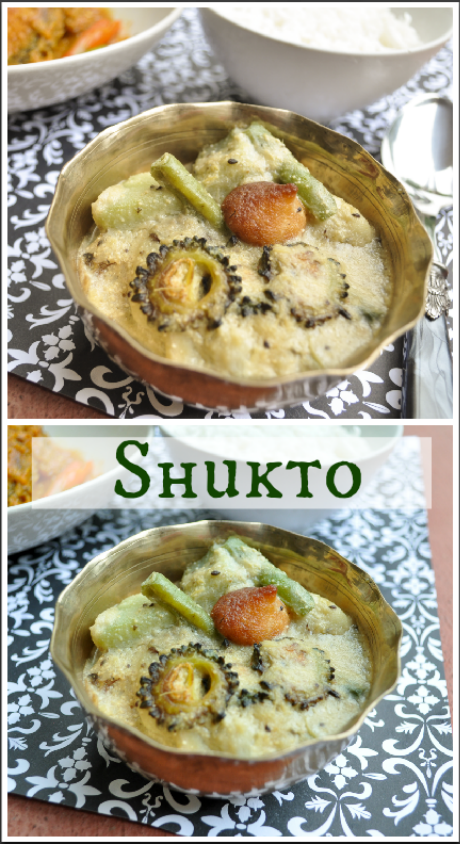 So again please forgive me to somehow digressing and sharing a parenting experience with you instead of talking about the shukto but then shukto or no shukto, G's upbringing is no different than mine, somewhere I knew that today.
Coming to the shukto, it is said to have a Portuguese origin. It's the dish that a traditional Bengali 7-8 course meal is started with. It is a palate cleanser and has a subtlety to it, which can be best, experienced and enjoyed in a communal setting sharing a meal with others. Shukto is actually a very communal dish also as it includes tons of veggies and how much ever you try, it's hard to cook a small portion. Mellow on the palate, the usage of bitter gourd in it wakes up your palate to all the different tastes to be enjoyed as the meal would follow. It is very light on the stomach and is preferred in summer months when the mercury would be spiking mercilessly.
Today shukto happens quite rarely and also when I have the time to cut the multiple veggies but when it happens it takes me back right to my childhood. I don't know if G will ever cook shukto but this memoir may someday have her try it.
You may also like the following recipes:
Macher Jhol – Classic Bengali Fish Stew
Dimer Pulao- Bengali Egg Pilaf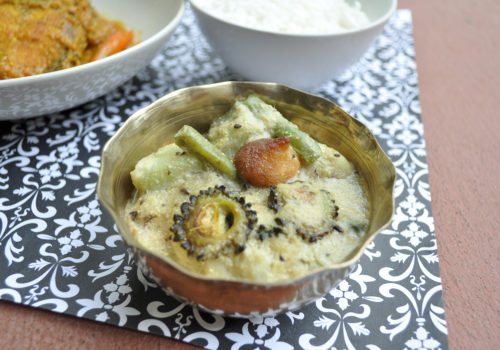 Shukto
2017-06-27 12:03:10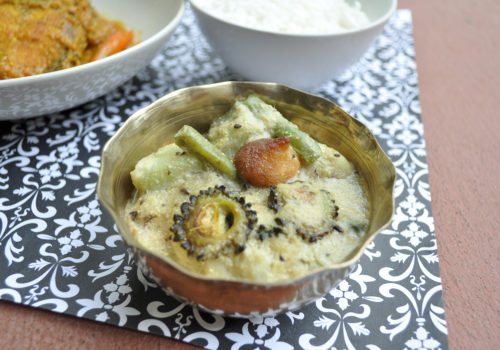 Serves 4
A traditional palate cleansing preparation in the Bengali cuisine. Shukto, a light stew of summer vegetables, gets you started on a 7-8 course typical Bengali meal.
Nutrition Facts
Amount Per Serving
* Percent Daily Values are based on a 2,000 calorie diet. Your Daily Values may be higher or lower depending on your calorie needs.
Ingredients
Potato – 1, Medium
Eggplant – 1, Medium
Green Beans – 10
Raw plantain/banana – 1, Medium
Ridge Gourd - 1, Medium
Bitter Gourd – 1, Medium
Green Papaya/ Squash -1
Lentil Dumplings - 8 ( Bori)
Vegetable Oil - 4 tbsp ( divided)
Ghee - 1 tbsp
Mustard Seeds - 1 tsp
Radhuni Seeds - 1 tsp ( Celery Seeds)
Bay Leaf - 1
Ginger - 1 inch, grated
Milk - 1/2 cup
Turmeric - 1 tsp
Poppy Seeds Paste - 2 tbsp
Salt - To Taste
Sugar - To Taste
Instructions
Cut all the veggies into bite sized pieces. Cut the bitter gourd in thin discs and smear a little salt in them.
Soak the green banana in a little water with salt and a tsp of turmeric.
In a pan, pour 2 tbsp of oil and fry the boris or lentil dumplings first. Remove and set aside on a paper towel.
Fry the bitter gourd now till they are crisp and brown. Once done, shake off the excess oil and place aside.
Take a separate pan and put 2 tbsp of vegetable oil.
Fry the raw banana first till they are browned for 2 mins on each side.
Add 1 tsp of black mustard seeds, 1 tsp of radhuni and a bay leaf. Let its sputter.
Add the veggies except the bitter gourd and raw banana and add salt. Stir the veggies well so that they get browned for 4-5 mins and then cover and cook for say 2 mins.
When they look semi cooked, add a tsp of grated ginger. Now add ½ cup of milk and ¼ of water and 2 tbsp of ground poppy seeds or posto.
Throw in the fried raw banana and bitter gourd.
Cook covered until the veggies are cooked for 2-3 mins. Add salt and sugar to taste. Remove from the stove.
If you have boris or lentil dumplings, add now.
In a pan heat the one tbsp of ghee and add in the remaining grated ginger. Let it get fragrant for 1-2 mins. Add to the shukto as a tempering.
Enjoy the shukto with white rice
Notes
You might wanna steam the squash or papaya a bit in the beginning, may be 3-4 mins.
You can substitute milk for coconut milk too.
My Friday Food Swings http://www.myfridayfoodswings.com/