Yum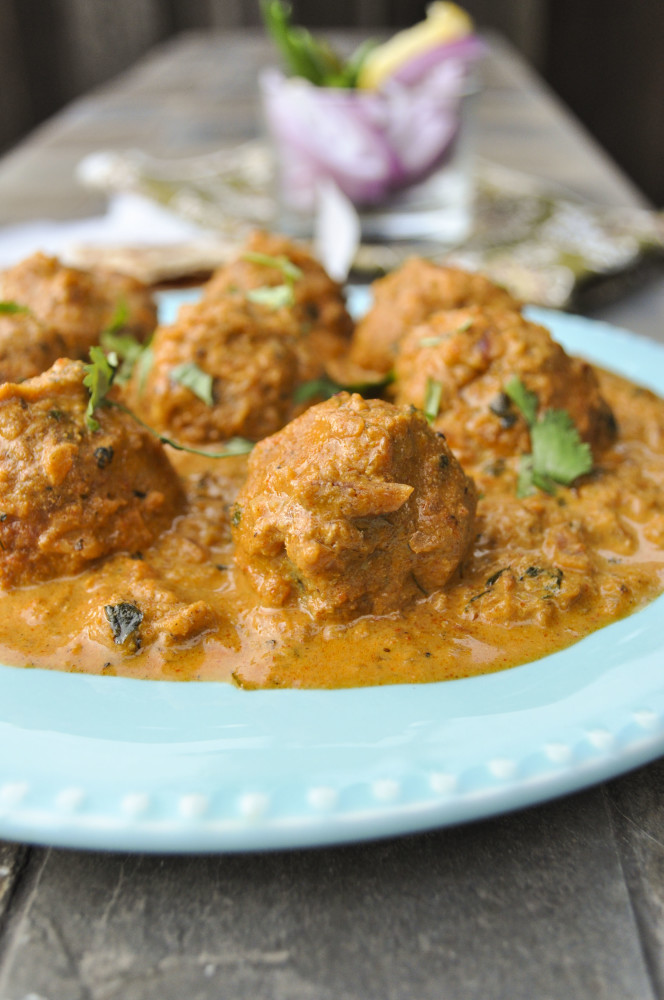 I have not been cooking at all and working with the camera is a dream. All I am doing now is working on the interiors of the house like crazy, now that we have moved in two weeks back. Putting things together keeping in mind the color scheme and space available has been quite a task. However, it is such a fulfilling experience and privilege to be able to pick every straw that would go into your nest. I have posted a couple of pics of the house on Instagram and I will be posting a lot more in the coming future.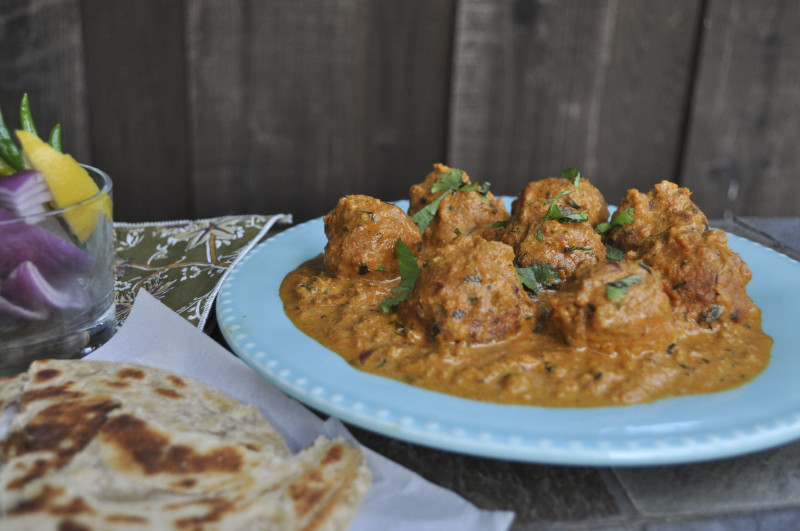 And yes being busy with the house means being away from the blog. However, the house was another good way to validate the tremendous love that I have for interior design. Even when we lived in one-bedroom apartments and just got started off with our lives here in the US, I would always work on giving our space a distinct identity, something that is imperfectly perfect. What I am trying to come at is I have a very clear style in mind when it comes to my house. I know the colors I want, the accents I want and the layout I want. And it better be that way, especially this time, when Sam went out of his way to get the space designed as per my wish. So right now my focus has completely shifted from food styling to meeting the styling requirements of our nest and trust me the process can be extremely taxing. But then this is also a dream come true for anyone who gets a kick from squeezing the creative juices within.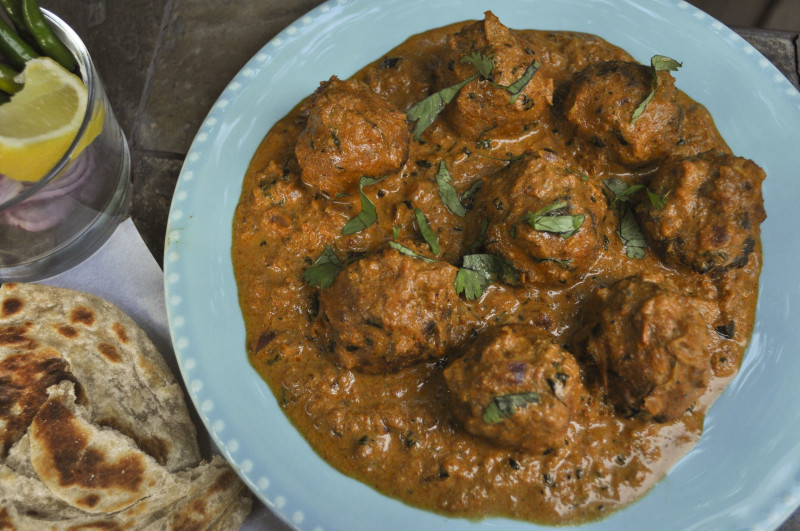 Now coming to the recipe, this Sweet Potato Soy Kofta curry is my go-to dish on Mondays, which are essentially meatless for us. These koftas do not let anyone miss meat at all. Made from sweet potato and soy chunks, these are good for you. And the added bonus is I airfry them or just bake them. So they are high on the guilt-free index too.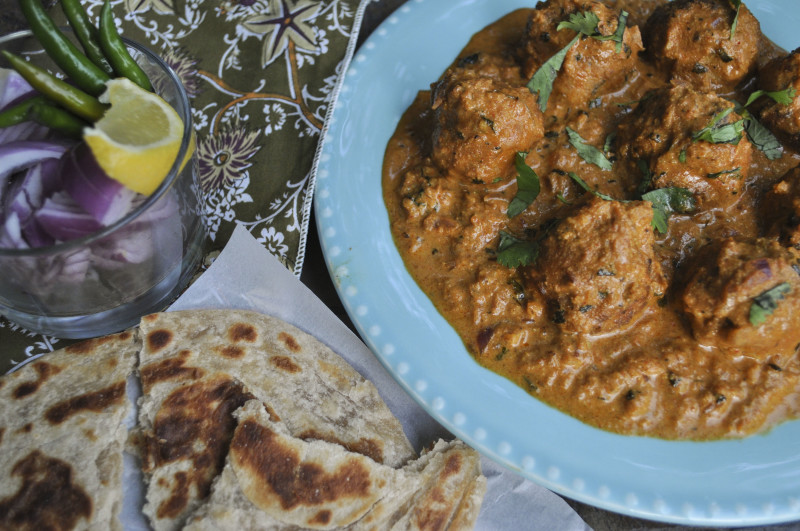 Last year around the beginning of the year, I had a done a 20 pounds weight loss challenge. Sweet potato was one of the carb food choices, which was allowed in the program. And I fell in love with this unassumingly humble starch. Not only this acts as a binder in this recipe but also the sweetness it renders accentuates the overall taste and mouth-feel of the koftas. A perfect dish to entertain with and enjoyed best with roti or rice.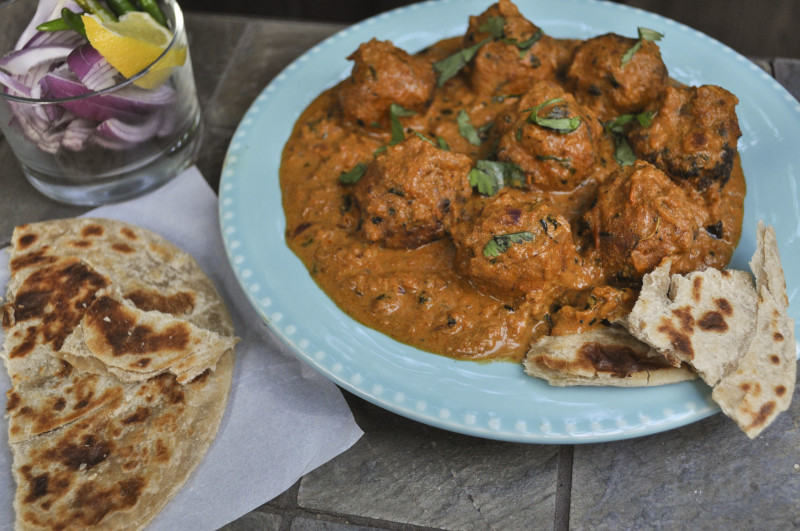 You may also like the following recipes:
Malai Paneer with Onion Kulcha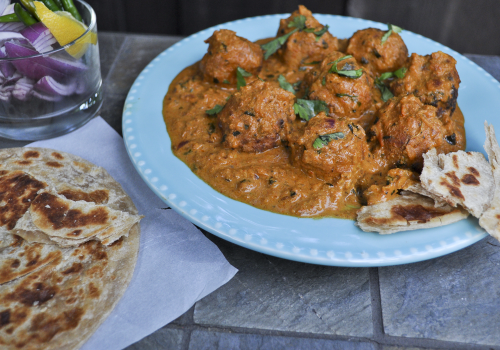 Soy and Sweet Potato Koftas
2017-03-01 12:00:10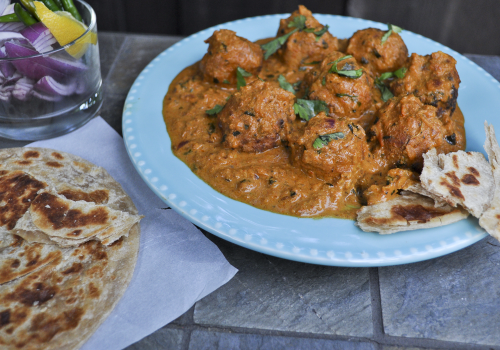 Serves 4
A delicious weeknight spin on a classic Kofta curry.
Nutrition Facts
Amount Per Serving
* Percent Daily Values are based on a 2,000 calorie diet. Your Daily Values may be higher or lower depending on your calorie needs.
For the Koftas
Sweet Potato – 1 cup ( Boiled and Mashed)
Soy Granules – ½ cup
Corn Flour – 2 tbsp
Bread Crumbs – 2 tbsp
Corn Kernels – 2 tbsp
Salt – To Taste
Sugar- To Taste
Red Chili Powder – 1/2 tsp
Coriander Powder – 2 tsp
Cumin Powder – 1 tsp
Garam Masala – 1 tsp
Kasoori Methi – 2 tsp
For the Gravy
Onion – 1/3 cup ( finely chopped)
Ginger – 1 tsp (finely chopped)
Garlic – 2 tsp (finely chopped)
Tomatoes – 1 big (Finely chopped)
Whole Bayleaf – 1
Whole Cumin Seeds – 1 tsp
Green Cardamom – 2
Cinnamon – 1 inch stick
Tomato Paste – 1 tbsp
Coriander Powder – 2 tsp
Cumin Powder – 2 tsp
Garam Masala – 2 tsp
Red Chili Powder – 1 tsp
Salt – To Taste
Sugar – To taste
Vegetable oil – 1 tbsp
Ghee – 1 tbsp
Coconut Milk – 2 tbsp
Kasoori methi – 1 tsp
Cilantro – 2 tbsp(finely chopped)
For the Koftas
Boil the sweet potato until it is tender and make sure that it did not have too much water. After it is boiled, allow it to sit on a straining colander to get rid of the moisture.
Mix together all the ingredients. Once mixed, make small balls. If the mix looks too moist, feel free to add a little corn flour.
Put the balls in the air fryer and allow them to cook for 12 mins. They should brown evenly.
Remove and set aside.
For the Gravy
Heat the vegetable oil over a medium flame.
Add the whole spices, bay leaf, cumin seeds, cardamom and cinnamon stick. Let the oil get fragrant with the spices for about a minute.
Add the onion, ginger and garlic. Saute for about 4-5 mins until the onion looks translucent.
Add tomato and sauté for another 3 mins over medium flame.
Add tomato paste and mix it in.
In the meantime, take ½ cup of hot water and add the spices, coriander powder, cumin powder and red chili powder. Mix them in and pour it over the sautéing onion-tomatoes.
Add salt and sugar to taste and keep stirring for 3-4 mins.
Now add 1 cup of water and let it come to a boil. Let it simmer for 3-4 mins or until the gravy reduces to half its consistency.
Add coconut milk and mix it in and while it is still simmering, add ghee and garam masala and stir them in.
Remove from heat and add kasoori methi and finely chopped cilantro.
Serve with rice or roti.
Notes
P.S: There's a problem with the Recipe Plugin that I use and the NF table is not getting populated. Please bear with me, I will change the Recipe Plugin this weekend!
My Friday Food Swings http://www.myfridayfoodswings.com/