Yum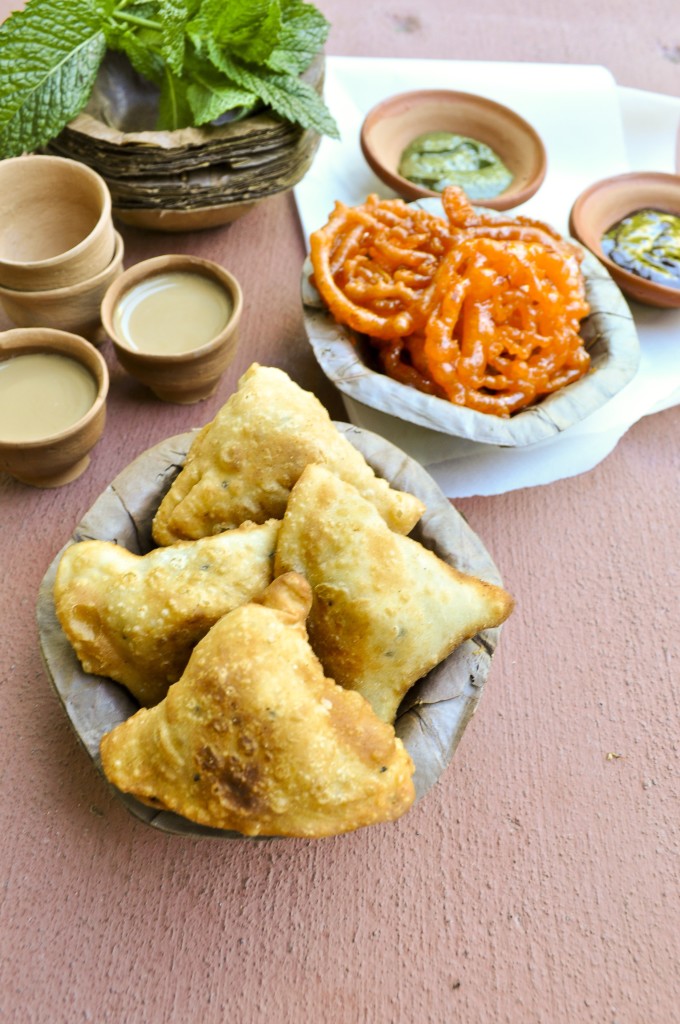 This post should be titled my "My Shingara (Samosa) Memories". All the myriad memories linked to the samosa at different stages of my life inspired me to write this post. Chances are remote, but just in case you don't know what a samosa/shingara is, it is a deep-fried (Oh Yeah!) pastry stuffed with curried potatoes and peas. Now it goes without saying that foodies often get creative with the stuffing and it can range anywhere between meat and sweetened milk solids.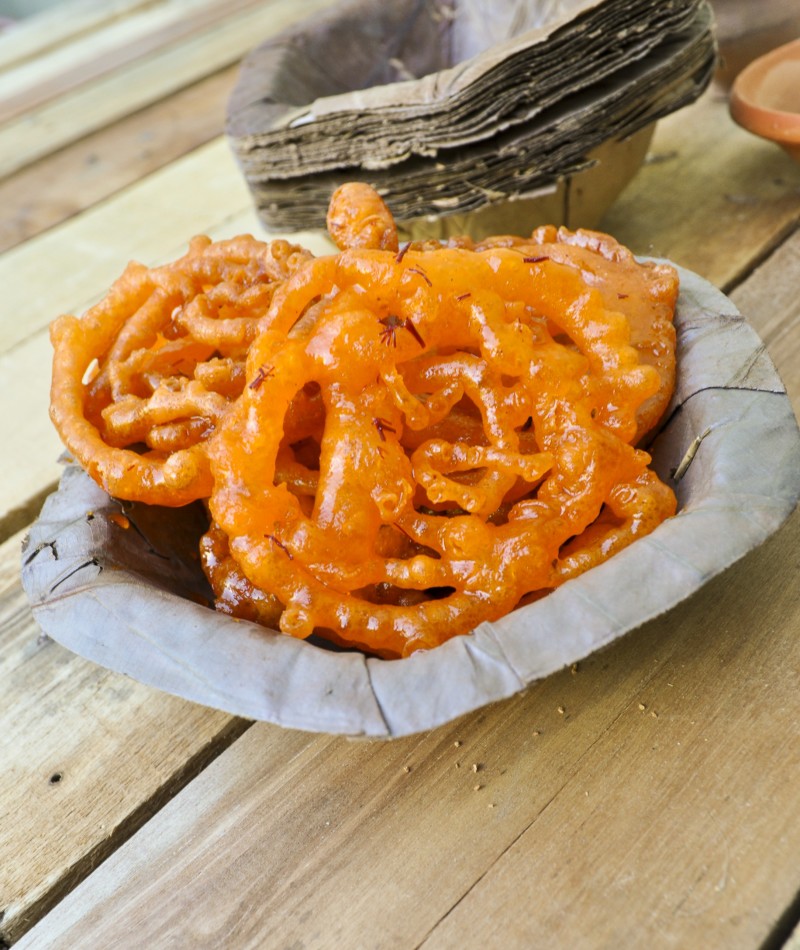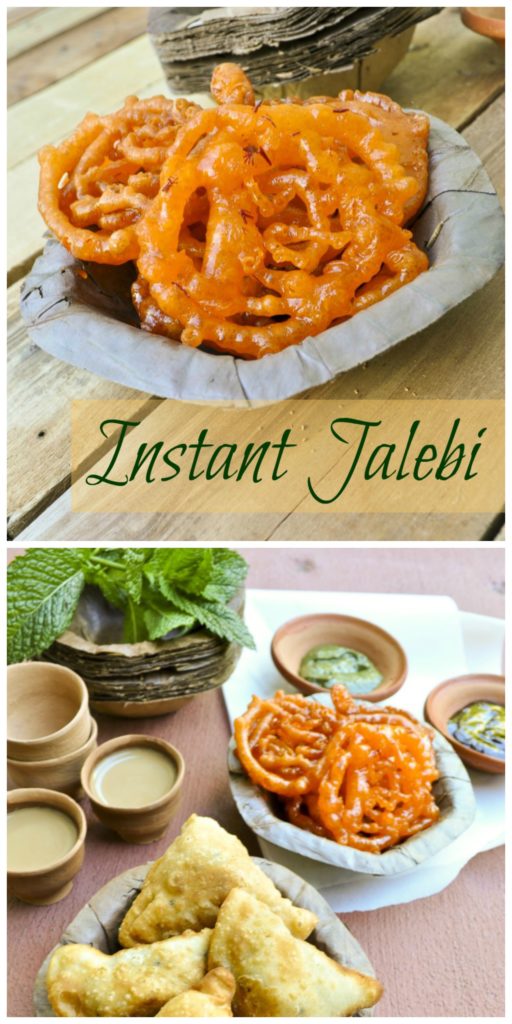 Shingara is what we Bongs choose to call them. The samosa by itself does not have as much chutzpah as when it is served with its beau the khatta-meetha (sweet n sour) chutney made of tamarind and dates. This combination can create drool storms in many a mouth. In fact, this is the one Indian snack that has massaged and caressed my home-sick palette many an evening and given the choice between a glass of fancy wine sipped pensively and a shameless solitary act of stuffing myself with more than one samosa and washing it down with masala chai, I run the risk of being caught red-handed doing the latter. That said, I must admit that samosas definitely qualify more as a communal treat than anything else, something that is enjoyed more with friends and family over conversations that go on to make happy memories.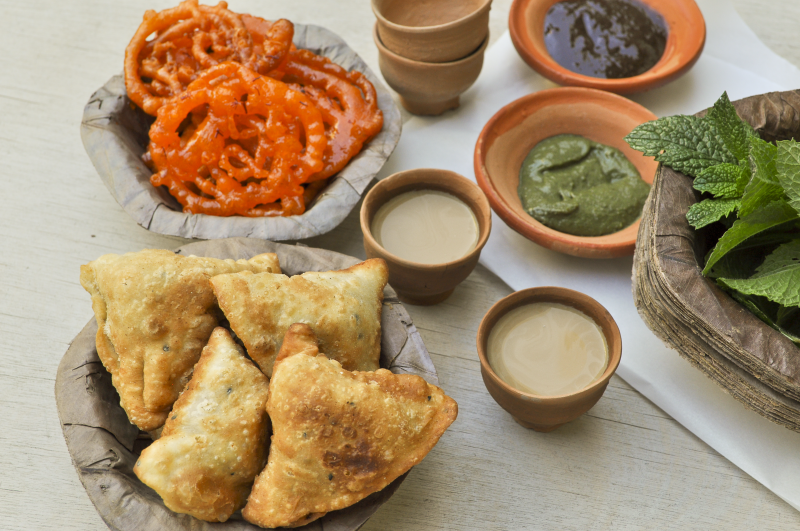 I have never seen my mom make samosas at home. In fact, no one did. There would be stores by the corner of every street and alley selling them. In the early evening hours, these would be freshly fried and sold hot. Oil drenched paper bags filled with samosas would be brought home to be devoured over countless cups of Darjeeling tea and inconsequential tete-a-tete with the family. Not always but sometimes on special occasions or if someone was visiting, the samosas would be followed by some jalebis. Jalebis are the Indian version of funnel cakes. Deep-fried and dipped in sugar syrup, these orange-hued crispy treats would be the perfect finale to a mini celebration. And my sister and I were absolutely ingenious when it came to cooking up reasons to celebrate.
Now we, Bongs, call jalebis jilipis. Yes, we Indians are proud of our diversity. With 22 official languages, we often end up addressing the same food by different names in different parts of the country. Apart from being a perfect accompaniment to the evening tea shebang, jalebis are very commonly eaten for breakfasts too. In the northern belt of the country, jalebi and milk for breakfast is a match made in heaven.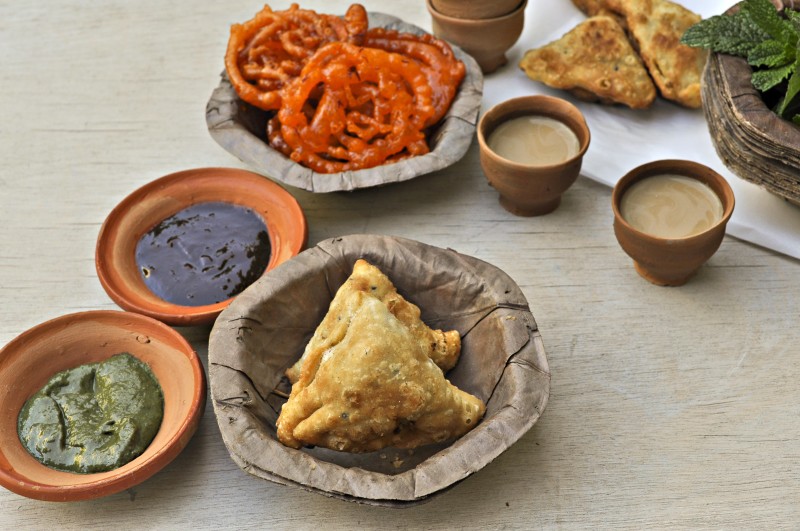 Jalebis often remind me of my maternal grandfather. He passed away almost three decades back when I was very small. But I remember distinctly that whenever we would visit him, every morning as he would go to the local market, he would take me along with him and on our way back we would stop at this sweet shop and he would buy me jalebis. I would come back home with the newspaper bag (thonga) filled with jalebis and my hands would be drenched in sugar syrup. I keep on replaying so many fond memories of childhood in my mind today as I made these samosas and jilipis/jalebis.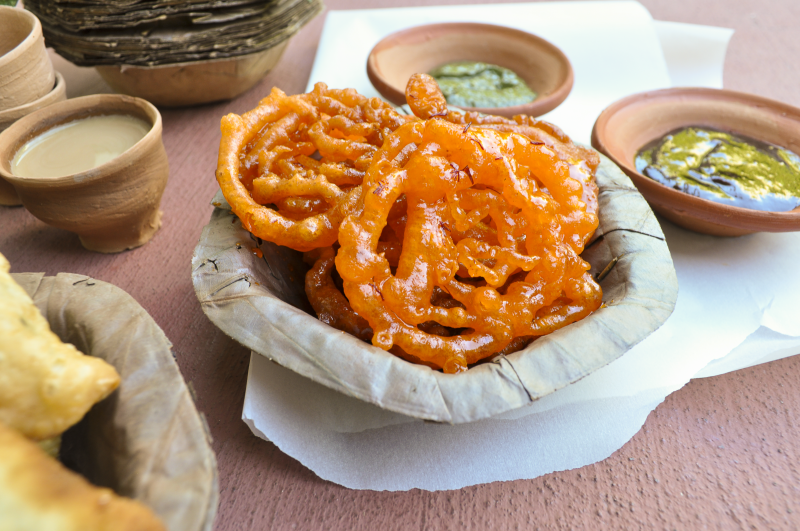 In fact, I have so many memories of the samosa from early adulthood too. There was this one store where a guy would come everyday and make the best samosas in the world. After dad had passed and I started working, every evening on my way back from work I would buy samosas and bring them home. My mom is not very indulgent and has way more control over food than me and so she would protest vehemently but in the end, would be ready with two cups of hot chai. We would cry and laugh and remember trivial things about dad in those lonely evenings over samosas and chai.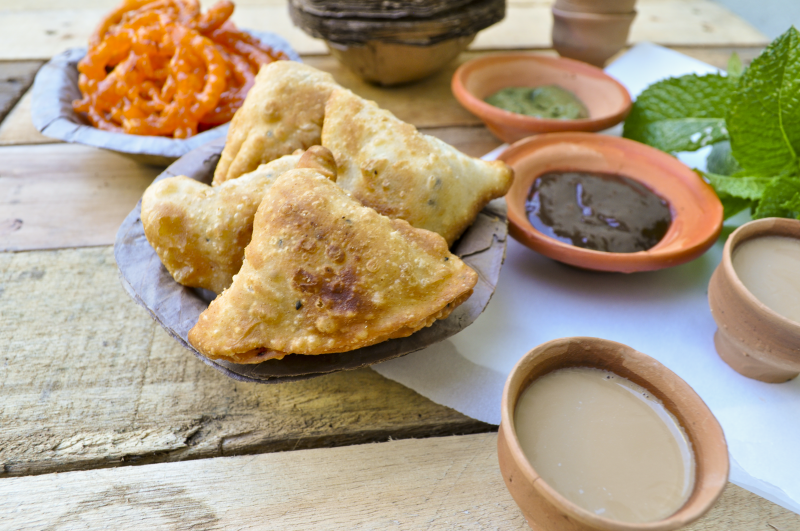 So last week samosas and jalebis were made from scratch in my kitchen. The husband was traveling and got home a day before the stipulated day and time. That was a good enough reason to celebrate. And hence we had a desi style tea party with samosas, jalebis and chai in kulhads or clay glasses, just like the way you would have it back home. Last time I was in India, I got these clay glasses. Somehow the mundane and everyday things that were part of our lives back home has become a priceless luxury here and floods us with glimpses of happy and young memories.
These jalebis are instant ones. Generally, the jalebi batter requires fermenting for a day. However, I hunted the internet and looked for something that could be made instantly. And these took exactly 20 minutes and were crisp and delicious.
You may also like these recipes: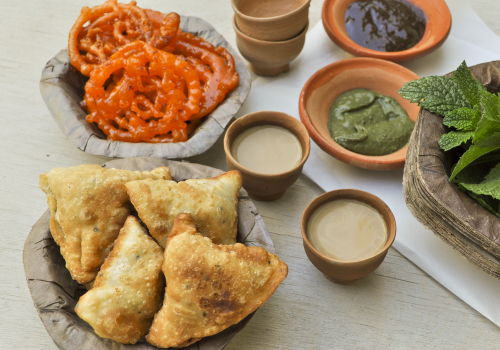 Samosas and Jalebi
2016-07-02 15:53:20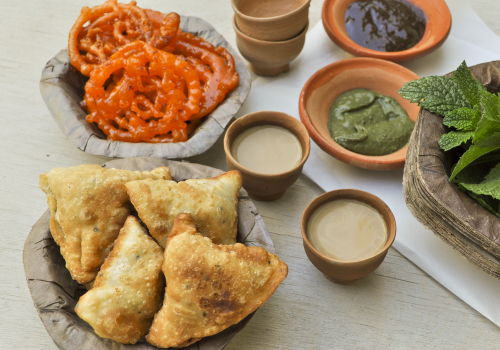 Serves 10
Nutrition Facts
Amount Per Serving
* Percent Daily Values are based on a 2,000 calorie diet. Your Daily Values may be higher or lower depending on your calorie needs.
For the Curried Filling
Potatoes – 4, medium
Green Peas – ½ cup
Vegetable Oil -1 tbsp
Cumin (Jeera) Seeds – 1 tsp
Cumin (Jeera) Powder – 2 tsp
Coriander ( Dhania) Powder – 1 tsp
Red Chili Powder – 1 tsp
Dried Mango (Amchoor ) Powder – 2 tsp
Salt – To Taste
Sugar – To Taste
Cilantro Leaves – ½ cup, finely chopped
Garam Masala – 1 tsp
For the Dough
All Purpose Flour – 3/4 cup
Semolina (Sooji) – 2 tsp
Vegetable Oil – 1 ½ tbsp.
Nigella Seeds (Kalonji) – 1 tsp
Warm water – ¼ cup
Vegetable Oil – 2 cups (for frying the samosa)
For the Batter
All Purpose Flour – ¾ cup
Corn Flour – 2 tsp
Fruit Salt – 1 tsp
Vinegar – 1 tsp
Yogurt – 2 tsp
Red Color – 3 drops
Water – ¼ cup
For the Syrup
Sugar- 3/4 cup
Lemon Juice – 2 tsp
Water – ½ cup
Saffron – 1 tsp
Red Color – 2 drops
Rose Water – 2 tsp
Vegetable Oil- 2 cups
For Curried Filling
Peel, boil the potatoes until they are fork tender. Mash them well.
Now In a hot wok, add the vegetable oil. Throw in the cumin seeds and let them sputter.
Add the mashed boiled potato and green peas.
Add the cumin-coriander powder, red chili powder and the dried mango powder.
Add salt and sugar to taste and sauté for couple of minutes. Use a spatula to mix everything in well.
Add the cilantro and garam masala. Mix everything in well.
Remove from heat and let it cool.
For the Pastry
Take the AP flour, semolina and Nigella Seeds and add the oil. Mix well!
Add the warm water and knead the dough. It should be stiff dough. Once done, cover and let it rest for 20 mins.
Assembling the Samosa
Make small golf –ball sized portions of the dough.
Roll out a circle with each portion. Use some oil to coat the rolling surface to prevent the dough from sticking.
Cut each circle into half so that you have a semi-circle.
Now get the edges along the base of the semi-circle together and superimpose one on another. Dab a little water on ethe edges before you do that. This will help them stick together.
Now you will have a small pocket.
Stuff 1 ½ tbsp. of the curried filling in the pocket and seal the edges on the top. Again dab a little water along the edges. This will help the dough stick well.
Now complete the process until all the curry and dough is used. It might happen that you don't end up using all of the dough or the curry. If that happens, I am sure you can think of a good way to use the leftovers.
Heat the vegetable oil and throw in about 2-3 samosas at a time. Fry over medium flame for a good 5-6 mins.
Serve the samosas with red and green chutneys.
For the Jalebi
For the syrup, take all the ingredients except the saffron and rose water and bring to a boil. Let it boil for 3-4 minutes. It should be a single thread consistency.
Add the saffron and the rose water.
Mix all the ingredients for the batter together and let it rest for 15 mins. The batter should have a pourable consistency.
Now pour the batter in a squeeze bottle.
Heat up the oil and slowly using the squeeze bottle, make concentric circles. Fry the jalebis for 3-4 mins.
Take them out and drop in the sugar syrup for 2 mins. Take them out.
The jalebis are ready to serve.
Notes
You could bake the samosas too. I would bake them at 375 degrees for a good 12-15 mins turning sides in between. I also cook them in my air fryer if I am trying to avoid frying them.
My Friday Food Swings http://www.myfridayfoodswings.com/