Yum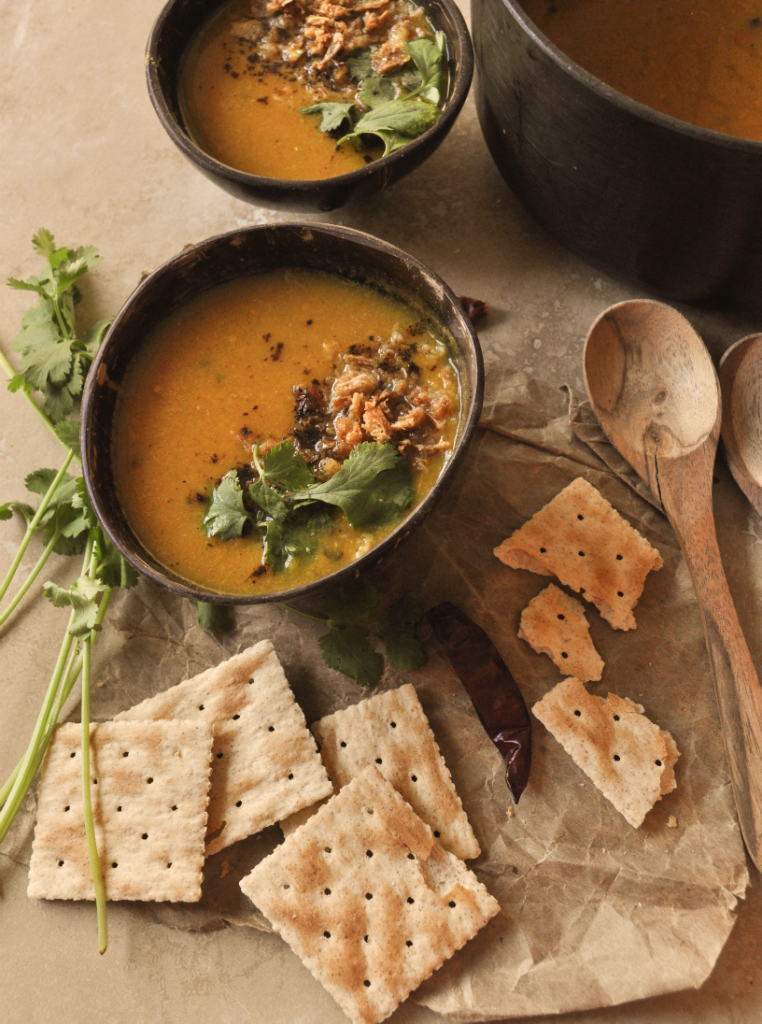 This Tomato Lentil Soup seriously made me wistful and sad. Don't get me wrong please, I mean in a good way, like a nostalgic and home-sick way. In 2010, we had moved base to India for 18 months. Sam, my husband, got this fabulous offer from his employer and we were sent back to India as expats. We moved to Hyderabad in the Southern part of India. And if you're an Indian you know that the best thing about Hyderabad is the food.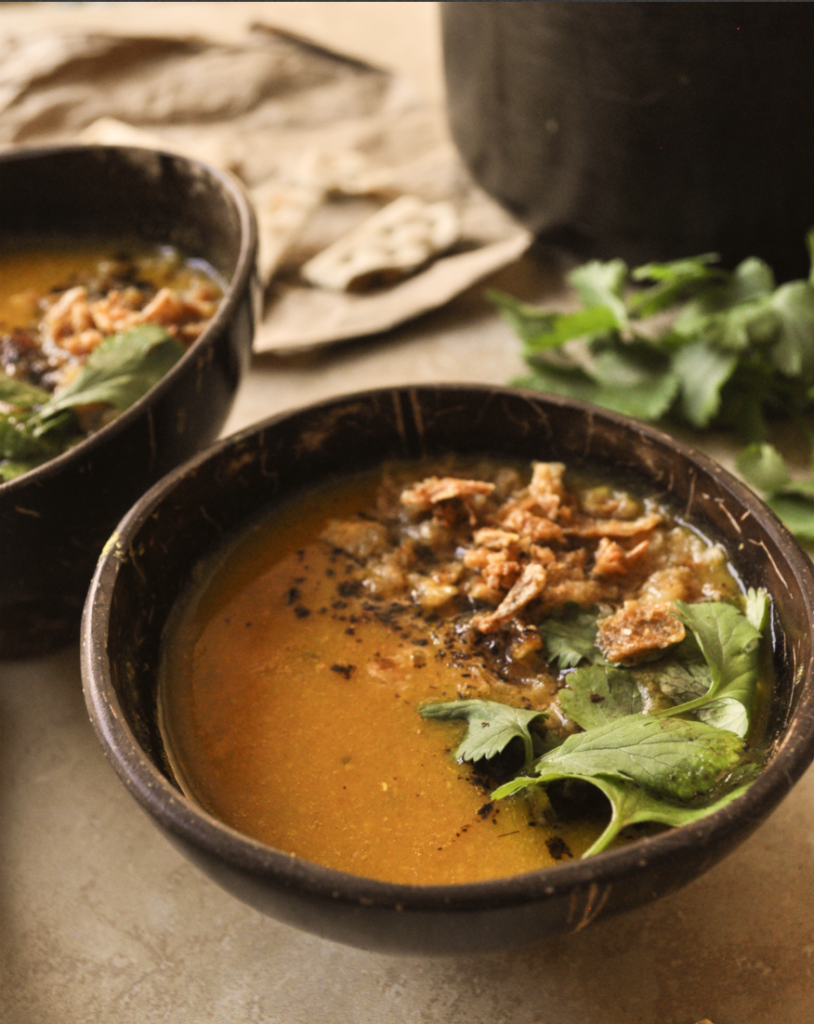 I have written about my South Indian foodie sojourns here. But Asha's Tomato-Dal soup brought back all the flavors and made me remember Ankamma again. Ankamma was our cook while we were in India and let's just say that she is the best cook I have known in my life after my Dida (grandma) and Didi (sister). Nah, if you're thinking I am going to mention my mom, it is not the case here. My mom has very limited interest in cooking and would rather read a book and take a nap in the afternoon than spending it testing and tasting recipes.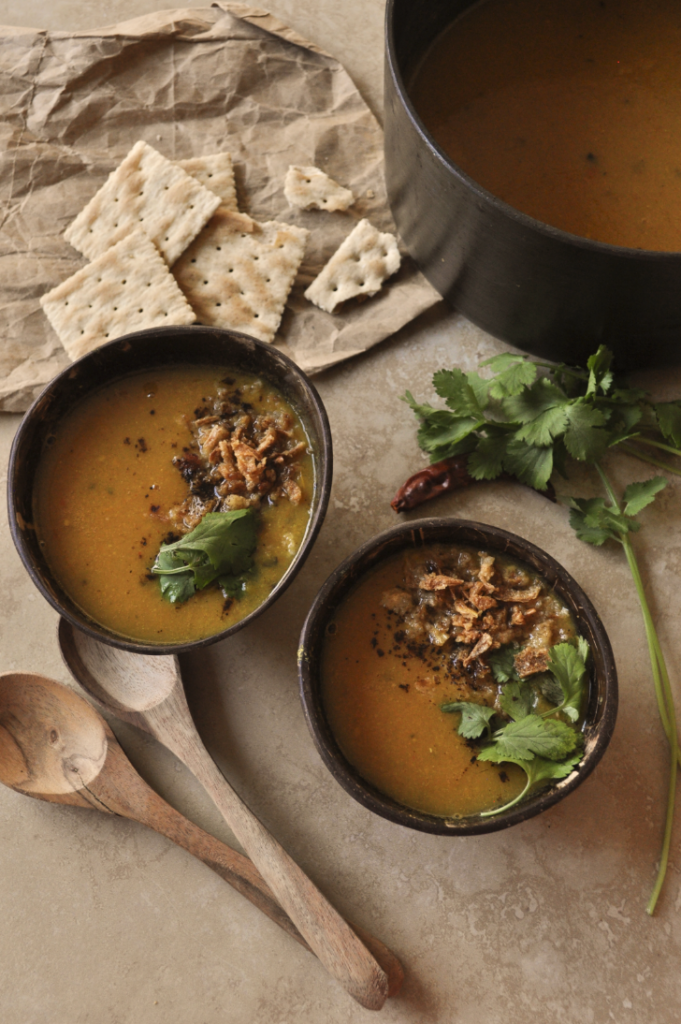 Ankamma took over my kitchen during those few months. I was a foodie and that piqued her interest and liking for me. She would take an extra effort to educate me about Southern Indian flavors and spice blends. And many a morning and evening, she would make me a quick cup of rasam or some kind of a soup. She would chide me for having too many cups of coffee and literally sit me down for that cup of rasam. Till date, her affection and the flavors occupy such a happy space in my heart. Rasam is basically a soup (more like a stock) made of lentils and freshly ground spice blends. The aftertaste of that tamarind, tomato, spices especially the coarsely ground black pepper all came back again to me with this Dal-Tomato soup from "Masala And Meatballs".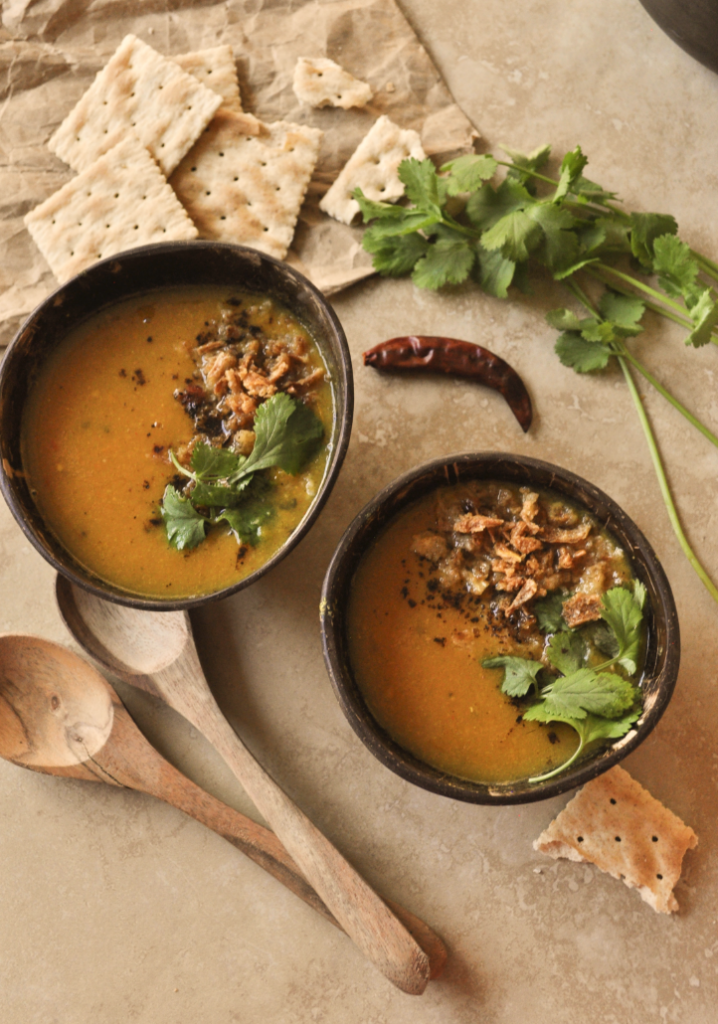 Asha Shiv Kumar, who I have known mainly through Instagram except for that one time when I had invited her to judge a cook-off, writes Masala and Meatballs. Extremely humble, poised and talented, her blog is a favorite place for me to hang out in the blogosphere. And when she announced she was writing a book, I could not wait. Once I got my hands on it, the first few days I just spent gawking at the beautiful pictures. And then finally on a cold winter night last week, I made this amazing piquant and flavorsome Tomato-Dal Soup. And just like Ankamma's rasam or soup, this particular recipe filled the heart with warmth and love. I can't wait to try her other recipes.
You may also like the recipes below:
Roasted Red Pepper and Tomato Soup
Mixed Vegetable Soup from Scratch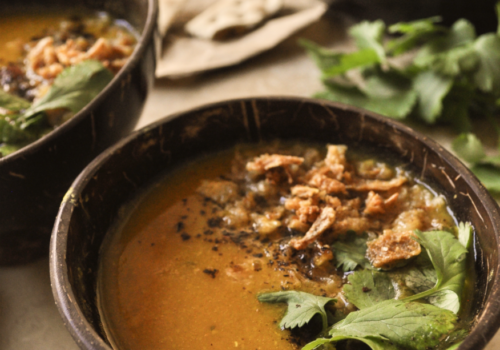 Tomato Dal Soup
2018-02-05 19:53:23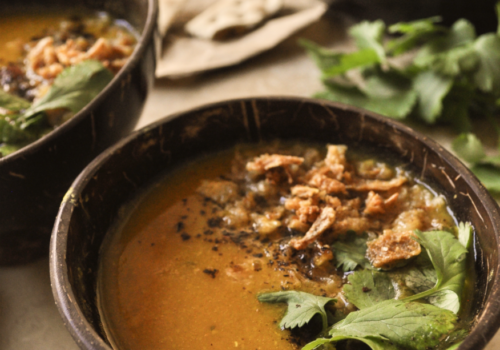 Serves 4
A delicious way to warm up on cold winter evenings.
Nutrition Facts
Amount Per Serving
* Percent Daily Values are based on a 2,000 calorie diet. Your Daily Values may be higher or lower depending on your calorie needs.
Ingredients
Pigeon Peas/Yellow Lentils – ½ cup
Tomatoes – 3, large
Salt – To taste
Cilantro – 1 sprig
Turmeric – ½ tsp
Red Chilies - 2
Water – 4 cups
Ghee – 1 tbsp
Black Mustard Seeds – 1 tsp
Asafetida Powder – 1/3 tsp
Tamarind Paste- 1 tsp
Cumin Seeds – 1 tsp
Whole Black Pepper – 1 tsp
Cilantro – 2 tbsp, finely chopped
Fried Onions – To serve (optional)
Instructions
Wash and soak the lentils in water for 30 mins.
Bring the lentils to a boil along with the tomatoes, cilantro, red chilies, salt and half the turmeric in a pressure cooker. Now cover with the lid and over a medium heat let it cook for 4-5 whistles or for 20 mins, just as Asha says. Once the whistles are done, remove from heat and set aside.
After it's cooled down, using an immersion blender or countertop blender mash the tomatoes and the dal to an almost smooth consistency. And then strain it using cheesecloth or a wide-mouthed strainer.
Add the tsp of tamarind paste to the strained liquid and mix it in.
In another pan, add the ghee and wait for it to melt completely. Now add mustard seeds, remaining turmeric and asafetida. The mustard seeds would splutter.
Pour in the strained tomato dal soup, stir and remove from the stove.
Taste for salt and adjust if necessary.
In another skillet, dry roast the cumin seeds and pepper corn until they are fragrant.
Remove from heat and let it cool down.
Using a mortar and pestle or spice grinder, grind to a fine paste.
Add to the soup, along with the chopped cilantro.
And instead of serving with spinach fritters as Asha suggested, I served with store bought fried onions. The mix and match of the textures did the magic.
My Friday Food Swings http://www.myfridayfoodswings.com/