Yum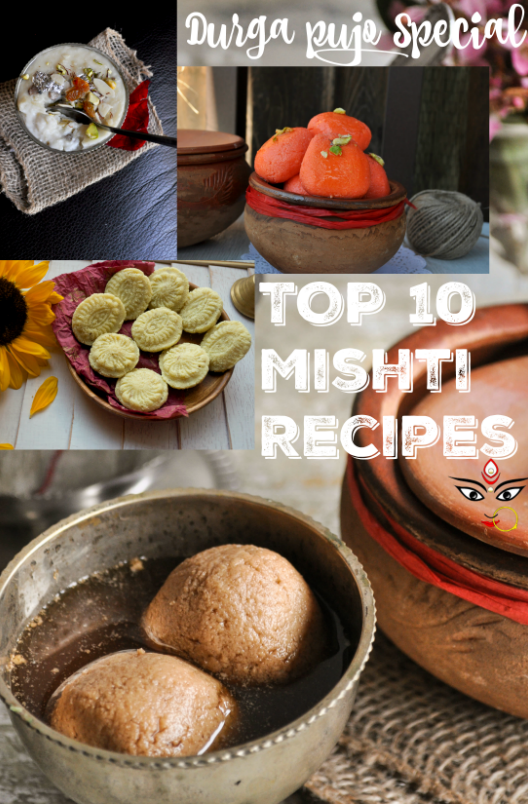 Top 10 Bengali Mishti Recipes!! If you have Bong genes, the words "Durga Pujo" and "mishti" can't pass by you unheard and unnoticed. The mass hysteria that Durga Puja brings with it for Bengalis is quite well known. Social media gets inundated with nostalgia and it can be about anything but the three that I relate to the most are definitely food, music, and saree exactly in the same order mentioned. Well, the last two could be the other way round too! But there's no doubt about the first one.
Nothing moves a Bengali heart and soul like food. And Durga Pujo is that time of the year when your foodie desires gets indulged without any inhibitions. The luchi-torkari breakfasts, khichudi-labda or kosha manghso- pulao lunches or the fish kabiraji, chicken-roll dinner – everything brings back memories of home, Kolkata and most importantly unbridled love and affection. But the food that ties in all the above emotions by itself would be the famed Bengali "mishti" or Bengali sweets.
I have, over the time, shared recipes of different sweets especially Bengali ones and also if you already know the verbose me, I have written about all my emotions surrounding that mishti. So for this Durga pujo, what I decided was to bring it all together for you. Also, many of my recipes are fast and easy using semi-homemade hacks. Living abroad for more than 12 years and working full-time, I had to devise such hacks. So for all busy moms out there, I can assure you will love these recipes. Here are the top 10 Bengali mishti/sweet recipes from MyFridayFoodSwings that will make your Durga Pujo all the more joyous and sweeter.
15 Mins Rose Flavored Sandesh – Sometimes there are a few things in life that can spell out luxury without expending any arm grease at all. This is one such recipe. A quick Bengali Sandesh flavored with rose and embellished with gold ( of course edible gold foil). You will definitely fall for the smooth and rich mouthfeel of this recipe.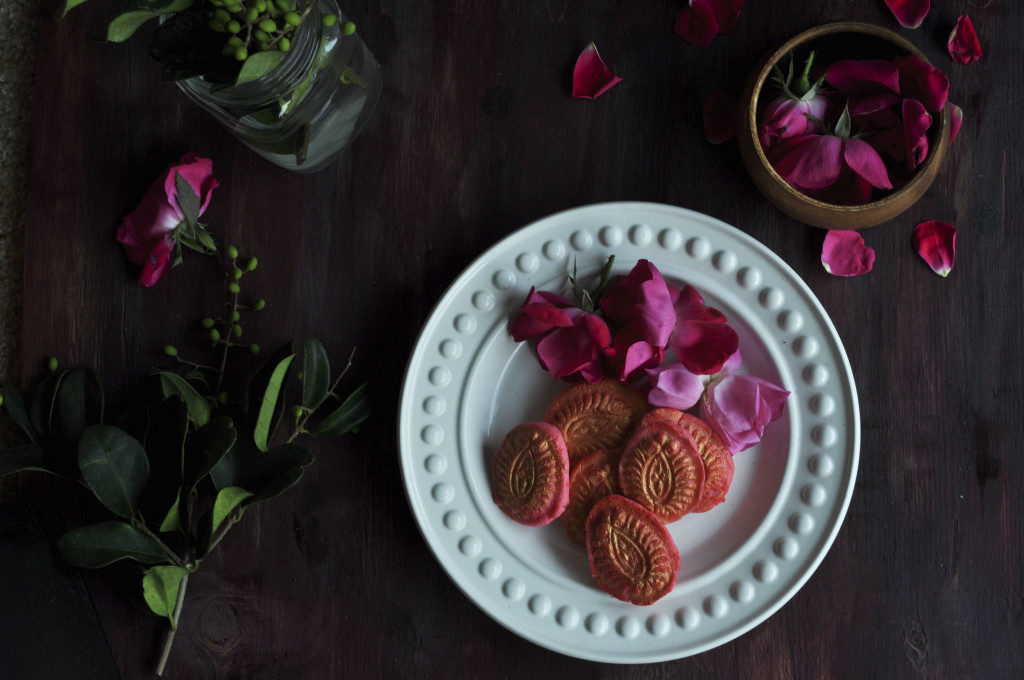 3 Ingredient Sandesh – This one is the simplest Sandesh you can whip up, no matter where you are. Just 3 ingredients and you would be surprised at just how delicious this Sandesh is.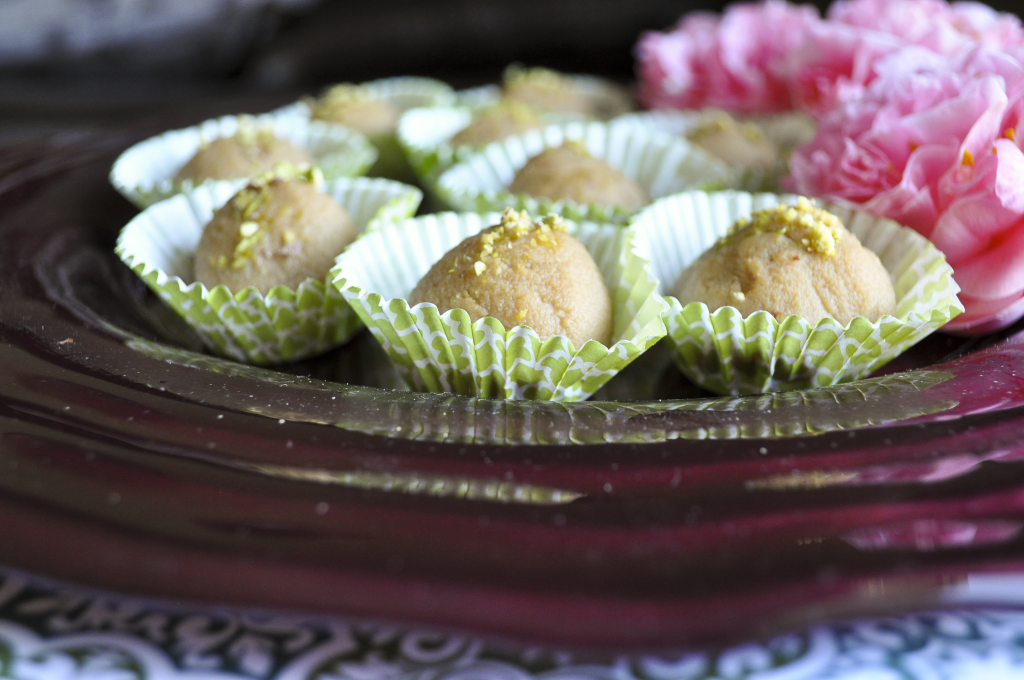 Khirer Sandesh (Reduced Fudge Sweet) – When I was growing up in Shillong, we would have an old gentleman bring us homemade rasgullas, sandesh, and ghee every other week. His khirer sandesh would be the thing I would look out for. Sometimes a taste of something tells a story. These too told a story, handcrafted with care, attention and most importantly affection. They would just melt in the mouth and had the most luscious mouthfeel that takes me back so many years even now. So khirer sandesh had to be recreated by me. And moms again these are made using a semi-homemade hack.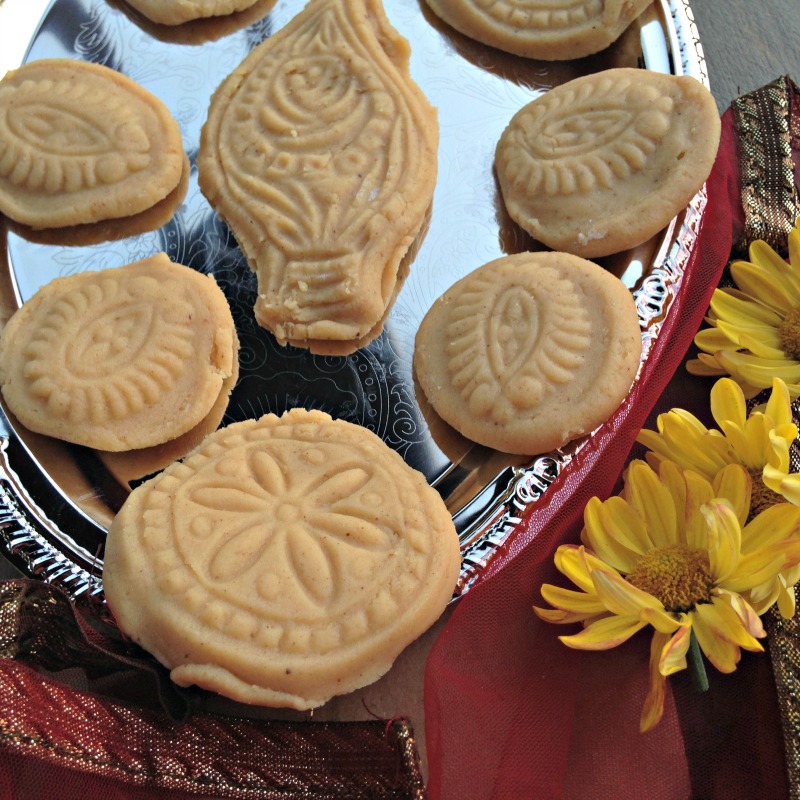 Chaler Payesh – Chaler Payesh is also referred to as "Poramanno", the food for Gods. And it is quintessential for all religious ceremonies amongst Bengalis. And this recipe is our heirloom one, the recipe was handed down to my mom by my grandma.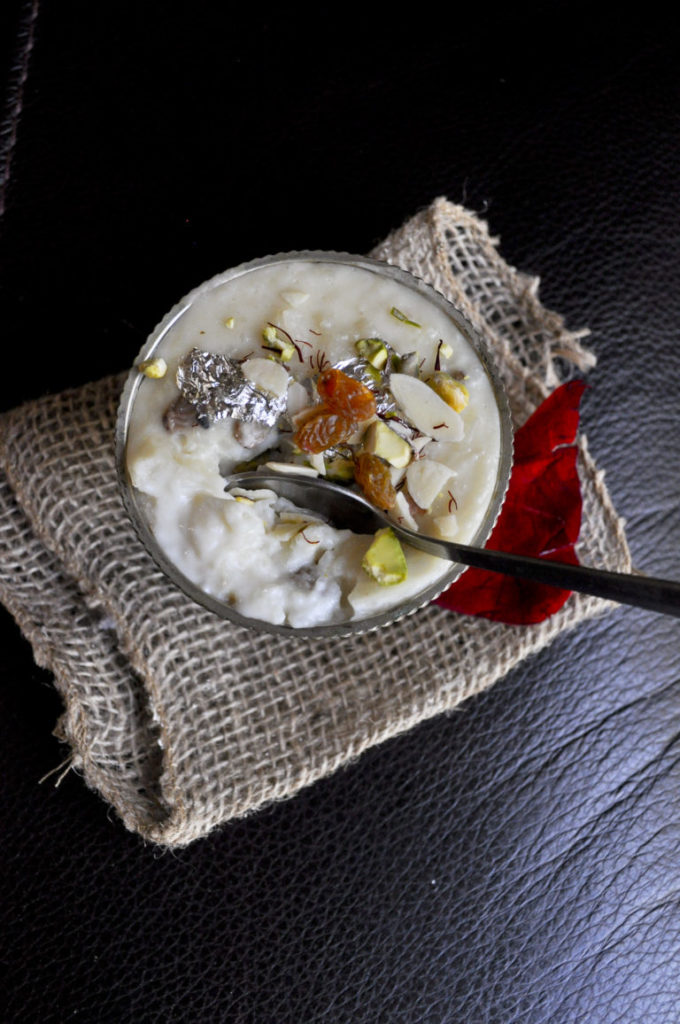 Nolen Gurer Rosogolla – Again a variant of the Bong cult hero, the rosogolla/rasgulla, and this one needs no introduction. Nolen gur is date palm molasses and has the capability of making Bengalis go weak on their knees. I am not kidding you; this was one of my most clicked recipes on my blog.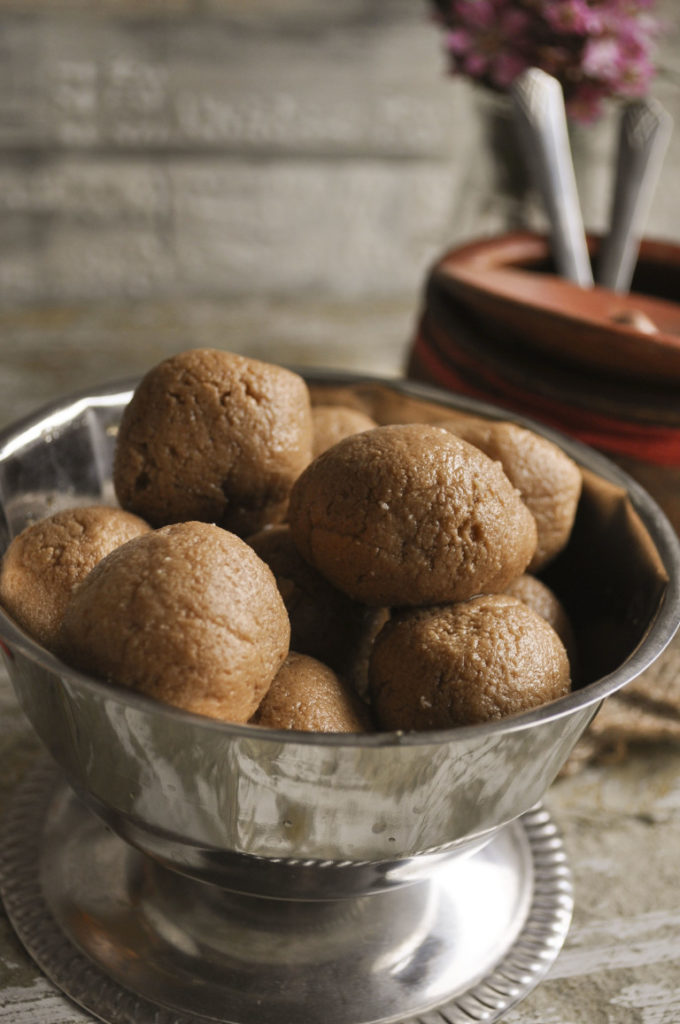 Komola Bhog – Komolabhog is a spin on the classic rosogolla/rasgulla. It is perfumed with an orange essence and kicks the rosogolla another notch. If you have not had a Komolabhog yet, you will be in for a real treat.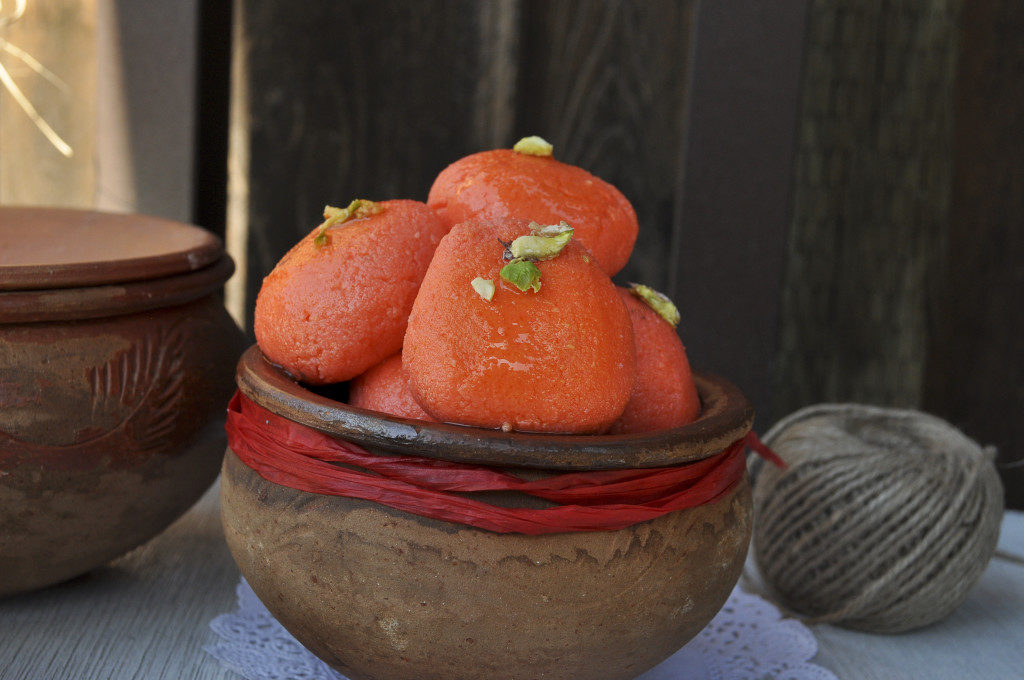 Baked Nolen Gurer Sandesh – This is a warm and delicious concoction of ricotta cheese, cardamom delicately infused with the known offender, nolen gur or date palm molasses. Again this is a very easy recipe, which is made in the microwave in minutes and brings back the Kolkata memories in galore.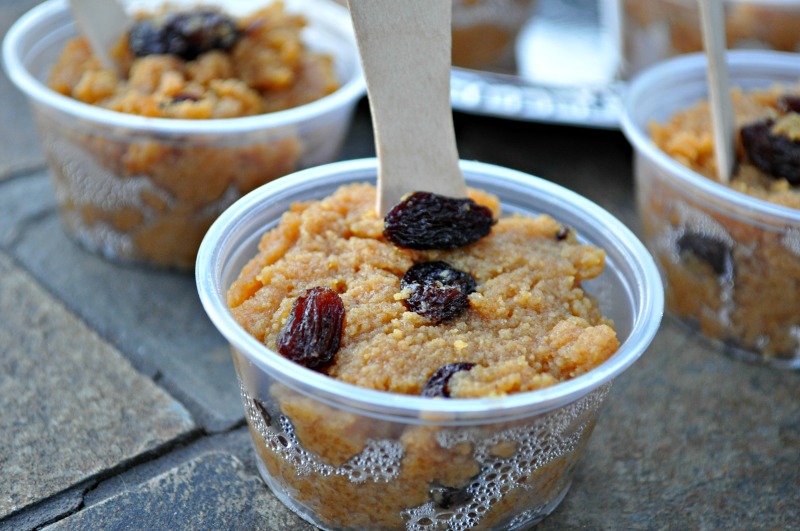 Chandrapuli/Coconut Sandesh – There cannot be another sweet more signatory of Durga Pujo than the Chandrapuli or Coconut Sandesh. Made from shredded coconut and lightly perfumed with cardamom, these bring back the sights and sounds of Durga pujo mornings and all my loved ones especially the ones who are not around anymore including my dad, my baba.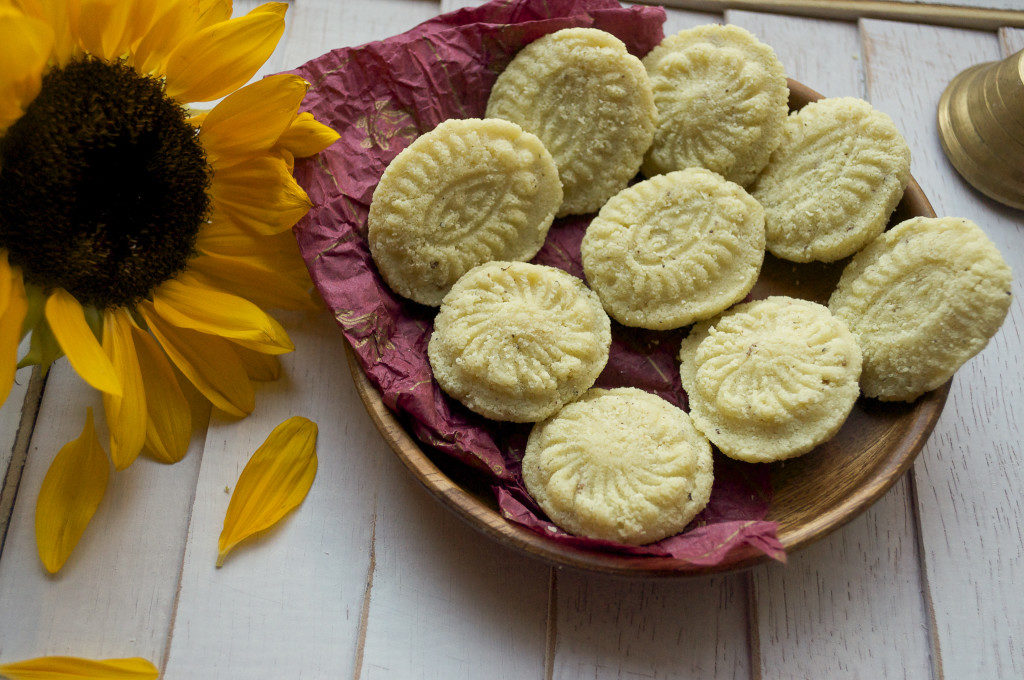 Chhanar Malpoa – Chhanar Malpoa or Ricotta Cheese Dumplings soaked in Warm Sugar Syrup laced with Cardamoms, Cloves and Saffron, some indulgence that reminds you of the good things you are blessed in life. For me, every good meal that I enjoy with my family keeps reminding of the blessings of life that I am enjoying and these malpoas are indeed celebratory.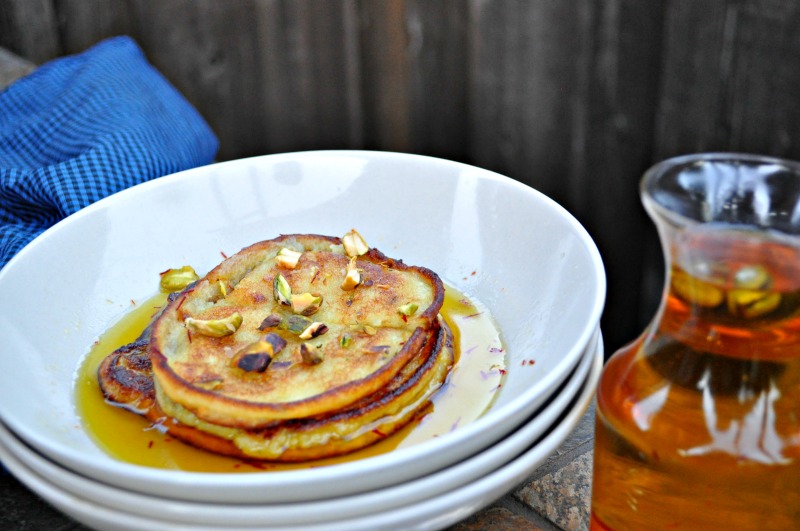 Chhanar Puli – A close cousin of the chhanar jilipi, these are made from a dough of ricotta cheese, reduced milk solids, flour, ghee and sugar. This is not all, they are deep fried and then dipped in sugar syrup. Now, can such a combination ever go wrong? Indulgence at its best, I tell you.